Samsung on Monday announced two additions to its Galaxy Tab 3 line: 8-inch and 10.1-inch models.Both run Android 4.2 Jelly Bean.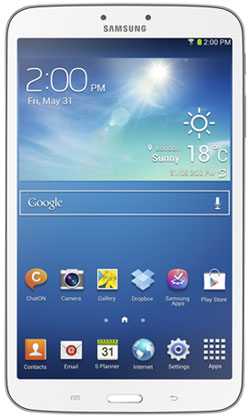 Galaxy Tab 3 8-inch
There's some talk that the 8-inch tablet might cannibalize Samsung's previously announced 7-inch device.
However, Samsung's strategy is hypersegmentation — that is, identifying and exploiting a need not addressed by existing devices, and that "has worked well for Samsung and has let it leave no stone unturned in … the tablet market," Jeff Orr, a senior practice director at ABI Research, told TechNewsWorld.
The tablet market is in the differentiation phase, noted Jim McGregor, principal analyst at Tirias Research. Vendors are coming out with different-sized models trying to figure out what niches they fit.
"Everyone's still trying to develop the market, feel out the market, and figure out the appetite for their devices," he told TechNewsWorld.
What's in Samsung's New Devices
The Galaxy Tab 3 8-inch tablet uses a 1.5 GHz dual-core Samsung processor. It's presented as an e-reader, an entertainment device and a travel assistant. It is designed to be held in one hand and has physical keys at the base of the bezel for what Samsung describes as a "smartphone-like experience in navigating."
It features S Translator, which provides instant translation through voice recognition and through text in applications such as email and text messages for both speech-to-text and text-to-speech. The preloaded S Travel Smart Travel Companion provides real-time local information and lets users make reservations at hotels and restaurants, as well as reserve tickets.
Other preloaded features on the 8-inch tablet include Story Album and Group Play. It also has Samsung's "reading mode" technology, which optimizes the display for reading in various lighting conditions.
The 10.1-inch device is the first Android tablet to use an Intel CPU — the 1.6 GHz dual-core Intel Atom Z2560 processor, aka the Clover Trail+. It can double as a home media control device.
"That's a pretty big message to the market if Samsung's using Intel processors on a 10.1-inch tablet when its 8-inch version is using a Samsung processor," Orr said.
Both tablets have a WXGA TFT screen with 1280 x 800 PPI resolution. Both have the obligatory front and rear cameras, although the smaller device's cameras have a higher MP rating. The two have sensors common to all tablets. Both support WiFi and 3G as well as LTE; both offer audio and HD video support.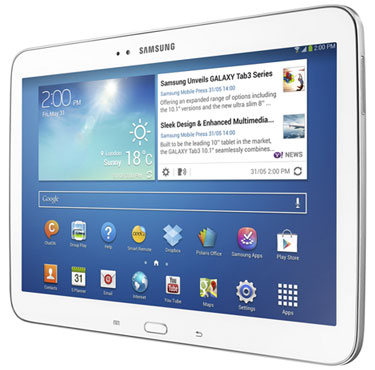 Galaxy Tab 3 10.1-inch
Samsung Hub; Samsung Kies, which is similar to Apple's iTunes software; and Samsung's ChatON global mobile communications service all come preloaded on both devices.
Both tablets also come preloaded with various Google services including Search, Gmail, Google Talk, YouTube, Google Now and Google Maps.
Observations About Samsung's New Tablets
The main differentiation factor in this coming generation of products will be screen size, said Tirias Research's McGregor.
"If they find different niches such as in gaming or other areas, you may see different solutions such as controllers — but for now, there are going to be very similar products offering different screen sizes with different apps," he added.
Samsung is not the first tablet maker to offer an 8-inch device; Acer has just announced an 8-inch Windows tablet, while Archos introduced an 8-inch device earlier this month. Vizio also offers an 8-inch tablet with WiFi.
It could be that Samsung's launched a pre-emptive strike to steal the thunder from Apple, which is widely expected to announce a new iPad at its Worldwide Developers Conference, to be held later this month in San Francisco.
"I think the timing's interesting," Orr said. "Samsung's getting its tablets out early, and I think they understand how to play the game."