Samsung has unveiled the latest model in its line of phablets, the Galaxy Grand 2, bearing a string of enhancements over its predecessor.
The company's latest device has a 5.25-inch screen with a 16:9 ratio. The TFT (thin-film-transistor) screen is 0.25 inches larger than the previous model and has a 1280 x 720 resolution, compared with the 800 x 480 pixels of the Galaxy Grand's WVGA (Wide Video Graphics Array) screen.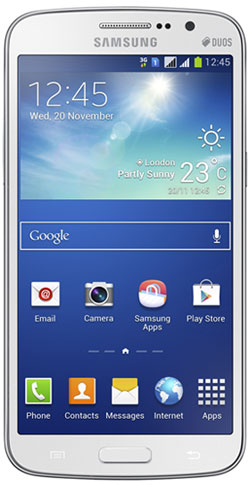 Galaxy Grand 2
Battery Power
It improves the Grand's 1.2 GHz dual-core processor with a quad-core unit, and it includes a 2,600mAh battery — compared with the Grand's 2,100mAh lithium ion power source — to allow up to 10 hours of playback and 17 hours of calls.
As with its predecessor, the Grand 2 includes a dual SIM option for HSPA+ to allow consumers to switch between networks as desired. The device weighs 163 grams — one gram heavier than the Grand — and measures 146.8 x 75.3 x 8.9 millimeters. It is 3.1 millimeters taller and 1.7 millimeters wider than the Grand, but 0.7 millimeters thinner.
Expandable Storage
The Grand 2, which runs on Android Jelly Bean 4.3, includes 1.5 GB RAM, and 8 GB of internal memory (expandable to 64 GB using a microSD card). Additionally, it features WiFi a/b/g/n, Bluetooth 4.0, and USB 2.0 connectivity. The Grand 2 also boasts an 8-megapixel rear camera with LED flash, and a 1.9-megapixel front-facing camera.
"This is a continuation of the Grand, which in a lot of ways is the Note without the S Pen [stylus]," Michael Morgan, senior analyst for mobile devices at ABI Research, told TechNewsWorld. "It's the other half of their tablet portfolio — that's one way to look at it. This is just them continuing their phablet strategy. There's nothing that I've seen particularly amazing about this. It seems to me this is their backup approach, and they put a lot more effort into the Note series."
Multitasking Capabilities
On the feature side, the Grand 2 includes a Multi Window feature that offers multitasking, allowing users to view two applications simultaneously. Story Album organizes pictures by timeline for easy creation of albums.
The S Translator feature offers instant translations; S Travel provides guides and travel information; and the Sound & Shot function lets users record up to nine seconds of audio with a photo. The Group Play collaboration tool lets users share documents, listen to music and play games together.
The Galaxy Grand 2 will be available in white, and black and pink in select regions.
Samsung declined to provide further details.
Plethora of Devices
The Grand 2 is yet another addition to Samsung's plethora of smartphone and phablet devices available to consumers.
"What this comes down to is them being able to meet the needs of any particular market segment with a specific device tailored towards it," noted ABI's Morgan. "That's sort of what they've been doing for a while, which is why they're doing as well as they are, some would say. Phablets are continuing to increase in terms of proportions of shipments. Eight-10 percent of smartphone shipments are now phablets."
A phablet has a screen size greater than 5.1 inches, according to ABI.
Different Use Cases
"Different people want different size devices for different uses at different times and there is no one device with one size screen that's perfect for every customer at every time," telecommunications analyst Jeff Kagan told TechNewsWorld.
"At this point, all we can do is look at the individual devices and compare their features," he said. "Users who want an easy purchasing experience would look at an Apple. Users who are very picky may prefer a Samsung, where they can pick and choose the features that they want."