Hard on the heels of LG's announcement earlier this week that it is planning flexible-display handsets of its own, Samsung Electronics on Wednesday announced the release of the Galaxy Round, which it says is the world's first smartphone featuring a curved screen.
New features enabled by the device's curved design include the "Roll Effect," which enables the user to check information such as the date, time, missed calls and battery easily when the home screen is off, and the "Gravity Effect" for creating visual interaction with the screen by tilting the device, Samsung said.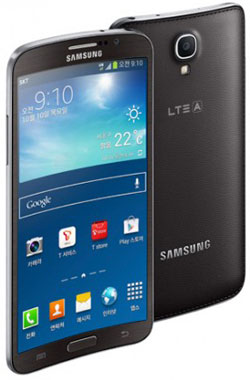 Both Samsung and LG also offer curved OLED, or organic light-emitting diode, technology in large-panel TVs, but now the South Korean companies are aiming to put the curve in users' hands.
The 5.7-inch Galaxy Round is now being rolled out in South Korea in "Luxury Brown," with more colors coming soon. Samsung has not given any indication so far on whether the device would be released in other markets, however.
Samsung did not respond to our request for further details.
'We're Not Really There Yet'
The fact that the Galaxy Round is curved doesn't mean that it's flexible or bendable — at least not yet.
"At present this is still a curved display on a rigid device," said Wayne Lam, senior analyst for mobile devices at IHS iSuppli. "If you look at Samsung and LG, these are both display manufacturers, and overall this is more a way to feed development of flexible display technology, but it could be at least a decade before these devices are truly flexible.
"To truly be bendable or flexible would require all the components inside to be bendable or flexible, and we're not really there yet," Lam told TechNewsWorld.
Apart from its curved display, the Samsung Galaxy Round doesn't introduce any significant new hardware.
"There aren't any major component advancements beyond the curved screen, so this way it is really kind of model expansion of the Galaxy devices," said Chris Hazelton, research director for mobile and wireless at 451 Research. "They are using the Galaxy components where it makes sense. That is driven by cost. They aren't looking to develop too many components for this device."
A Showpiece Device
Instead, the Galaxy Round "is more of a showpiece for the company," Hazelton told TechNewsWorld. Samsung's display division "has created the ability to create the curved display, and it is using this product to show it off.
"They have the funding to deliver the technology even if it is just a marketing demonstration," Hazelton added. "It shows that they can provide curved displays for vendors."
Of course, the Galaxy Round will be available at retail, so it does go a step beyond the usual "proof of concept" stage. However, it isn't expected that this is a device for the masses.
"The market is pretty small, as people don't know what the benefits are," Ramon Llamas, research manager for the mobile phones team at IDC, told TechNewsWorld. "What we are seeing is that Samsung is flexing its R&D muscle."
Coming as it does so soon after LG's announcement, "this is really about the competition between the two companies," Llamas added.
'What Is a Smartphone'?
The curved display of this new handset is not without its benefits, however, even as questions remain as to who its target audience might be.
"One of the most interesting effects of providing a curve of the display is it shrinks the width," noted IHS iSuppli's Lam. "This is a 5.7-inch display, which can be larger to hold in the hand, so by bending the device it allows it to be held easier."
It can be a difficult form factor to get right, however.
"Not everything will be conforming to the curved screen," Lam explained. "So you have to think about what problem this is trying to solve. It isn't addressing anything anyone is asking for at this point, but this is really about trying to get it out there and stir up the conversation about the curve."
There's also the fact that when Samsung launched its first Galaxy Note, "it was a bit of head-scratcher at the time, as it sat between two categories," Hazelton suggested. "This new device could see the same fit. It points to the future of capabilities but it also speaks to the fact that it is hard to define what is a smartphone.
"These are not like laptops, where all the devices have the same form factor," added Hazelton. "There is a lot more variety among devices. Samsung deserves credit for taking this in a new direction."