Samsung is set to unveil updates to its Omnia handset lineup, including new OmniaPRO units and the OmniaII, at the CommunicAsia information and communication technologies expo being held in Singapore through Wednesday.
The OmniaPRO comes in two form factors: a standard keypad/screen arrangement on the B7320 and a touchscreen design with slide-out QWERTY keypad on the 7610.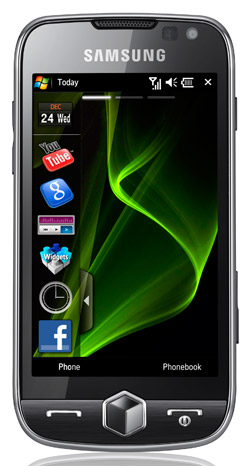 OmniaII
The OmniaII's features include video recording/playback capabilities and a 7.7-inch active matrix OLED display.
Samsung will likely market the OmniaPRO line first in Asia.
OmniaPRO B7610 Specs
The OmniaPRO B7610 has both a touchscreen and a QWERTY keyboard. It supports push e-mail for multiple accounts and comes with Microsoft Office Suite.
For Internet access, it uses the Opera Mobile 9.5 browser (Opera last week unveiled Opera Mobile 9.7), and HSPDA (High-Speed Packet Data Access) transmission.
HSPDA is an enhanced 3G protocol.
The B7610 also has WiFi connectivity; a 5-megapixel camera; a built-in GPS system; and an AMOLED display.
Unlike standard mobile phone screen technology, OLED technology does not require backlighting.
AMOLED technology deposits OLED pixels onto a thin film transistor to form a matrix that functions as a series of switches to control the current flowing to each pixel in the matrix. This reduces electricity consumption.
OmniaPro B7320
Designed as a portable messaging center, the OmniaPRO B7320 has a QWERTY keyboard with corporate push email support.
It's designed for easy access to social networking applications, and it also enables instant messaging from Google Talk, Yahoo Chat and MSN.
The OmniaPRO B7320 is equipped with a 3 megapixel camera; an FM radio with RDS (Radio Data System); and WiFi.
RDS is a communications protocol standard for embedding small amounts of digital information in conventional FM radio broadcasts. The U.S. version of RDS is RBDS, or Radio Broadcast Data System.
The OmniaII
The OmniaII (I8000) runs Windows 6.1 professional and has what Samsung claims is the world's largest AMOLED display, measuring 3.7 inches diagonally. It has WVGA resolution.
Other features include Samsung's TouchWiz 2.0 User Interface; 3-D effects; advanced resistive touch; video recording/playback; WiFi capabilities; and up to 48 GB of storage capacity.
OmniaLITE B7300
Samsung also unveiled the OmniaLITE B7300.
The OmniaLITE has a TouchWiz 2.0 interface; downloadable widgets; a multimedia player; push email access and Microsoft Office Suite.
It also runs the Opera browser and has WiFi connectivity, supports high-quality video, and has a 3 megapixel camera and a GPS system.
Taking On the iPhone?
As is the case when almost any new smartphone launches, it's difficult to avoid comparison to — or at least mention of — Apple's iPhone. In fact, the Omnia line's advanced features owe a lot to the first-generation iPhone, according to Yankee Group analyst Carl Howe.
"In many ways, these are the first devices that have been able to learn from the original iPhone, launched in 2007," he told TechNewsWorld.
"The gestation period is about 18 to 24 months, and so we're beginning to see some real competitors to the iPhone now," he said.
However, the success of the new phones will most depend on the user experience they provide.
"If — and that's a pretty big if — the users like the experience, these devices will sell like hotcakes," Howe said.
Samsung's use of Windows Mobile may hold it back, though. "It's tough to deliver a great experience, particularly on that operating system," he said.
Eastward Ho!
That may not be true in Asia, where Samsung is going to focus its efforts.
"Their strongest market is Asia, and we've heard that this announcement generated the strongest buzz of all the vendor announcements at CommunicAsia," IDC analyst Ryan Reith told TechNewsWorld.
The iPhone has not done too well in Asia since it was introduced three quarters ago, Reith said. "They haven't sold 500,000 units a quarter in each quarter in Asia, excluding Japan."
About 300,000 iPhones have been sold in Japan each quarter, according to Reith.
In the U.S., though, the iPhone is safe for now. "In the past, we've seen [Samsung] launch in Asia first after making an announcement at CommunicAsia," Reith said.