Samsung on Monday announced its latest tablet, the 7-inch Galaxy Tab 2.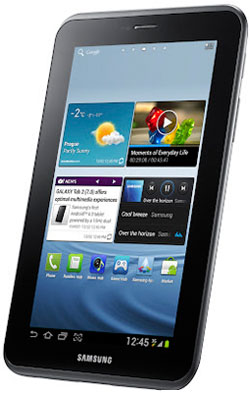 The Samsung Galaxy Tab 2
The tablet has a 1 GHz dual-core processor and runs Android 4.0 aka "Ice Cream Sandwich." It will be available in 3G and WiFi versions in Europe from March, starting with the UK market.
"Samsung's playing all over the board," Tom Mainelli, a research director at IDC, told TechNewsWorld. "They're certainly not shy about trying every form factor and screen size under the sun to figure out what's going to be competitive with Apple."
What the Galaxy Tab 2 Is All About
Through Ice Cream Sandwich, the Galaxy Tab 2 will offer access to more than 400,000 Android applications. It will have a redesigned app gallery for easier content sharing.
Ice Cream Sandwich "will bring more usability to this tablet than the previous ones [offer]," Michael Morgan, a senior analyst at ABI Research, told TechNewsWorld.
Samsung didn't upgrade predecessors to the Galaxy Tab 2 because "it's a hardware issue," Morgan said.
The Galaxy Tab 2 will offer access to Samsung Hub services. These consist of the Music Hub, which is a music store with more than 17 million tracks; the Readers Hub, which offers access to more than 2.3 million e-books, 3,500 magazines and more than 2,000 newspapers in 51 languages; and the Video Hub, which offers more than 1,000 film titles for purchase or rent.
Samsung has introduced its Touchwiz user interface on the Galaxy Tab 2. This features Hub widgets for easy access to users' content in Hubs. It also includes the "S Suggest" feature, which puts up real-time app recommendations on the home screen. The UI now has a swipe control feature for applications.
Further, Samsung has introduced its new content-sharing service AllShare Play on the Galaxy Tab 2. This lets users play, stream or transfer their multimedia content on the tablet to and from PCs, other Samsung smart devices, or third-party Web storage.
The front and rear cameras and other features are essentially similar to what's available in earlier versions of the Galaxy Tab.
Samsung did not respond to our request for further details.
Happy Talk
The 3G version of the Galaxy Tab 2 can double as a smartphone. Users can arrange multi-party video calls through Google+ hangouts. ChatON, Samsung's cross-platform communication service, will connect all phone users on any platform using their phone numbers so they can chat and exchange video and text messages.
"I think [the smartphone capability] is an excellent value add if operators are on board with this because now you're bringing voice to the media tabs," ABI's Morgan suggested. "I've seen some hacks in Europe that allow this but operators haven't been on board with it."
How Much Is That Tab 2 In The Window?
The Galaxy Tab 2 WiFi-only version will sell in Sweden for 2,995 SEK, and the WiFi+3G model will go for 3,695 SEK (about US$450 and $555, respectively).
Those prices may not be identically reflected in other markets, though.
"You might want to wait until the UK prices come out to get a more realistic picture," Gangar cautioned. That's because prices in the UK tend to be lower. "An entry-level iPad 2 costs around $680 in Norway and $630 in the UK," said Kunal Gangar, cofounder of SammyHub, which focuses on Samsung-related news.
He expects prices for the Galaxy Tab 2 will come down once the price for the UK market is disclosed.
Why Buy a Galaxy Tab 2?
Releasing the Galaxy Tab 2 "is an iteration of one of [Samsung's] current strategies — let's make media tabs and see who's going to buy them," ABI's Morgan remarked.
Still, there "certainly is a market for 7-inch tablets," IDC's Mainelli pointed out. "Smaller screen sizes than Apple's iPad 2 will be more acceptable in Asia and Japan."
The iPad 2's screen measures 9.7 inches.