Samsung held its annual Unpacked event in San Francisco's Bill Graham Civic Auditorium on Wednesday, presenting fans with a new product lineup that includes three versions of its flagship Galaxy S10, plus the Galaxy S10 5G, the Galaxy Fold, and several new wearables.
All of the devices have an edge-to-edge display that increases the amount of screen real estate available.
The S10 Triumvirate
It had been widely rumored well before the launch that Samsung "would adopt a similar strategy as Apple and launch three devices, with one being a cheaper model," noted Ville-Petteri Ukonaho, a senior analyst at Strategy Analytics.
Samsung introduced the Galaxy S10, the Galaxy S10+ and the Galaxy S10e. The S10e is the inexpensive model.
All three of the S10 devices have a triple rear camera system and a dual front camera system. The cameras and lenses are embedded into the screen, each floating in a sea of pixels.
They have the world's first Infinity O-Display on AMOLED.
"The quality of the screens is amazing," noted Ray Wang, principal analyst at Constellation Research.
The S10 devices have the world's first ultrasonic fingerprint scanner, embedded directly beneath the screen at the base.
Also, they can double as wireless chargers for Samsung wearables.
"The cameras and the reverse charging were a hit. The camera software democratizes pro photography capabilities," Wang told TechNewsWorld.
"Today marks a new beginning," D.J. Koh, head of Samsung's mobile communications division, told a packed audience. The new lineup "will launch the next decade of Galaxy."
However, these three phones "have technologies that were in previous models," noted Ramon Llamas, a research director at IDC.
"There's a lot of incremental improvements, and if that's setting the stage for the next 10 years, we have to be prepared for incremental improvements," he told TechNewsWorld.
Pricing is set at US$900 for the Galaxy S10, $1,000 for the S10+ and $750 for the Galaxy S10e. All three will be available from March 8 in stores and online. Samsung will begin taking preorders Thursday.
Sales of the Galaxy S series will be challenging, Llamas predicted, because of the price and people's reluctance to upgrade.
Trotting Toward 5G
The Galaxy S10 5G will be offered exclusively by Verizon Wireless in the United States.
"So we're down to 150 million people here (Verizon's customer base) instead of 320 million," Llamas said. "How many of them have 5G in their local areas?"
Meanwhile, Samsung is rolling out the Galaxy S10 5G with a number of carriers across Europe.
Trouble is looming, though: There is no single worldwide 5G standard, and the U.S. and the EU have been battling over different implementations.
The Galaxy Fold
"Occasionally a new device is introduced that overcomes expectations and sets the industry on a new path," said Samsung's Koh. "A device like the Galaxy Fold."
---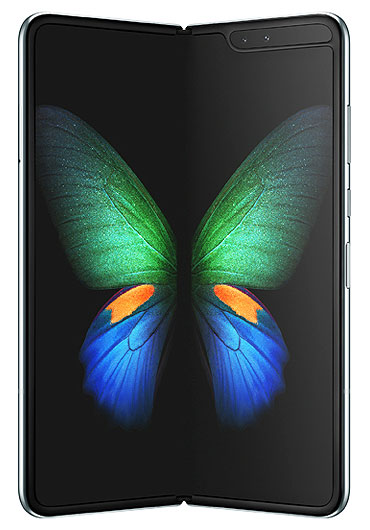 Galaxy Fold
---
For the Fold, Samsung reinvented the display from the ground up, pioneered new technologies, and created new materials, among other things, Koh said.
"The biggest surprise was the exceptionally great design of the foldable device," Strategy Analytics' Ukonaho told TechNewsWorld.
"The Galaxy Fold defines a whole new category of smartphones," he said. "It will be the device every other vendor wants to beat."
The Fold has a 4.6-inch cover (outside) with a QXGA+ Dynamic AMOLED display. When it is unfolded to serve as a tablet, its two inside screens seamlessly conjoin to create a 7.3-inch HD+ Super AMOLED display.
"We had to develop brand new ways to design, develop and manufacture" to make the Galaxy Fold, said Justin Denison, Samsung's senior vice president of product marketing.
The company had to invent a new polymer layer and create a display roughly half as thin as the typical smartphone display, said Koh.
"One of the biggest challenges was building the backbone of the device," Denison said. Samsung "developed a sophisticated fold system with hinges with multiple interlocking gears."
Apps can switch seamlessly among the screens with Samsung's "App Continuity" feature. Users can open up to three active apps simultaneously.
The Fold has a rear triple camera, one front camera and two inside cameras. It uses a state of the art 7nm 64-bit octa-core processor; it has 12 GB of RAM and 512 GB of storage. It supports Universal Flash Storage 3.0.
Two batteries, one on each side of the Fold, offer a total of 4,380 mAH to power the device. Their power is combined into one source.
The Fold is Fast Charging compatible on both wired and wireless. It runs Android 9.0 (Pie).
The Galaxy Fold will be available from April 26, Denison said.
It will be offered in an LTE and 5G versions. Pricing will begin at $1,980, depending on the region and carrier.
"That's quite high, but we expected this because of its complex mechanics," Strategy Analytics Ukonaho remarked.
"Most people were expecting it would come in at more than $2,000," noted Constellation's Wang.
Samsung "is not the first to come out with a foldable phone," noted IDC's Llamas. "China's Royole FlexPai is, but Samsung gets credit for bringing this out into the mainstream."
If you're a real heavy-duty hardcore multimedia consumer, this might be for you," he said, "but right now we're talking almost a niche device."
3 New Wearables
Samsung debuted three new wearables: the Galaxy Watch Active, Galaxy Fit/Galaxy Fit e, and Galaxy Buds.
---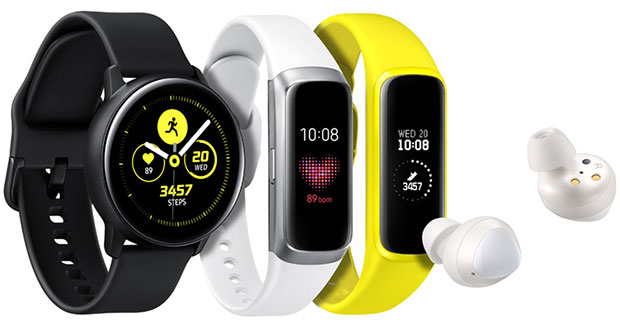 Galaxy Wearables
---
The smartwatch, activity tracker and cord-free earbuds are designed to accommodate a range of lifestyles, the company said.
"Consumers are increasingly putting their overall well being at the center of their lifestyle decisions, and they're looking for wearables that make it easier to get active and stay balanced every day," said Koh.
The Galaxy Watch Active offers blood pressure monitoring and stress management, as well as fitness tracking.