Samsung has been granted a patent for a smart contact lens, according to news reports published last week.
The lens is equipped with a tiny display, a camera, an antenna, and several sensors that detect movement and eye blinks. Eye blinks would provide the input, and a smartphone would be needed to process the images.
A user blinks to take pictures or interact with data displayed on the smart contact lens. Sensors pick up the blinks and relay the commands they indicate to the user's smartphone for processing. The results are sent back to the lens almost immediately.
Some circuits apparently will be visible in the lens, but they are at its edge.
The patent was filed in September 2014 and was approved last week by the South Korean Intellectual Property Office.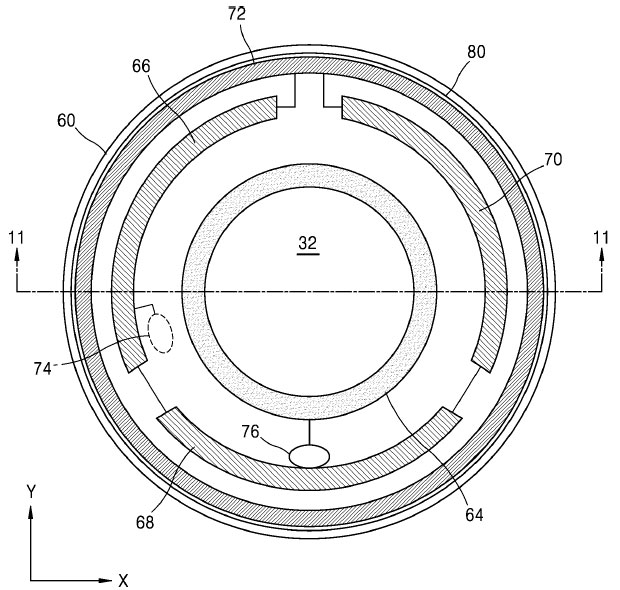 This drawing shows an example of the configuration of the peripheral contacts on a smart contact lens.
Fueled by the Push Into AR
"Much of this is tied to augmented reality," noted Jim McGregor, principal analyst at Tirias Research.
"If virtual reality and augmented reality take off, there's good potential to see products in the next two years," he told TechNewsWorld. "I'm optimistic that VR and AR will take off because of the potential in gaming, entertainment, education, and even industrial applications such as medicine."
There's sound reason for optimism about VR and AR: Strategy Analytics has predicted that smartphone-based devices will dominate the 12.8 million-unit VR headset market it projects for this year.
"Augmented reality is indeed the right track as it relates to in-lens display capabilities once the human-acceptable factors are resolved," observed Cliff Raskind, a senior research director at Strategy Analytics.
Crude resolution may not be a problem as "there are many AR use cases not requiring rich imagery," he told TechNewsWorld.
The global AR/VR market will total US$120 billion by 2020, Digi-Capital predicted. Consumer AR will account for $90 billion of that.
The Science Involved
The IEEE has done work in this area, said Mike Jude, a program manager at Stratecast/Frost & Sullivan.
A camera in a lens "would probably place a significant chuck of electronics over the cornea, [obscuring] part of the visual field, and would irritate the wearer," he told TechNewsWorld. "Think of a speck in your eye that you can't blink away."
The contact lens would have to be "rather chunky," and because comfort in wearing contacts is directly related to the weight of the lens, "this would likely take a lot of practice to get comfortable with," Jude surmised.
Further, contact lenses must be moist — they're 50 percent water, noted Ville-Petteri Ukonaho, a senior analyst at Strategy Analytics.
Antennae and other equipment could be placed in the area of the contact lens outside the iris, but "there can't be too much stuff to block that [because] the oxygen permeation rate needs to be close to 100 percent," he told TechNewsWorld.
Those issues may have prevented Google from moving ahead with its own smart contact lens, which it developed back in 2014.
The March of Technology
Advances in science might resolve some of these problems.
Scientists in Australia have created the world's thinnest camera lens — 6.3 nm thick, Ukonaho pointed out. That's one-two-thousandth the thickness of a human hair.
The lens manipulates the flow of light at an atomic scale, which could lead to further miniaturization in camera manufacturing.
The next-smallest lens is 50 nm thick.
Power Play
Power and radio frequency issues might plague the development of smart contact lenses, Strategy Analytics' Raskind suggested.
"Having a radio and display requires power, and current photovoltaic cells just aren't powerful enough as the surface they must work with is very small, [with a] diameter of about 14 mm," Ukonaho said.
For communications between the smartphone and the smart contact lens, WiFi is "too power-hungry," so Bluetooth LE might be used instead, he suggested. [*Correction – April 13, 2016]
The uses for smart contact lenses, Tirias Research's McGregor said, "are almost limitless."
*ECT News Network editor's note – April 13, 2016: Our original published version of this story incorrectly stated that Strategy Analytics' Ville-Petteri Ukonaho suggested LTE could be used for communications between the smartphone and the smart contact lens. He actually suggested that Bluetooth LE might be used instead of WiFi. We regret the error.