Samsung and Oculus on Wednesday unveiled the Gear VR — a virtual reality wireless headset optimized for Samsung's Galaxy Note 4 phablet, also announced Wednesday.
The Gear VR — or "Samsung Gear VR Innovator Edition," as Oculus describes it — will be compatible with a wide range of film, gaming, 360-degree video, and educational and experiential content. It will be released later this year at a price yet to be announced.
Targeting VR enthusiasts, developers and other early adopters, the Gear VR has broken new ground.
"I guess it's the first time that a tablet is pairable with a VR headset," Lewis Ward, a research manager at IDC, told TechNewsWorld. "This could be a new avenue of exploration for VR technologies, and I suppose it's inevitable — but it's extremely bleeding-edge for a company (Oculus) that hasn't got a product in the market yet."
More on the Gear VR
Built with soft, flexible cushioning and lightweight materials, the Samsung Gear VR is powered by the Galaxy Note 4's GPU and CPU. It uses the smartphone's Quad HD 5.7-inch 1440p AMOLED screen as its display.
Oculus developed a new mobile SDK for the Gear VR and tweaked Android and the underlying GPU drivers for VR.
The Gear VR has variations of the Oculus Tracker and firmware built into it, for accurate, ultra low-latency 3DOF tracking.
It delivers sub-20 ms motion-to-photons latency, roughly equivalent to the most highly optimized experiences on DK2, Oculus said.
The Gear VR's Tech Specs
The Gear VR's lens offers a 96-degree field of view. It has an accelerator, a gyrometer, and magnetic and proximity sensors.
The device has a touchpad, a back button and a volume key.
Measuring 7.7 x 4.56 x 3.54 inches, it connects to the Galaxy Note 4 through a micro USB 1.1 port.
The headset will come preloaded with 360-degree videos and 3D movie trailers from major studios, as well as more than 100,000 HD music videos, videos and events from Vevo.
"Given that the Oculus resources are all in beta, it's likely the average consumer isn't going to be interested," said Christine Arrington, a senior analyst for games at IHS Technology.
However, Samsung needs to offer a truly immersive experience first and, if it does, "there is a core group of enthusiasts who have been waiting for something to happen in consumer VR," she told TechNewsWorld.
VR Unplugged
"This transformation of VR into a new platform is exactly what Facebook was looking for when it acquired Oculus earlier this year," Eric Smith, an analyst at Strategy Analytics, told TechNewsWorld.
Partnering with Samsung "can help VR unplug from the PC or games console and bring it out of the living room into a truly multidevice platform," he said.
The Samsung Gear VR "will definitely put pressure on Sony's Project Morpheus," which is closely tied to the PlayStation 4, Smith suggested.
The Note 4 and the Edge
Although the Samsung Galaxy Note 4 offers little that's new, the AMOLED display "provides a very consistent power draw across applications and lighting conditions, and reduces power consumption," said Jeff Orr, a senior practice director at ABI Research.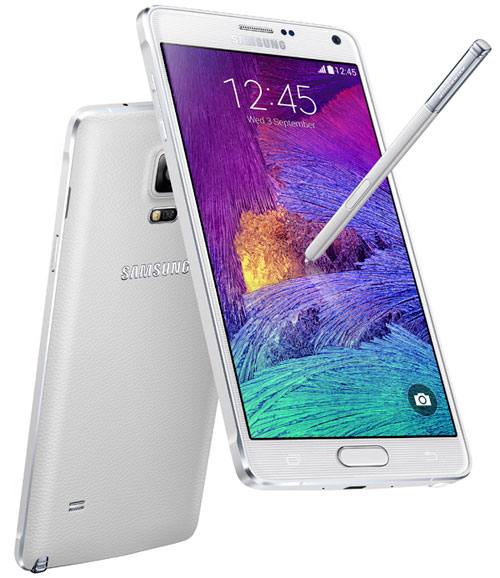 Samsung Galaxy Note 4
However, "you couldn't put that on the box," he told TechNewsWorld.
The Edge "is interesting, because it suggests there is now an opportunity to have a premium or more elegant product in the phablets section than what we've seen before, which was just smartphones with larger screens," Orr remarked.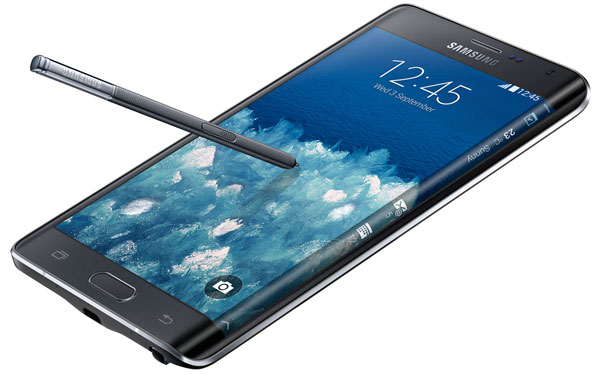 Samsung Galaxy Note Edge
"I see the Edge as the Note 4 with more features — but I like that it offers a new, faster way to get notifications without having to open up a screen," Ramon Llamas, a research manager at IDC, told TechNewsWorld.
The Edge "is Samsung's major push to keep phablet users on Samsung before the arrival of the 5.5-inch iPhone 6," he suggested.
Game Plan
"These companies need to enunciate a strategy based on 'what can I do with this device that is unique and compelling — and that I can't do with anything else?'" said Susan Schreiner, an analyst at C4 Trends.
The Gear VR headset "will require that the consumer purchase yet another device, the Note 4," she told TechNewsWorld. "Over time, will Samsung make the Gear VR compatible with more of its products?"