Samsung hinted it wasn't about to rock the mobile world with the choice of the warmup band for its Unpacked 2014 event Monday — the Barcelona Opera House Chamber Orchestra.
At the event, held at the Mobile World Congress in Spain, it announced a new version of its flagship smartphone, the Galaxy S5, as well as an upgrade of its smartwatch, the Gear 2, and an advanced fitness band, the Gear Fit.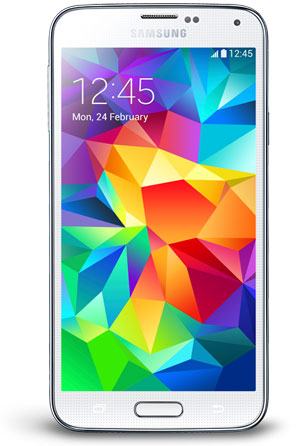 Known for adding features to its phones for features' sake, the No. 1 mobile phone maker professed a change of attitude at the S5 unveiling.
"Our consumers don't want eye-popping technology or the most complex technology," said JK Shin, Samsung's head of its information technology and the mobile communications division.
Feature bloat plagued the S4.
"All the really cool things they put on there — for the most part — were incremental," said Ramon T. Llamas, a senior research analyst at IDC.
"For instance, they added picture in a picture in the camera. It's nice to have, but it isn't going to move the needle or revolutionize anything," he told TechNewsWorld.
More Durable Model
The S5 has a larger screen than its predecessor, 5.1 inches, and a more glam look, with a perforated back that shimmers when light strikes it. The display also automatically adjusts itself to surrounding lighting conditions.
The S5 has been made more durable by meeting the IP67 standard for resistance to dust and water.
"Watch a video in the tub. Sing along in the shower. Don't worry about the rain," said Samsung Vice President for European Telecom Operations Jean-Daniel Ayme.
"But don't go too far," he cautioned. "Water resistant is not waterproof, so don't keep it under water."
The 16-megapixel camera in the S5 has a new fast autofocus feature that can fix a focus in 0.3 of a second, and a select focus addition that allows a shutterbug to shoot shallow depth-of-field photos — good for portraits where the background appears out of focus. It also processes High Dynamic Range information so fast that you can see an HDR scene in real time on the phone's full HD display.
Fast 802.11 ac WiFi is supported by the S5, and with its new Download Booster connection, which allows data to be downloaded using both LTE and WiFi simultaneously, a gigabyte of data can be sucked into the smartphone in 30 seconds.
"That means your full HD movie is ready to go before your microwave popcorn is finished popping," Ayme said.
First Curved AMOLED
Battery life also has been improved in the S5. You can surf the Web for 10 hours on an LTE connection with the S5 or watch video on the device for 12 hours, according to Samsung.
In addition, the unit has an ultra power-saving mode that can stretch out battery life. With a phone with 10 percent of its juice remaining, ultra power-saving mode can keep the phone alive for 24 hours of standby time.
As with the iPhone 5s, the S5 has a fingerprint reader. However, it uses a swipe gesture to activate it and it does more than just serve as a way to unlock a phone. It can be used to complete transactions and to lock documents on the device.
"The problem with fingerprint sensors is how do you make them reliable," Carl Howe, research director at the Yankee Group, told TechNewsWorld. "It does you no good if sit there struggling to make it recognize your fingerprint."
That could be even more of a problem with the S5's swipe sensor.
"Those have proven not be as reliable as the kind of sensor in the iPhone," Howe noted.
New Wearables
For parents, the S5 has a kids' mode that not only keeps tykes away from mom and dad's valuable data on the phone, but also creates an area for games and content to keep the kids occupied.
Samsung also introduced updates to its Gear smartwatch — it now has interchangeable wristbands and is compatible with 17 Galaxy devices — and the Gear Fix, a fitness band with a curved AMOLED display that can receive notifications and other messages from the 20 Galaxy devices it's compatible with.
No pricing was released at the event by Samsung.
Samsung appears to be more focused with this latest version of its flagship smartphone.
"They seem more refined than their typical MO of piling on as many gee whiz features as possible," said Ross Rubin, principal analyst with Reticle Research.
"There was certainly a stronger focus than we've seen in previous Samsung flagship introductions," he told TechNewsWorld. "They focused on things that will be meaningful to consumers in their everyday use of the product."