Competition heated up in the OLED TV market Tuesday as Samsung announced it was shipping its first production model using the technology and that it would sell for US$8,999.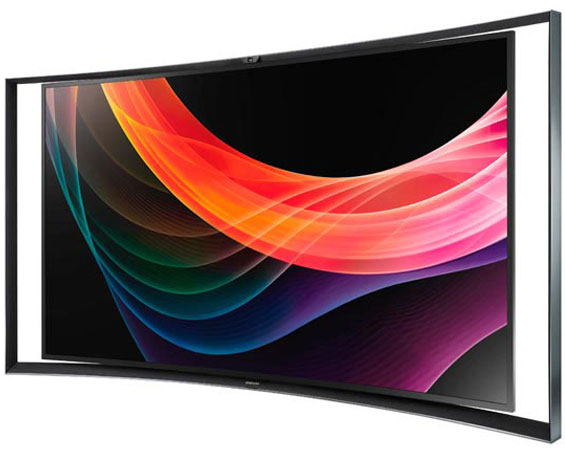 Samsung's Curved OLED TV
That price will choke most TV shoppers, but it's being hailed as a new low price point for displays sporting the state-of-the-art technology. The only other OLED TV in the market sells for $15,000 and is made by Samsung's arch rival LG.
Anticipating comparisons with the new 55-inch Samsung model, LG began distributing to journalists pictures of the company's billboard in Times Square emphasizing its Curved OLED model's immediate availability. The LG model has been on retail shelves since July 22.
Samsung said its OLED has begun shipping to specialty dealers in the United States.
"This TV is aimed at high-end homes where price tag isn't as much of an issue as experience is," Brett L. Sappington, director of research for Parks Associates, told TechNewsWorld.
At $9,000, the offering isn't a mass market product, observed Ross Rubin, principal analyst at Reticle Research.
"It's certainly not something we're going to see in Walmart any time soon," he told TechNewsWorld.
Beautiful Blacks
OLED — organic light-emitting diodes — technology has been hailed as the next big thing in TV, combining what's best in existing flat screen TV technologies.
"OLED marries the best of both LCD and plasma technology without the drawbacks of either," Jim Willcox, senior editor for electronics for Consumer Reports, which published a review of the Samsung OLED model Tuesday.
OLEDs have the black levels, high contrast, unlimited viewing angles and no-motion-blur features of plasma TVs, he noted, along with the brightness of LCDs without the backlighting issues associated with them.
In fact, OLED's picture quality may be too good for its own good.
"We've heard consumers say that the color is too real, or pops a little too much," Linn Huang, a display analyst with IDC, told TechNewsWorld.
"It's such a stark contrast to what we've seen with traditional LCD TVs that an adjustment is necessary for a lot of people that are used to one particular viewing experience," he explained.
At the core of OLED's performance is how it emits light. Unlike LCD screens that require filters to create the basic colors for a TV image — red, green and blue — or plasma displays that use UV light and colored phosphors to do so, OLED creates the cornerstone colors for an image more directly by passing electricity through materials that glow in those colors.
What that means is that OLED TVs can be thinner, lighter and more energy efficient. Moreover, because each pixel in the display can be totally turned off, richer blacks can be produced.
"We were really impressed by the Samsung TV," Consumer Reports' Willcox said. "It did everything we hoped it would do in terms of black levels and contrast."
Perpetual Premium Pricing
OLED is not without its problems, however. Manufacturing TV sets with the technology, for example, is difficult, with yield rates now at around 30 percent. "That means they're throwing out seven TVs for every three they can make and sell," Willcox said. [*Correction – Aug. 16, 2013]
In addition, there are issues about the blue materials in OLEDs losing brightness at a faster rate than the other colors, he continued. The lifespan of the OLED TVs is also undetermined at this point in the technology's development.
Although there have been reports of OLED screens experiencing "burn-in" — where the ghost of past images remain on a screen — Consumer Reports did not find that in its tests. "We found that it was less susceptible to burn-in than plasma," Willcox said.
Only LG and Samsung are involved in OLED TVs now, but if the technology takes off, more makers can be expected to jump aboard.
"With larger and larger TVs getting cheaper and cheaper, introducing a premium technology like OLED into the market is one way that they can boost the selling price of TVs back up," IDC's Huang said.
Better yet, OLED's are likely to retain their premium status in the market.
"We expect the costs to go down," Huang observed, "but we would expect OLED TVs to always have a premium in pricing over LCD TVs."
---
*ECT News Network editor's note – Aug. 16, 2013:
In our original published version of this story, Consumer Reports' Jim Willcox was quoted as saying, "That means they're throwing out 17 TVs for every three they can make … ."