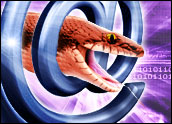 Sophos has announced its monthly top-ten virus and hoax list. The report, which examines virus and hoax reports in the month of May 2004, shows the Sasser worm dominating the chart, accounting for more than half the reports received by Sophos.
"Sasser was the major pain in the neck this month, affecting far more users than even the prevalent Netsky worms. Requiring no user intervention and taking advantage of a relatively new Microsoft hole, it sneaked onto unprotected PCs, swamping internet connections," said Carole Theriault, security consultant at Sophos.
"The best way to block such stealth worms," said Theriault, "is to deploy a consolidated defense, including multilevel antivirus protection, firewalls and policies to update operating systems and educate staff."
Sophos analyzed and protected against 959 new viruses in May. According to the company, this is the highest number of new viruses discovered in a single month since December 2001. The total number of viruses Sophos now protects against is 90,811.
"The Sasser and Netsky worms may have captured the headlines, but many more viruses have been written this month — 959 in total," continued Theriault. "Indeed, May has seen a noticeable spike in cybercriminal activity, suggesting that even the arrest of Sven Jaschan, the German teenager who has owned up to writing Sasser and Netsky has done nothing to curb the problem."
Sophos has made available a free, constantly updated information feed for intranets and Web sites, which means users can always find out about the latest viruses and hoaxes.
"A new entry to the hoax chart in May is the 'Spunkball' chain letter," said Theriault. "This message claims to warn of teenagers targeting stationary cars with fire bombs. As ever, the best advice for computer users receiving this sort of hoax e-mail is to simply press delete. Deploying an effective antispam defense can also reduce the impact of hoaxes and chain letters."