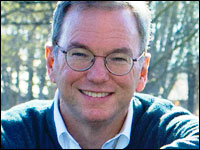 The visit to North Korea this week by a team led by Google Chairman Eric Schmidt and former New Mexico Gov. Bill Richardson has stirred up controversy.
The U.S. State Department has criticized the move, while Sen. John McCain, R-Ariz., has described Richardson and Schmidt as "useful idiots".
McCain's statement has drawn fire from readers of an article on the visit published in the Independent.
Meanwhile, in a move that may further inflame the U.S. government, North Korea has claimed that the delegation paid tribute to Pyongyang's late leaders, Kim Il-Sung and Kim Jong-Il, the Telegraph reported.
Who's There?
There are reportedly nine people in the group. They apparently include Richardson's daughter, Sophie, and Jared Cohen, director of the Google Ideas think tank.
The visit is not official but a private humanitarian mission, Richardson and Schmidt have said.
It's been reported that Schmidt's interested in the social aspects of the North Korean economy.
Washington Finger-Wagging
Both Richardson and Schmidt were well aware of U.S. concerns about the timing of their planned trip, U.S. State Department spokesperson Victoria Nuland said, especially since it follows on the heels of Pyongyang's December launch of a satellite into space on a long-range rocket — which could double as a missile.
There's a perception that the visit upstaged U.S. diplomatic efforts and will help to boost North Korea's profile, but Richardson said his group has called on Pyongyang to impose a moratorium on missile launches and nuclear tests, and asked for fair and humane treatment for U.S. citizen Kenneth Bae, who's been imprisoned for hostile acts against North Korea. Bae reportedly faces 10 years in prison.
Schmidt reportedly visited North Korea's Kim Il Sung University and toured the Korea Computer Center. He apparently asked about North Korea's new tablet computers and its Red Star Linux-based operating system
Schmidt also apparently urged North Korea to allow more open Internet access and permit the use of mobile phones.
KCC, which is part of the political establishment, handles North Korea's .kp country code top-level domain, but the DNS and WHOIS servers for the domain have apparently been unreachable since 2010.
Google did not respond to our request to comment for this story.
Glasnost, Gangnam Style
The U.S. delegation's visit might open up North Korea.
"You have a country that's arguably the world's most inaccessible, probably in both directions, to Internet resources, where perhaps only a few thousand citizens have Internet access," Susan Moeller, a professor at the Philip Merrill College of Journalism, told TechNewsWorld.
"The fact that [Schmidt] is making a visit is perhaps a larger indication that the new North Korean leadership are willing to exchange ideas at the leadership level," Moeller continued. "It suggests both the Google side and, presumably, the North Korea side, are interested in starting a conversation, and I see this arguably as less of a cultural symbol and more of an economic one. You can't enter the global economy without access to the global Web."
"The North Korea situation has remained static since the 1980s, and, going over there and opening up more interactions with North Korea is a good thing," Peter Leyden, founder and CEO of Reinventors.net, said. Leyden has lived in South Korea, and has been following Korean affairs for the past 30 years.
The visit "might disrupt temporarily the U.S. government's current stance towards North Korea but, in the long run, the more channels we've got going into [that country] and the more flow of information and ideas there is might be the best way of opening them up," Leyden told TechNewsWorld.
"Given there's a leader there who's relatively young and inexperienced but also fresh and new, my feeling is that there's an opening and we can afford to take some risks and shake things up a little bit," Leyden continued.
Current North Korean leader Kim Jong-Un has already made overtures towards South Korea for peace, in a New Year's address.
While Pyongyang might try to use the visit as a way to legitimize Kim Jong-Un, "that's outweighed by the idea that people in North Korea are starting to see a little more of a breath of fresh air from the outside," Leyden remarked.
The State Department did not respond to our request for more details.