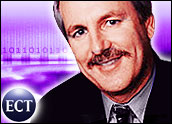 After watching the first presidential debate, one person on that stage clearly showcased the leadership, focus and bipartisan attitude the U.S. needs to turn itself around. Unfortunately, Jim Lehrer isn't actually running, so it didn't help my own decision process much, and I remain decisively undecided at the moment. In watching the bailout last week, it became clear that tech is clearly at risk, and I was struck by the reality that were the U.S. a company, the CEO, CFO and chairman of the board (Speaker of the House) would likely have all been, and should have been, fired.
On Thursday, I went to an event at Intel where Gov. Arnold Schwarzenegger of California spoke on increasing California's revenues. I was struck by the fact that most politicians seem only to want to creatively spend money, not increase revenues. Successful CEOs tend to focus as much on making money as they do on effectively spending it, leaving me wishing I had the choice of voting for the Terminator for turnaround President. He is impressive in person.
Another fight was looming at the same time and it drove home the point that with all the money the government it taking from us, I wondered when it would start protecting our freedoms rather than finding creative ways to eliminate them. In this latest case, I'm talking about RealDVD and our freedom to use media.
I think the U.S. needs a turnaround team right now, and of all the companies I cover, HP has had the most successful turnaround effort in recent record. The product it has that is my favorite is the TouchSmart PC, which I'm making my product of the week.
RealDVD and Our Digital Freedom
Why can't we rip DVDs? The reason the movie industry gives is because we are all pirates and can't be trusted. Certainly I enjoy the heck out of being called a criminal by an entire industry; well, actually I don't, and I'm getting kind of tired of a government that supports the belief that the very people they need to bail them out are crooks.
RealDVD is a product that securely allows someone to rip a DVD and put it on a single hard drive but not share that file out. Practically this isn't a way to move media around your home but simply to allow you to use one of the popular new netbooks that don't have built-in DVD drives to watch movies while traveling.
That's it — you buy a DVD, and because you don't have a built-in drive, you rip the DVD to your laptop. If you recorded the movie off of TV you could do this, though the industry is doing its level best to block digital TV content, so you can't, and after early next year, getting something like Tivo ToGo to work is probably going to be impossible.
Now I agree that piracy needs to be curtailed but I, like most of you, only watch a TV program once, so why does the government allow the movie industry the power to tell us where, when and with what technology we can watch programs we are actually paying for? I pay for cable, movie rental, and a variety of music subscription services, and I still can't listen or watch the programs I'm paying for when and where I want — which is just absolute crap. I could modify that word but don't think the result would get through editing. [Editor's note: He's right.]
Currently, the movie industry is trying to shut down RealDVD, and both the record and movie industries seem to treat the U.S. citizen as the bad guy. I would think that the U.S. government, after asking us to come up with a massive amount of money to fix a problem they created, would spend a little time protecting us from industries that feel the best use of their time is to attack our freedoms.
Or, another way of putting this, when does the U.S. government (or any government) actually start protecting the rights of Main Street and not just the extreme revenue wishes of Wall Street? I look forward to the day when the U.S. Government takes its hand out of my pocket and moves to protect my back. The only politician that recently gave me hope is the California governor.
Firing the US CFO, CEO and COB
One of the very first things that typically would happen if a CFO, or in the case the Secretary of the Treasury Harry Paulson, popped in to tell the board (Congress), that the company (country) was — surprise — going bankrupt would be to fire the guy, and then likely fire the CEO. This would be done for two reasons. One, Paulson's news blindsided those who have to deal with it, making them look incompetent and reducing dramatically their ability to deal with the problem timely and well. Two, none of the major players would trust either his ability or his honesty after such an event (probably both). The fact that he then came up with a "blank check" plan should have been the equivalent of putting a booster rocket under his butt, launching him out of the job and just short of off the planet.
This goes beyond the executive branch and Republican Party because congressional oversight appears in hindsight to have been on vacation — or worse, possibly allowing things to go bad for political gain. When the House went to vote on the bailout plan, the Speaker, who supposedly was for the plan, castigated her opponents, virtually assuring the plan wouldn't pass. Were she a Chairman of the Board, she would likely been asked to step down and possibly even resign from that board because she was making the problem worse.
As I mentioned, I ended last week listening to the California governor talk about promoting the state of California at CeBIT and reflected on what this meant. In a way, I think it meant that thanks to our economic problems, sales overseas will be important to the country's and state's survival. Rather than spending time blaming folks for the problem, the governor was getting off his own butt and driving an increase in state revenue without calling for higher taxes.
I was left thinking that of all the politicians I've seen speak, Arnold was the only one that was talking like a successful turnaround CEO might and focusing on increasing our revenue from exports rather than focusing on increasing taxes. Like turning around a company, if we really want to turn around the country, we need more people focused on revenues like Arnold Schwarzenegger was. It was fascinating to listen to the Europeans refer to California as a country and not a state, one they specifically thought better of than its parent.
Product of the Week: HP TouchSmart PC Generation 2
Given that I started by pointing to HP as a successful turnaround, so much so that it now leads its industry, I thought I'd commend my favorite HP product this week. While the iPhone introduced touch to the world, it is Microsoft Surface that appears to be getting most of the TV play, at least on NBC, during this crisis.
While the TouchSmart's multi-touch capability is very limited, the use of your fingers to move and manage things is both intuitive and fun. It is also, with the expected release of Windows 7 and touch-capable Apple PC products next year, supposed to be vastly more common.
HP is the only company that has ever outsold Apple with an all-in-one product in any market (NPD's reports had put the current TouchSmart ahead of the aging iMac during the summer). Just beating the all-in-one market leader Apple would probably be enough, but the offering is also attractive, easy to use, fun, and relatively inexpensive for its class — so the new HP TouchSmart PC is my product of the week.
---
Rob Enderle
is a TechNewsWorld columnist and the principal analyst for the
Enderle Group
, a consultancy that focuses on personal technology products and trends.
---