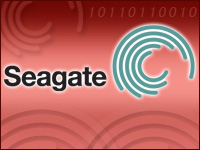 Hard drive manufacturer Seagate has come up with a new way to attack the chaotic home entertainment market: Let users create their own personal information clouds.
On Tuesday, it unveiled its FreeAgent Theater + high-definition media player; and on Wednesday it announced the FreeAgent DockStar network adapter and new FreeAgent Go portable drives.
Used together, they essentially let consumers take files and images from their computers, digital cameras and external hard drives and display them on their TV screens.
FreeAgent Theater+ Tech Specs
The FreeAgent Theater + media player fits into consumers' existing home entertainment centers and hooks up to their TVs through an HDMI cable. It also has component and composite video support, as well as stereo RCA and optical audio support.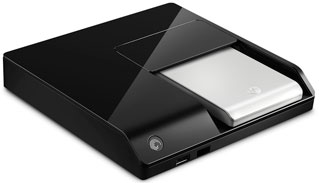 Seagate FreeAgent Theater +
The device lets users play a long list of file types, according to Jon Van Bronkhorst, executive director of product marketing at Seagate's retail business. These include MPEG-1, MPEG-2, MPEG-4, DivXHD, Xvid HD, AVI, MOV, MKV, JPEG, GIF and TIFF.
The media player offers 1080p HD video playback and DTS 2.0 + Digital Out digital surround sound. It comes with a remote control and uses simple sync software for Macs, PCs and Linux computers.
The Seagate FreeAgent Theater + has a total of three USB ports — one in front, one in the back, and one situated especially for a FreeAgent Go portable hard drive. Digital cameras can be plugged directly into a USB port for downloading images.
The media player also has an Ethernet port so users can access digital media on their home networks. Seagate will unveil a USB Wireless Adapter in October for 802.11n wireless access to home networks.
The FreeAgent Theater + is available immediately for $149.99. The device can be used with any USB storage device, but buyers who also want a 500 GB Go drive can get a bundle package for US$289.99.
About the FreeAgent DockStar
The FreeAgent DockStar network adapter will let consumers access files over the Web from computers or storage devices. It will also let them deliver linked pictures and video to social networking sites such as Facebook, Twitter and MySpace, or share files directly or through RSS feeds.
In other words, consumers can create their network-attached storage systems and their own personal clouds.
The adapter comes with four USB ports. It works with the Pogoplug service from Cloud Engines.
Though it might give users a convenient way to share files around the home and from far away, if consumers can access their home networks from the Web using FreeAgent DockStar, what's to stop hackers from taking over those home networks or users' social networking identities?
The first roadblock is for consumers to encrypt their home WiFi networks, which is a step most security-minded home network users take regardless of whether they're using products like this.Beyond that, Pogoplug uses the HTTP Secure protocol to link home networks to the Internet. Secondly "There's no traffic from your DockStar to the home network," Van Bronkhorst told TechNewsWorld. "That means only the storage devices you connect to your DockStar can be hacked."
The FreeAgent DockStar network adapter is available now; the manufacturer's suggested retail price is $99.99. The device comes with one year of Pogoplug service for remote access and sharing. After that, consumers have to pay $29.99 per year for unlimited sharing and remote access.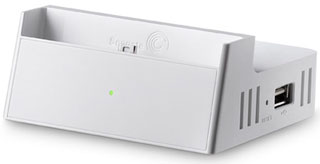 Seagate FreeAgent DockStar
Access on the Go
Pogoplug is a combination of the service and a small adapter from Cloud Engines. Together, they connect external hard drives to the Internet.
The remote service enables "anything from instant setup to connectivity with social networking sites," Cloud Engines CEO Daniel Putterman told TechNewsWorld.
Pogoplug's service does not store any consumer's data. "We just enable your home to be a cloud," Putterman said. "To the outside world, your content appears like a cloud service, but it remains safe and secure inside of your home."
Seagate designed its own adapter for its offering.
The FreeAgent Go Drive
Seagate unveiled three new members of its FreeAgent Go portable hard drive line. These come in capacities of 750 GB, 880 GB and 1 TB.
Though 1 TB and even 2 TB desktop external hard drives have been available for some time, most are larger than the pocket-sized Go drives and must be plugged into a wall socket. "These run off USB power and are 2.5-inch hard drives," Seagate's Van Bronkhorst said.
The three new FreeAgent Go drives are all compatible with Windows 7, Windows Vista and Windows XP. All are equipped with Seagate Manager software, which provides scheduled automated back-ups and multi-computer synchronization. For security, they use software-based AES 256-bit encryption.
Seagate's Novel Plan
Seagate's marketing pitch for the FreeAgent Theater + media player is that it's a way consumers can connect their digital media libraries to their home entertainment systems. It's landed in a chaotic home theater market in which video game consoles, full-fledged HTPCs, high-definition discs, streaming media, downloadable content and more are all vying for space in the living room.
"Yes, the home entertainment space is crowded," Seagate's Van Bronkhorst said. "We're trying to provide the easiest way to get your pictures, movies and sound files out of your PC or Mac and putting them on your TV screen. We're not about being a TV show or a DVR replacement."
The approach is novel, but it may not work, contends Rob Enderle, principal analyst at the Enderle Group. "This moving media around the house category with AppleTV and products like this has been problematic, and Seagate's approach is to take a hard drive sneakernet product focus," he told TechNewsWorld. "That's unique, but I'm not convinced the market gets it. It's a tough product to sell, and the entire category is troubled."