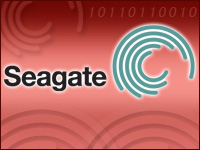 Seagate Monday began shipping its second-generation hybrid solid state/hard disk drive to original equipment manufacturers (OEMs) and its sales channels.
The Seagate Momentus XT is priced much lower than full solid-state drives.
The device spins at 7,200 RPMs and comes in capacities of 250 GB, 320 GB and 500 GB.
Tech Specs of the Momentus XT
All Momentus XT models come with not only a standard hard disc drive, but also a 4GB solid state flash memory drive.
The drive comes with Seagate's Adaptive Memory Technology software that memorizes users' file access patterns and stores the most-loaded files onto the SSD. Together with the higher spindle speed and the NCQ technology, this speeds up data access.
Seagate has aimed the offering at gamers and other users who need high disk speeds. On Wednesday, Seagate and Asus will unveil the new Asus ROG G73JH system, which is equipped with two Momentus XT drives.
"We could add more Flash memory, but it really isn't worth the trade-off," Seagate spokesperson Michael Hall told TechNewsWorld. "We began with 8 GB of Flash memory but found it doesn't buy you appreciably more performance."
The device has 32 MB of cache and a 3GB/second SATA interface with Native Command Queuing (NCQ). The NCQ technology increases the performance of SATA haRd disks by letting them internally optimize the order in which they execute read/write commands.
The Momentus XT is operating system-independent, so the drive will work with Microsoft Windows, Mac OS X and Linux.
"This is a drive you can install in any laptop," Hall remarked. "We thought we needed to create our own algorithm and embed it in the drive."
Seagate launched its first-generation hybrid drive, the Momentus 5400 PSD, or Power Savings Drive, in the fall of 2007 to work with Windows Vista. That drive failed to sell well.
"One of the points with the PSD was that it depended on Microsoft ReadyDrive for Vista to write data to the hard drive," Hall explained. "We were dependent on the operating system, and that was one of the limiting factors of the drive."
ReadyDrive was a technology Microsoft introduced in Windows Vista to give PCs fitted with a hybrid hard disk longer battery life, greater reliability, and better performance.
Pegging Down Prices
SSDs are more reliable and faster than traditional hard drives because they have no moving parts. The technology has been available in laptop drives for years, but due to their high prices, laptop SSDs remain niche products.
Some 250 GB internal SSDs are offered at between US$644 and $1,234 at Newegg.com, for example.
"SSDs' extremely low acceptance can be traced back to their significant cost premium — the cost/benefit ratio simply doesn't appeal to most consumers," Jim Handy, an analyst at Objective Analysis, told TechNewsWorld.
The Momentus XT drives carry an MSRP of $113 for the 250 GB device, $132 for the 320 GB version, and $156 for the 500 GB one.
Seagate's pricing strategy might work.
"Since a hybrid approach is very likely to bring users 80 to 90 percent of the advantages of an SSD for less than 20 percent of the price premium, this will become the norm for PCs of the future," Handy said. He expects more vendors to offer hybrid drives within the next year or two.
Looking at Tomorrow
Hybrid drives may have a good ride for the next couple of years.
"We don't anticipate SSD becoming really affordable for mainstream use in notebooks before early 2012," Leslie Fiering, a research vice president at Gartner, told TechNewsWorld.
Demand for hard drives won't be affected by the storm of Internet-based netbooks that's expected to hit the market soon, led by Google, Fiering opined.
"I think it's going to be a while before people will trust their secrets to the Web," she explained. "Think about it for a second — what about all the security breaches we've seen and the vacillation of social networking sites in terms of security policies? Further, can you guarantee that you can get a high-speed connection to the Internet when you need your information?"
"From a business standpoint, designing the Momentus XT so it doesn't depend on support from someone else, as the Momentus 5400 did, is a better recipe for success for Seagate," Objective Analysis' Handy said.