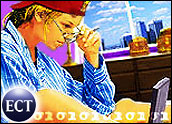 Searching for data on a PC used to be a series of isolated activities. Users needed one or more computer-based software utilities to hunt through the hard drive for specific files containing keywords. Finding information beyond the hard disk meant logging in to a library or university system and entering archaic Boolean search terms into a distant server's query window.
All of that changed as Web sites became more user friendly. Search portals like Yahoo, Google and MSN specialize in providing search engines to find information anywhere on the Web.
Meanwhile, PC-based data-tracking software has been moving along the same trajectory toward more sophisticated techniques to catalog data on a computer's hard drive. Altogether, for the most part, the computerized search process still requires users to manipulate separate computer-based and Web-based applications to find data, depending on whether that data is local or remote.
The latest development for search convenience is the browser-based toolbar. The major Web-based search engines have become immensely more convenient with their free toolbar add-on programs that hook into many popular Web browsers. Beyond these toolbars, the recent release by Terra Lycos HotBot of a free desktop toolbar marked the emergence of a new market that Google had been making its way into since the end of last year: desktop search.
Now, applications let users integrate traditional desktop search with Web search. These innovative programs make it easy to search the Internet, computer-based e-mail and user documents stored on a hard drive with a single application.
A New Type of Turf War
A major challenge for search-engine providers is the ability to drive advertising and business gains. Charging users a fee for search services can be risky. Users have to be weaned from existing free services if they are to embrace subscription search tools.
"There is little value-added service derived from desktop searching," Leslie Grandy, vice president of product management for InfoSpace's Search & Directory division, told TechNewsWorld. "It remains a challenge figuring out how to drive a business model."
InfoSpace Search & Directory, a major player in the rapidly evolving Web Search and Online Directory services market, develops software solutions to make searching faster and easier for consumers, enabling them to locate products and services, businesses, people and information online. The company operates a network of popular destination Web sites that offer Web search and online directory services to users.
Convincing computer users to adopt these new, integrated search tools is another challenge search industry providers will face. All-in-one search tools, whether bolted onto browsers or installed by visiting a search portal, won't drum up hordes of new customers right away. People tend to learn one way to do something and don't easily change, Grandy noted.
"Consumer behavior is a hard thing to change," Grandy said, "so the race is on to establish the turf."
One way in which companies will attract users to paid-search services, she said, is to drop prices to almost no cost and then add premium services after users are hooked.
Microsoft Poised for Turf Takeover
Some analysts view the trend toward integrated search tools as a race against obsolescence. Ultimately, integrated searching will become a core function of the operating system.
But Grandy said she doesn't see Microsoft causing a toolbar takeover without a huge fight from companies now converging computer-based searches with Internet-based search services.
"At what point is Microsoft going to come in and supersede what third-party applications can do better?" she asked.
Longhorn, the development name for Microsoft's next Windows operating-system upgrade, is expected to be released in 2006. That Windows version is expected to have features that will revolutionize the way users search for and store data.
Toolbar Skirmishes
Several popular search portals not only are offering toolbar add-ons, but also are enhancing those add-ons with direct links to dictionaries, news sources and other search services. Most of them offer similar features. For instance, the most popular toolbars all add a search bar in a browser just below the URL bar. Most provide pop-up blockers and various features that let users save bookmarks and make calendar entries.
Some toolbars offer advanced features if users agree to certain conditions. These include receiving advertising messages, preferential sponsor Web site displays or tracking cookies. Two of the most popular toolbars are free downloads from Google and Yahoo.
The free Terra Lycos HotBot browser toolbar released in March put a new spin on searching. It combines keyword searches on the Internet with desktop searches of documents and e-mail. Users can customize settings for desktop and Web search conditions. The HotBot Desktop creates an index to allow users to search local files, Outlook and Outlook Express messages, browser history and RSS subscriptions with a built-in RSS news reader. Plus, there is a pop-up blocker.
HotBot searches files associated with Microsoft Office programs, plus PDF and text files.
Scoping Out All Data
Dr. David Gelernter, chief scientist at Scopeware and a professor at Yale University, was convinced that computer users needed a better way to find and use the information on their computers. That quest led to the development of Scopeware Vision, a desktop search tool.
Scopeware Vision uses keyword searches to find information via "streams." Vision's innovative interface presents results for any type of file and RSS as a chronological narrative. It presents search results in a series of index cards (file name, summary, date, file type and so forth) in "V"-shaped streams that users can easily navigate and save. It also has a free RSS reader.
"It's not a search engine. Rather, it's an all-inclusive comprehensive tool," Gelernter told TechNewsWorld. "The number of documents is getting out of control. We needed a way to view all data in one pool."
The search function channels streams of information into a single topic, and the program can handle unlimited volumes of data.
Scopeware Vision does not search the Internet, but it does catalog the content of Web pages stored on a computer. Despite its limitation to searching PC-based data, it outperforms the Lycos HotBot product in several ways.
For example, it allows the user to search across RSS feeds by keyword for news and commentary on a particular topic, regardless of what feed it comes from. And it searches for all file types, including .zip files and files on CDs or DVDs.