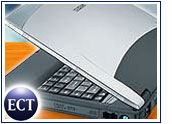 The desire to learn won't be the only thing returning with students to their universities this fall College IT departments can expect a wave of viruses, worms and other computer nasties to accompany their charges as they connect their computers to their college's networks.
When many students return to school from summer vacation, they're returning with their home computer or a laptop that they're connecting to a university network, explained Chris Novak, a senior security consultant with managed security services provider Ubizen, headquartered in Leuven, Belgium.
"Most of these systems were connected to a home DSL line of cable modem where there is no security involved," he told TechNewsWorld from his New York City office. "You plug right in, get connected and you open up your system to the whole world."
Virus Nightmare
Last year, George Washington University's e-mail filters, which usually sift about 11,000 viruses a month from its network, screened 117,000 of them from their system on a single day: August 22.
"It was a nightmare," Krizi Trivisani, the university's chief security officer, told TechNewsWorld.
One of her department's greatest fears, she confessed, is having the kick-off of the academic annum resemble another kick-off that's been a favorite of virus writers.
"We're not sure if the beginning of the school year will turn into the Super Bowl," she said. "For the last couple of years on the Super Bowl there's been a new outbreak of some kind of virus or worm."
"While some universities have a sound security policy place, many do not," Novak observed.
He explained that effective computer security needs to be both proactive and reactive. "Very few universities have both these components in place," he said.
Arizona State University has taken a proactive approach by encouraging students to install firewall software on their computers.
Enforcement Problems
The software has been customized by its maker, Kerio Technologies of Santa Clara, California, to include the university's security policy rule set. "So even if the students take their computers off campus and bring them back, there's not as much risk to the university," Channel Sales Manager James Gudeli told TechNewsWorld.
But even when the tools are there for improving security, they still have to be used, he added. "One of the biggest issues of any security software product is enforcing the use of the product," he said.
While many students know what needs to be done to improve security on their systems, that knowledge isn't always converted into action, added Vincent Gullotto, vice president of the McAfee antivirus emergency response team in Santa Clara, California. "Kids continue to participate in activities that are not safe," he told TechNewsWorld.
Attractive Targets
Institutions of higher learning are an attractive target for hackers, Ubizen's Novak observed, because of their hefty bandwidth connections and large body of naive users.
"The bulk of their users, like the student body, aren't trained in security dos and don'ts," he said. "They're not going to know what e-mails to open, what e-mails not to open."
Servers at the institutions also present a vehicle for mischief. "They can have as much as 200 gigabytes or more of free disk space," Novak noted. "They're a playground for a hacker or for someone with malicious intent."
That kind of disk space can be used to install backdoors, file-sharing tools, IRC bots and other malware that can perform their malevolence undetected for long periods of time. Novak disclosed that Ubizen has conducted forensic investigations in which it found university servers or student workstations compromised for as long as year.
"Most university IT personal spend a great deal of their time combating virus outbreaks and responding to security breaches instead of preventing them," he observed.
Balance Needed
Not only are these IT departments understaffed, but they are also hamstrung by academic policies, he maintained. "Freedom of speech and expression often outweigh that of security, rather than some sort of balance," he said.
"They want to provide the most resources possible to the student body with little to no restrictions," he continued. "This often results with firewalls that are full of holes leaving the university community in a fairly vulnerable position."