An empty chair reserved for Google became the focal point for harsh criticism Wednesday at the U.S. Senate Intelligence Committee's hearing on Russian meddling in the 2016 elections.
After thanking Facebook Chief Operating Officer Sheryl Sandberg and Twitter CEO Jack Dorsey for agreeing to testify at the forum, Chairman Richard Burr, R-N.C., added, "I'm disappointed Google decided against sending the right senior level executive to participate in what I truly expect to be a productive discussion."
Vice Chairman Mark R. Warner, D-Va., also expressed displeasure. "I'm deeply disappointed that Google, one of the most influential digital platforms in the world, chose not to send its own top corporate leadership to engage this committee."
Google needs to answer questions about conspiracy theories surfacing on Google Search, divisive videos posted to YouTube by Russian agents, and Gmail hacks by state-sponsored operatives, Warner maintained.
"Google has an immense responsibility in this space," he observed. "Given its size and influence, I would have thought the leadership of Google would have wanted to demonstrate how seriously it takes these challenges and actually take a leadership role in this important discussion."
---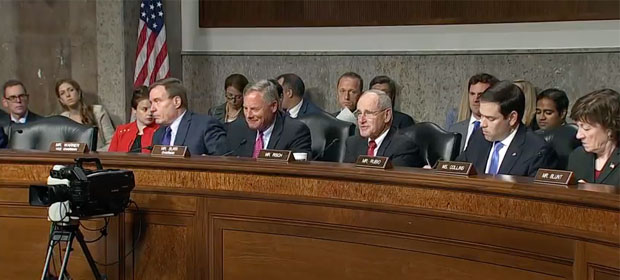 U.S. Senate Intelligence Committee hearing on foreign influence operations' use of social media platforms, Sept 5, 2018.
---
Arrogance or Dodging Questions?
Google dodged the hearing either because it was "arrogant" or because it did not want answer questions about a Google Transparency Project report that revealed how easy it is for Russian troll farms to buy advertising on the service, suggested Sen. Marco Rubio, R-Fla.
"Perhaps Google didn't send a senior executive today because they've recently taken actions — such as terminating cooperation they've had with the American military on programs like artificial intelligence — that are designed not just to protect our troops and help them fight and win our country's wars, but to protect civilians as well," said Sen. Tom Cotton, R-Ark.
"This is at the very same time that they continue to cooperate with the Chinese Communist Party on matters like artificial intelligence or partner with Huawei and other Chinese telecom companies that are effectively arms of the Chinese Communist Party," he continued.
"Credible reports" suggest that Google has been working to develop a new search engine to satisfy the Chinese Communist Party's censorship standards, after having disclaimed any intent to do so eight years ago, Cotton said.
"Perhaps they didn't send a witness to answer these questions because there is no answer to those questions," he said.
---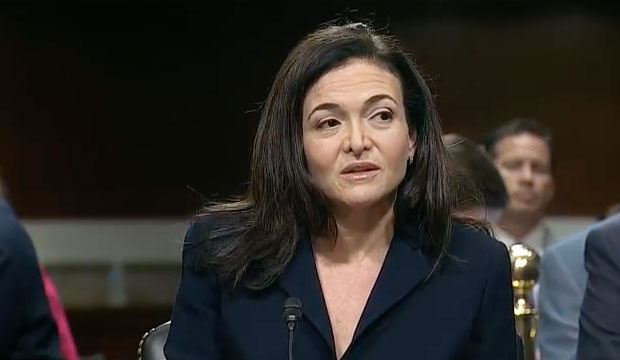 Facebook COO Sheryl Sandberg testifies before The Senate Intelligence Committee in a hearing on foreign influence operations and their use of social media platforms on Sept. 5, 2018.
---
Communication Breakdown
Despite committee members' suggestions to the contrary, Google said it has been cooperating with the Senate panel for months.
"Over the last 18 months we've met with dozens of committee members and briefed major congressional committees numerous times on our work to prevent foreign interference in U.S. elections," Google spokesperson Riva B. Sciuto said.
"Our senior vice president of global affairs and chief legal officer, who reports directly to our CEO and is responsible for our work in this area, will be in Washington, D.C., today (Wednesday), where he will deliver written testimony, brief members of Congress on our work, and answer any questions they have," she continued.
"We had informed the Senate Intelligence Committee of this in late July and had understood that he would be an appropriate witness for this hearing," Sciuto added.
If Google were dodging the hearing, it could be a bad miscalculation for the company.
"Google hiding out will backfire, since this isn't going away," said James A. Lewis, senior vice president and the director of the technology and public policy program for the Center for Strategic and International Studies, a bipartisan, nonprofit policy research organization in Washington, D.C.
Social Animal of Different Color
Although Google appears to have been ready to take its place in the empty chair beside Sandberg and Dorsey, it may have less in common with Facebook and Twitter than the miffed members of the Intelligence committee would like to believe.
---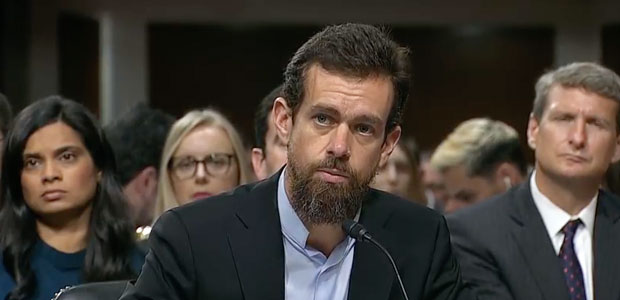 Twitter CEO Jack Dorsey testifies before The Senate Intelligence Committee in a hearing on foreign influence operations and their use of social media platforms on Sept. 5, 2018.
---
"Google has a very different story to tell than Twitter or Facebook," said Karen North, director of USC Annenberg's Digital Social Media program.
"They provide people with searches for products and services," she told TechNewsWorld. "What they're not doing is providing social interaction like Facebook and Twitter."
Google may have some things in common with social networks, but it "doesn't want to be lumped together with Twitter and Facebook," he told TechNewsWorld. "Google has issues with privacy, with monopoly, but search is different from social media."
Changes Coming
The Intelligence Committee's Wednesday hearing was the fourth in a series of forums on Russian election meddling. Where the lawmakers will take the information they've gathered from the sessions remains to be seen. One target for legislation may be advertising.
"It's likely these hearings will result in the laws on advertising imposed on traditional media being extended to social media," USC's North said, "but for the daily users of social media, there won't be much change, except the reduction of misleading ads that look like news stories."
Regulating social media will be hard because of free speech issues, the Center for Strategic and International Studies' Lewis told TechNewsWorld. That doesn't mean, however, that the companies won't change their ways.
"People are tired of the companies disclaiming responsibility by saying they are only the platform," he said. "In response, the companies will change how they do business."
Problem Without a Solution
Still, the social media companies may be unable to address their problems without legislative intervention, Lewis suggested.
"It will be hard to craft regulation in the U.S., but the Europeans will be less constrained and are very unhappy with the U.S. giants," he said. "The best solution might be holding the companies accountable, through regulation, on being transparent to their users about other users and news sources."
The Senate hearings are primarily an exercise in public relations, noted John Carroll, assistant professor of mass communication at Boston University.
"The lawmakers want to seem like they're addressing these problems, and the tech companies want to seem like they're addressing the problems," he told TechNewsWorld. "Many of these problems are essentially unsolvable. The digital space is just too vast for them to control it in the way that some lawmakers want it to be controlled."