For much of this year, technology companies have been showcased in a very poor light.
There was the coverage of Facebook's adverse impact on the 2016 U.S. elections (and other elections worldwide); there was Intel's security scandal and the firing of its CEO following reports suggestive of insider trading; there was the Google+ breach and coverup; and there have been incidents of nastiness and bullying across all the social networks.
As a result, many folks, particularly governments, have been looking at tech firms very unfavorably.
Several firms have been moving aggressively to buck this trend, however.
Dell has provided substantial funding for pro-women programs led by Karen Quintos.
Cisco has made meaningful contributions in cities where it operates, both in responding to disasters and funding programs to uplift the poor.
Microsoft has flipped to taking the lead in providing transparency and improving working conditions.
HP has undertaken major efforts to address different types of social injustice.
HP's latest effort, in conjunction with the Clooney Foundation for Justice, is a case in point: an impressive initiative to supply and fund schools in places like war-torn Syria.
I'll share my observations on the importance of efforts like these and then close with my product of the week: the Sprocket 2nd Edition, an update to one of my favorite little HP products.
Doing Well by Doing Good
It's a recurring theme that we — and by "we" I mean technology analysts and journalists — should give more focus to the activities of firms that are behaving well over the misbehavior of those that are not.
People learn by example, and if the only examples all of us — including myself — repeatedly are pounding is that big companies are unethical, do bad things to their customers and environment, and largely are run by *ssh*les, then we'll promote that bad behavior. Folks will think that everyone else does it, so why shouldn't they?
I think it far better that we focus more on firms that are trying to make the world a better place in order to promote that behavior and actually help make the world a better place. A number of global companies have been busting their humps to do exactly that.
HP's Efforts
HP is one of the firms aggressively going down this path, promising to improve educational opportunities for 100 million students by 2025. This isn't a trivial number, and education is believed to be one of the core elements holding emerging economies and economically troubled countries back.
Lack of education has had an adverse impact on many countries' gross domestic products, the competence of their governments, and their ability to take care of and protect their populations. Educated people have choices. Education is a force multiplier, making citizens more productive. Learning engages people and keeps them from becoming social problems — or worse, enemy combatants and terrorists.
Technology offerings for students affected by the war in Syria allow them to learn how to use the Web more effectively, to help dig out of the mess their country is in so it can return to being viable. This video, narrated by George Clooney, showcases both the scale of the commitment and some of the progress to date.
Girl Rising
HP also has provided substantial support to the Girl Rising movement. One of its focuses is to share stories about people who use technology to make the world a better place for girls and women. The idea is that when people learn of the successful programs undertaken by others, they are encouraged that these programs can and do work, and they are motivated to emulate them.
This in turn should have a cumulative impact on how people perceive women and open more opportunities to women, and build on the increasing sense that women aren't standing alone or just being given lip service.
HP is standing up and being counted in an effort to do more than complain about the unfairness of it all, and instead to address the unfairness and bring real and measurable change to a world in which female inequality is still very pronounced.
Last week, the winners of the Girl Rising Creative Challenge were announced. All are young women working aggressively to change gender inequality in the world. The people are real, the stories are compelling. I was particularly taken by the fact that none of these women are complaining — they are working impressively to drive real change.
We've been complaining about inequality for decades, but it is only when people roll up their sleeves and drive change that change happens. These women, heroes all, have done exactly that. Some steps may be larger than others, but every step gradually makes the world a better place for our mothers, daughters, wives and female friends to live.
Wrapping Up: Doing Well By Doing Good
HP is doing very well this year. Out from under the cloud that smothered it for much of the last decade, with powerful focused leadership and a CEO who has forged an impressive team, the firm arguably is stronger than it has been in decades. Rather than using that strength inappropriately or only to increase revenue, HP has been using part of its strength to make the world a better place, particularly for women.
I think that the more we promote and encourage this behavior, the more firms will emulate it, and if this increases in scale, our efforts will improve the world for everyone.

The HP Sprocket 2nd Edition, launched last week, is another huge indicator that printers are coming back.
---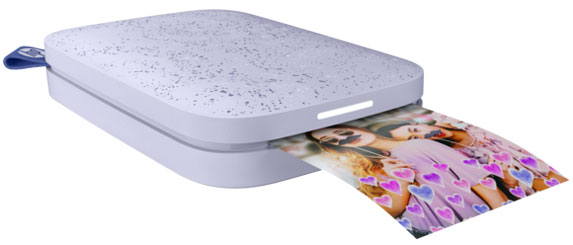 HP Sprocket 2nd Edition Photo Printer
---
Yep, I didn't really believe this either, but HP, which dominates this industry, has been showing impressive growth in both printers and supplies. This is largely because it rethought them and aggressively moved on opportunities like 3D printing — and this smartphone printer.
One of the big surprises was how popular their first Sprocket Printer became. It was primarily a printer for smartphones, which you could carry in your pocket to share pictures you took with your phone immediately.
In use, it reminds me a lot of the old Polaroid experience, but without the nasty waiting period or the need to deal with the waste parts of that process. You just send the picture to the printer and in a few seconds, you get a full color picture you can give to your relative or friend as a keepsake, while you keep the digital copy on your phone. The product defines easy set up and use and it is surprisingly popular with millennials, who likely never saw a Polaroid and were expected to go fully digital.
There is something about having a picture you can hold in your hands that has transcended generations, however, and created a new category of products. In a way, the Sprocket is HP's iPod. What I think is particularly interesting is that it largely targets a female audience. In fact, the target demographic is women between the ages of 16 and 24.
For instance, rather than the typical male-oriented colors of black, white, gold and silver, the Sprocket 2nd Edition comes in Luna Pearl, Noir, Blush and Lilac.
Improvements to this product — which, as you would expect from HP, leads its segment — are sharper colors and higher speed. Some new features, like multi-user functionality and an augmented reality function I haven't used yet, have received mixed reviews. One cool improvement is that this printer is always on. Earlier versions required you to power up and connect the printer each time you used it.
The included app allows you to make basic image fixes like crops, contrast, brightness and color levels. You can add borders and text (make a custom-printed business card, for example). Print price also has dropped from around US$.65 per print to $.45 per print, which is a nice improvement all by itself. The printer itself costs $129.99.
What I like the most is that this is one of the few products designed specifically for women that women actually like — it has been surprisingly successful in its earlier iterations. As a result, the new HP Sprocket 2nd Edition is my product of the week.