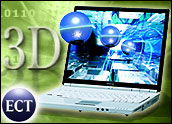 Computer video professionals might find it hard to turn away from the latest innovation in laptop technology. The Sharp Actius AL3D notebook announced today bundles a second generation 3-D LCD notebook with a software package that converts any DVD from 2-D to 3-D format in real time, allowing users to view any DVD movie in full 3-D.
This newest laptop from Sharp Systems of America, a division of Sharp Electronics Corporation, builds on the foundation laid by the Actius RD3D. The Actius AL3D represents a significant step up in power and style for Sharp's 3-D notebook line, Sharp engineers said.
Sharp believes that its latest 3-D LCD technology will set a new performance standard.
Specialty Niche
The company plans to market the Actius AL3D to a waiting specialty niche in the medical and pharmaceutical industries.
The target market segments are already familiar with 3-D solutions using shutter glasses and page sequential display mode. Both of these are widely supported on PCs using both Windows and Linux.
Company officials also speculate that it will not take long for computer gaming enthusiasts to adopt the 3-D technology.
Sharp officials said nVidia has added stereoscopic display support for the GeForce series graphic processors, enabling over 1,000 games to take advantage of 3-D viewing on Sharp's 3-D LCD Displays.
The Actius AL3D is powered by Intel's new Pentium M Processor 750 and the New NVIDIA GeForce Go 6600 graphics processor with 128 MB Video RAM. The new model is also packed with 1,024 MB of DDR2 SDRAM, making it a formidable computing tool for high-end mobile users.
"The Actius AL3D offers high-end power and functionality, providing users with some of the most advanced computing technology available in a very attractive package," Ian Matthew, 3-D business development manager at Sharp Systems of America, said.
The LCD screen is bright, crisp and clear, he said. The technology allows users to easily switch the Actius AL3D display between 2-D and 3-D display modes at the touch of a button.
Company officials told TechNewsWorld that they expect the 2-D/3-D switchable technology to follow the same adoption path of past LCD innovations.
Light Signals Separated
Sharp introduced the first commercial LCD in a pocket calculator in the 1970s. This technology used what is referred to as "black and white" LCD technology.
Sharp followed the black and white LCD with a multicolor LCD that advanced the viewing interface of computers.
That somewhat limited multicolor LCD technology was later replaced with the color standards in place today. Full-color LCD technology gives users more reality in their images.
The Actius AL3D ships with the TriDef DVD player, created by DDD Group, which provides on-the-fly 3-D conversion of any DVD movie.
Sharp developed the 3-D LCD technology with Sharp Laboratories Europe. The TFT 3-D LCD technology provides an enhanced visual experience by offering a realistic sense of depth and presence.
To accomplish that, Sharp engineers developed a parallax barrier technique to separate light signals to achieve the 3-D effect. Light from the LCD is divided so that different patterns reach the viewer's left and right eyes.
The 3-D technology is able to control the direction in which light leaves the display so the left and right eyes see different images. When centered in front of the display, each eye receives the correct visual information for the brain to process.
No Goggles Needed
This makes it possible for the image on the screen to appear in three dimensions without the user having to wear special goggles, according to Sharp's product information guides.
"Since these images have perspective and are offset in the same way that the human eye normally sees the two images, the brain naturally interprets the image disparity and creates a 'sense of depth' effect," Matthew explained. "The result is a 3-D, 'out of screen' display that provides users with a visual experience previously unattainable without polarized or liquid crystal shuttering lenses."
As for initial targeting of the medical field, Sharp officials said the use of 3-D computer modeling for medical diagnosis has seen tremendous increases over the last three years. Software tools now make accurate computer models from MRI data and other methods.
Officials said new visualization techniques are in demand to improve analysis. The Actius AL3D offers 3-D stereoscopic visualization without the need for glasses in a mobile environment.
The 3-D modeling tools will help train surgeons. In conjunction with haptic devices that offer resistance feedback, surgeons can practice delicate techniques in a realistic environment.
Computational chemists, who have been using 3-D viewing as part of the drug synthesis process for many years, will now have access to 3-D visualization techniques in a mobile computing environment to create synthesized drugs.
Other Uses
The new 3-D visualization techniques might soon find their way into classroom use. Sharp has partnered with EON Reality, Emergence and JTM to provide 3-D platforms for teaching environments and for high-tech labs in the education field.
Scientists and engineers working in gas and oil exploration and in automotive and aerospace manufacturing industries will put the new 3-D LCD capabilities to good uses, as well, Sharp officials said.