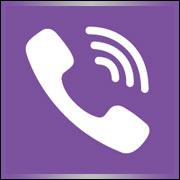 Viber, a proprietary cross-platform instant messaging VoIP app for smartphones, is now available for Windows and Mac OS X desktops, Viber Media announced on Tuesday.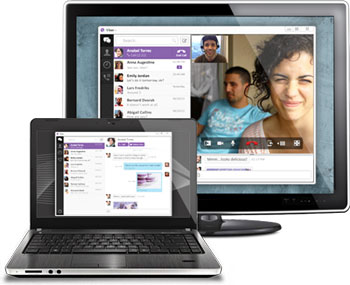 Viber's Desktop Calling Service for PCs
The mobile version of Viber runs on Android, iOS, Symbian and some versions of the BlackBerry and Windows Phone OSes.
Viber works on both 3G and WiFi networks. The app is currently free to download, although the company reportedly plans to begin monetizing its service later this year.
The application has been viewed by some as a competitor to Skype. It claims to have more than 200 million users worldwide.
What Viber Brings to the Desktop
Activating the Viber Desktop app requires the user to have a cell phone since the service is tied to cell phone numbers. Users key in their mobile number, get a confirmation code on their phones, and the desktop is ready to go.
Viber immediately syncs a user's mobile phone contacts to the desktop and will do so continuously.
Users can transfer calls seamlessly between desktops and their mobile devices running Viber with a click or tap. Received and sent messages are shown on all devices, but only the device currently being used will beep. All messages and conversations are synced among all devices, so deleting them from one device deletes them from all.
Viber Desktop offers video calls so users can make desktop-to-desktop calls to friends just as they would with Skype and Google+. This feature is still in beta and is not yet available to mobile users.
Viber supports several languages.
Analyzing the Viber Experience
Viber claims users get to make free messaging and HD-quality free phone calls, but calls made to people who don't have the Viber app may incur carrier network charges. International roaming rates might apply for calls between Viber app users in different countries.
"You could go on WiFi, but WiFi isn't available everywhere," said Julien Blin, a directing analyst at Infonetics. "Or, if you have a data plan then you will be using those data minutes."
As for the HD-quality phone calls, "I've tried Viber myself and the quality is not that great," Blin told TechNewsWorld. "Like Skype, it uses VoIP, and VoIP connections often drop calls." Further, "to expect that quality would be as good on VoIP over wireless as it would on VoIP over landlines doesn't make sense to me."
Viber can't answer questions about its new desktop version until Wednesday, company spokesperson Jonah Balfour told TechNewsWorld.
Security and Privacy
Viber has had security and privacy issues. Attackers could apparently lock the homescreen of a user's Android device because the Viber mobile app's permissions include a clause that lets the app do so.
The mobile Viber app also accesses the address book of the device it is installed on, and stores the names and phone numbers gleaned in Viber Media's servers on a live database that does not have a historical backup, according to Viber's privacy policy. If a user deletes the address book from the company's servers, that deletion will be instant and permanent.
Much of the other stipulations are similar to those of Google, Facebook and other Web-based companies.
Viber has apparently fixed the homescreen lock problem.
Taking On Skype
Although Viber is seen by some as being a competitor to Skype, it might not quite fit that description.
Skype users can make international calls at a discounted rate, but Viber users can't. Also, Skype does not automatically grab the contents of a user's address book.
"Skype's got the brand and a very large installed base," Blin said, "and it's going to be very hard to compete against."