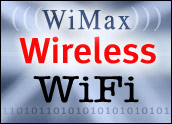 Fall River, Mass., is an old textile town sprawled along the hillson the banks of the Taunton river, its salad days more than a century behind it. Although located only some 50 miles south of Boston and its high-tech "Golden Horseshoe," Fall River has never been associated with the phrase "state of the art" — until last week.
That's because, in a daring move, a small Internet service provider called MegaNet Communications has put the Granite City in the vanguard of technological development by launching a wireless broadband network for residential and business customers in its environs.
Plug and Play WiMax
The service, which operates in the 2.3 GHz broadcast band, is totally mobile and can operate behind walls. That contrasts with many commercial WiMax networks that operate on a point-to-point basis and need line-of-sight access to their base stations to remain connected.
The service is also unusual because it's going after residential as well asbusiness customers with highly competitive pricing — in the US$20 to $40 range, depending on access speed — and easy-to-use plug-and-play hardware made by Navini Networks of Richardson, Texas.
"With this, you plug it into your computer and go," with no need for extensive set-up wizards, like with DSL and a lot of times, cable, MegaNet President Paul M. Joncas told TechNewsWorld.
For its service, MegaNet has signed a 20-year lease with BalRivgam, ofWilton, Conn., the owner of the spectrum rights in the Fall River area.
Ideal Spectrum
Joncas explained that MegaNet went with the low-end 2.3 MHz bandwidth because it has good out-of-sight penetration and good performance. "The lower the bandwidth, the better the penetration, but the slower the speed," he explained. "The higher the frequency, the more speed you'll get, but you won't get any non-line-of-sight penetration."
"Anywhere from 2 to 2.6 [MHz] is the ultimate space to be in to do this kind of product," he said.
Penetration and speed, however, aren't the only issues governing the optimal conditions for a wireless network. Spectrum cost and interference enter into the picture, too.
Also, although large WiMax providers like TowerStream, located in Middletown, R.I., just down the bay from MegaNet, have chosen to implement their networks in unlicensed areas of spectrum such as 2.4 and 5 GHz, some analysts believe that using licensed spectrum is a better route.
Licensed Versus Unlicensed
"The advantage to using the unlicensed spectrum is that it's free," Philip Solis, a senior analyst for wireless connectivity at ABI Research in Oyster Bay, N.Y., told TechNewsWorld. "The major disadvantage there, though, is that potentially you can have a lot of interference, especially in the 2.4 GHz space."
"If you really want to provide a robust service, using licensed spectrum is the way to go because you have clean access to those frequencies in your area," he maintained. "The downside to that is cost."
He noted that about 80 percent of the 2.3 GHz spectrum has been licensed to Clearwire, of Kirkland, Wash., and Nextel Communications of Reston, Va.
Plenty of Room
TowerStream Chief Operating Officer Jeff Thompson discounted the concerns over interference in the free areas of the broadcast spectrum.
"Everyone talks about interference because they're used to talking about 2.4 GHz where the WiFi gear is," he told TechNewsWorld. "There's only 80 MHz of spectrum there. And if you did a scan of access points, you'd see that most of them are left on the default channel. So actually only 11 MHz of the 80 is being used, which is why you see much of the interference in 2.4."
"When you look at the 5 GHz spectrum," he continued, "we have over 550 MHz of unlicensed spectrum with hundreds of channels."
Mushrooming ISPs
When the Internet began to gain popularity, literally thousands of ISPsmushroomed throughout the nation. Most of those providers have disappeared. Could the MegaNet venture signal another ISP boom, this time with WiMax? Thompson doesn't think so.
Capital and operating costs to build a robust, reliable network areexpensive and beyond the means of mom-and-pop operators, he asserted. "I don't think you'll see 5,000 WiMax operators," he said. "I think you'll see a couple per market. That's it."