Researchers at Carnegie Mellon University's Robotics Institute have announced a smart headlight system that could improve visibility for drivers of automobiles in bad weather.
The system uses cameras and a processor to predict the path of raindrops and snowflakes in front of an automobile and redirect headlight beams to shine between those particles.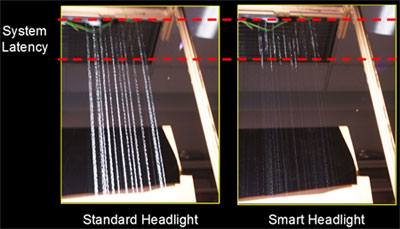 "This is pretty spectacular," Rob Enderle, principal analyst at the Enderle Group said. "I think it could be very useful."
Intel's working with the university on the project, Enderle said.
"We just showed this at our annual research event," Intel spokesperson Connie Brown told TechNewsWorld. "The title of the project is 'Seeing Through Rain.'"
Drive Safer, Drive Better
The smart headlight system uses a camera to track the motion of raindrops and snowflakes and calculates their path with a processor using an algorithm. The light projection system then deactivates the light beams that would hit those particles.
It's possible to do this because rain consists of drops that fall at intervals, leaving enough space between them so that a swiftly responding system can shine light through those spaces. The same holds true for snowfalls.
A human eye won't be able to detect the flicker of the headlight bulbs as they turn on and off in response to the processor's commands, the researchers contend.
Carnegie Mellon researchers were not immediately available to provide further details.
The Right Stuff, More or Less
The researchers used a camera with an off-the-shelf DLP projector. These projectors create an image using very small mirrors laid out in a matrix on a semiconductor chip known as a "Digital Micromirror Device" (DMD). Each mirror represents one or more pixels in the projected image. The mirrors can be repositioned rapidly to reflect light, either through the lens or on to a heat sink.
Systems developed for use in automobiles would likely use LED arrays in which individual lights could be turned on or off as directed by the smart headlight system's processor, Carnegie Mellon said. New LED technology might make it possible to combine LED light sources with image sensors on a single chip to keep down costs.
The Carnegie Mellon researchers are now working to reduce the size of the smart headlight system.
The Need for Speed
The test system developed by Carnegie Mellon researchers can detect raindrops, predict their movement and adjust a light projector in 13 milliseconds.
At 60 miles an hour, an automobile travels 88 feet per second. It would travel more than one foot in 13 milliseconds. The Carnegie Mellon researchers said the system's response time needs to be reduced for it to be effective at highway speeds and in snow or hail.
As tested, the smart headlight system could eliminate 70 to 80 percent of visible rain during a heavy storm while losing only five to six percent of the light from headlights when an automobile's traveling at low speeds, the researchers said.
Intel's Role
The smart headlight system was built jointly by researchers from Intel Labs and Carnegie Mellon at the Intel Science and Technology Center for Embedded Computing, Intel's Brown said.
The system will likely use an Intel processor, Enderle suggested.
"It will probably be a low-power processor, perhaps some future version of Atom, or it could be purpose-built," Enderle told TechNewsWorld. "A lot of the processors in cars are purpose-built."
Getting to Market
The smart headlight system will probably be included in high-end cars "like those from Mercedes and Maybach," Enderle surmised. "It's going to be quite expensive." However, once there's enough volume, the system will move down to lower-end vehicles.
The researchers "have demonstrated they have to do the calculations now, and it's just a question of working on the sensors and cameras and getting the cost down," Enderle said.
The research was sponsored by the United States Office of Naval Research, the U.S. National Science Foundation, and the Samsung Advanced Institute of Technology, in addition to Intel.