Dartmouth University researchers are shining a new light on using "smart spaces" in ambient room lighting to transmit both data and human gestures.
The three-month-old research pushes the envelope beyond advancements already made by researchers in the UK, at the University of Edinberg.
The integrated Visible Light Communication project (iVLC) marks the first time an integrated networking and sensing environment has been proposed for sending information by light, according to Dartmouth University researchers. This technology enables so-called smart spaces to separate shadows from light in real time. Thus, the light spectrum is able to carry high-speed data wirelessly without interruption between smart devices.
The smart spaces overcome existing limitations in other low-tech approaches that stops data transmission whenever the light is blocked by people's movements, shadows or other obstacles. The Smart Spaces technology allows the interplay of algorithms, ceiling-mounted LEDs (light-emitting diodes) and light sensors embedded in floors and in smart devices.
"In our project the revolutionary idea is to combine communication with human sensing. The new thing here is to reuse the light for both deliveries. It is sort of a buy one and get one free approach," Xia Zhou, Assistant Professor of Computer Science at Dartmouth University, told TechNewsWorld.
Old Problem, New Approach
Other researchers already established the use the light for data communication. Key to that discovery is a research group based in the University of Edinberg. Zhou, who co-directs the Dartmouth research with Professor Andrew Campbell, described the UK researchers as the pioneers in light communication.
"The progress those researchers made has developed a communication system that is much like a wired network," said Zhou.
Her research team in October began tackling the idea of integrating human sensing with the data communication. That research is pushing that progress further to include the use of light to communicate human behavior as well.
"This is actually a huge leap forward," she said.
What It Does
The integrated Visible Light Communication project is the first time an integrated networking and sensing environment has been proposed for sending information by light. The Smart Spaces track users' gestures and separate shadows from light. This allows a continuous flow of data wirelessly among personal computers and smart devices in rooms, buildings, trains and other indoor places.
One of the problems in more effectively using Visible Light Communication to send data wirelessly involves line of sight interference. The data transmission stops whenever people's movements, shadows or other obstacles block the light.
Previous research mostly involved electrical engineering uses and focused on a single VLC link. Few, if any, studies focused on VLC's practical systems and networking problems and new applications.
This current research hopes to bridge this gap from a computer science perspective. One of the goals is to solve the practical challenges in using an array of VLC links to provide always-on network connectivity.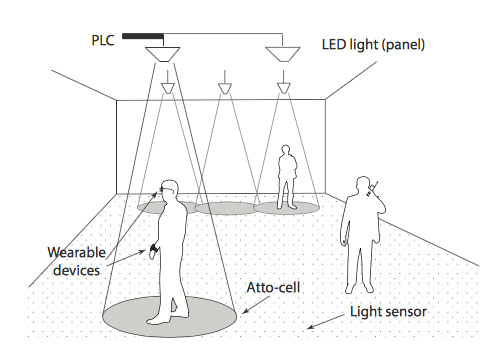 iVLC Smart Space is created by lights on the ceiling integrated with power line communication to transmit data to smart devices. Light sensors on the floor collect light luminance data. This enables sensing user movement and gestures using VLC. (Credit: Dartmouth University)
Provides Alternatives
The idea of using light for data communication has been around for a while. In ancient times the beacon was a much simpler form of light communication. In recent years we have seen a huge breakthrough in achieving higher payloads in using communication with light, according to Zhou.
The visible light communication project involves testing the use of light for human sensing. Imagine you are in a room with typical ceiling lighting fixtures. Each light fixture has sensors that can detect the presence of people. These sensors can detect human behavior and identify gestures, she explained.
That ability can go a long way to reduce the drain on bandwidth occurring in other forms of wireless communication as user demands for connectivity keeps increasing exponentially.
"The use of light will be one more alternative or additional technology. Lighting is ubiquitous. It has better security parameters as well," said Zhou.
Less Bandwidth Plus More Security
All of the communication lines with visible light communication are confined within a single room. The field of communication will not go beyond a single room.
This delivery method is different than WiFi and other wireless technologies. It makes the light communication more secure and compelling to others, explained Zhou.
"This will allow new designs on human interaction. This will augment all the existing wireless technologies. The goal is not to use it as a replacement for Bluetooth and WiFi and such," she said.
Another benefit is the lack of bandwidth limitations since the light beams are contained within a walled area. The contained area eliminates a large number of users sharing the communications from a small amount of light, Zhou added.
Surplus Supply
The unlimited supply of light already in use means that the lighting delivery method will result in a much higher capacity than WiFi. Plus, the light spectrum is much wider than WiFi.
"The light spectrum has 2,000 times the bandwidth of all of the other wireless [spectra]. That is a huge amount of bandwidth that we can potentially use," said Zhou.
The concept involving the use of visible light to communicate is similar to technology that uses the power grid to create a conduit for computer networking. That similarity lies in the sense that both approaches use an existing infrastructure.
"That provides additional functionality of transmitting data and sensing human events. However, the specific terminology might be different," she noted.
Battery Benefits
The Dartmouth research is funded by a grant of US$500,000 from the National Science Foundation (NSF) issued in October. It will help pay for potential solutions to the battery and bandwidth drain caused by always-on Internet connectivity.
Mobile devices and the latest wearable devices continually seeking connectivity can deplete a device's battery very quickly. VLC can help offload some of this searching to the phone's WiFi radio connection circuits.
This alternative would need much less energy than is now consumed by the central processor in the mobile device that normally carries out this function. That would allow the device to obtain maximal wireless connectivity and consume much lower energy cost, explained Zhou.