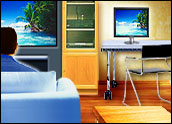 The line between TVs and computers is increasingly blurring, with TVs becoming smarter and more connected than ever. As interactive, Web-connected appliances, smart TVs have search and navigation capabilities, can interact with tablets and smartphones, and offer access to downloadable apps. In short, smart TVs provide the kind of always-on connectivity that consumers have come to expect in the rest of their lives.
"The traditional TV is one-dimensional," Chris Hanburger, vice president of business development with the digital marketing company StepLeader, told TechNewsWorld. "A viewer is limited to one channel at a time with no additional built-in add-ons. Our daily lives do not mirror this experience. While browsing the Internet, don't we all navigate with multiple tabs open? It's the same thinking applied to smart TVs. Smart TVs give consumers news and weather content at their fingertips to access 24 hours a day from their television."
Entertaining Ecosystem
There's no single definition of "smart TV," and there are a variety of ways TVs incorporate connectivity and interactivity. Some, including Panasonic and LG models, provide access to video on demand and browser-based games and other content, while allowing a smartphone to become the set's remote control. Samsung offers a suite of smart TVs, featuring everything from facial recognition to gesture and voice control.
Whatever their high-tech features, however, smart TVs, like traditional TVs, have one primary use: entertainment.
"The key to the smart TV is the online interactive experience provided to users, regardless of whether that is app-, widget- or browser-driven," said Jeff Haynes with TechBargains. "The device is meant to be much more of an entertainment center that enriches your television-watching experience in a variety of ways."
While mobile devices, smartphones and tablets provide constant connectivity, TVs have larger screens and are often centrally located with a couch or comfortable chairs nearby, making them more appealing for settling in and watching a movie.
"You can argue that I can get movies through my mobile device, but people are still fairly comfortable with sitting on their couches and having a TV," Haynes told TechNewsWorld. "There's always going to be a need for a TV set, and increasingly people are going to want it to be connected."
It's not as if those devices are entirely separate, however, since smart TVs integrate with mobile devices to create an entertainment ecosystem.
"Consumers are increasingly seeing the benefits of owning multiple connected devices that enable them to view and share content on any screen in the home, and many smart TVs now allow consumers to push content from a second screen device to the TV or vice versa," David Watkins, a research consultant with Futuresource, told TechNewsWorld. "Smart TVs should no longer be seen as standalone devices but as a core part of a wider ecosystem of connected products interacting with one another, and each having a distinctive role to play depending on the type of content being consumed."
Smart TVs might, in fact, become the way that content is distributed to devices throughout the home.
"Moving forward, the TV is likely to be the central device in the connected home," said Watkins. "There are applications beyond entertainment that are likely to find a home on the smart TV set, ranging from home security and home automation to health monitoring and interactive TV shopping."
Video Conferencing
Another benefit of smart TVs is that they can allow for video conferencing, using Skype or other built-in apps.
"You can envision sitting on a couch, and somebody calls you up," Sailesh Chittipeddi, CEO of Conexant Systems, which manufactures video conferencing chips for Samsung smart TVs, told TechNewsWorld. "You don't want to run around looking for a phone or an attachment. What we specialize in is the ability to talk to your TV set from your couch and be able to hook up to the other side. The other side doesn't hear the background of what you're listening to on your TV."
Using far field voice input processing, TVs with Conexant chips pick up the sound of a voice across the room and filter out the sound of the TV so that a conversation can take place.
"Conexant plays a role in a real room environment, which is far different from sitting at your computer or with a handset," said Chittipeddi. "If you're sitting in a room, when you talk with somebody you have echoes, and the dynamics change quite a bit in a real room environment."
Splitting Up
TVs that don't have built-in intelligence can be made smarter by virtue of accessories and apps. These make a non-connected TV connected, and companies are beginning to design apps to make use of this newfound connectivity.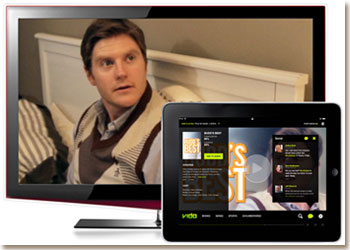 Brightcove is in the process of partnering with Discovery International to offer information on a dual screen to viewers of the network's shows. Thus, while watching Dirty Jobs, for instance, viewers with Apple TV and an iPad will be able to see information about a particular episode, behind-the-scenes photos, facts and other related details.
"It lets you control the experience and interact with content," Jeff Whatcott, chief marketing officer with Brightcove, told TechNewsWorld. "People talk about the second screen experience. Often that means something is shown on TV, and you have a tablet that's attaching itself to what you're watching on TV. You still as a consumer are passive, though, and you don't have control of what you're seeing. You're attaching your tablet experience onto that. It's just one more screen pushing content onto you. This model is the inverse of that. Instead of having traditional television broadcast going on, you are in control of it."
The app gives viewers the chance to explore information that they otherwise might not.
"One thing that's cool about it is that it encourages you to watch the content that you already know about, but also to check out new content," said Whatcott.
People often have their tablets and smartphones out while watching TV, but this app integrates their use with the viewing experience itself.
"The second screen is a two-edged screen for media companies," said Whatcott. "Sometimes that can be a distraction. People are multitasking. Instead of the tablet becoming a distraction, [this app] makes the tablet the center of the consumption experience."
No TV Spreadsheets
No matter how smart they get, however, TVs are not likely to replace computers. Rather, they'll join the ever-growing ranks of intelligent, connected, and interactive household appliances, each with their own particular functions and uses.
"I don't envision a smart TV would replace a computer, but smart TVs are great for basic Web surfing and simple searches," said Conexant's Chittipeddi. "You're not going to be doing complicated spreadsheets on your TV."