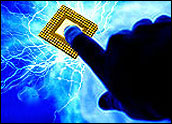 Think having a credit or debit card with your photo on it is cool?
Well, how about a card the same size and thickness as a credit card, with a window that shows a passcode, and with a public key infrastructure (PKI) chip on it?
When you need to use the card, press on its switch and the PKI chip will run an algorithm that generates a one-time passcode for you to use.
The card also has a built-in battery and a built-in RFID (radio frequency identification) antenna.
Supplier to Leading Vendors
The card's developer, Innovative Card Technologies (InCard), supplies leading financial institutions, government agencies and vendors with these cards.
In fact, VeriSign's recently announced VIP solution uses InCard's product as its VIP Credential. VeriSign is also giving enterprises 5,000 of these credentials each under its QuickStart program to distribute to customers who will use them to log on to the enterprises' systems. Clients currently using the VIP solution include eBay and PayPal.
Card With a Brain
The Smart DisplayCard's built-in PKI chip lets users put on PKI login, e-mail encryption and digital signature capabilities.
"It was developed at the request of ActivIdentity, which wanted us to develop a card with a built-in PKI chip primarily for their government clients," InCard CEO and President Steven R. Delcarson told TechNewsWorld. The chip "replaces the need for a magnetic stripe" on the card.
Smart DisplayCards can be used by financial institutions as ATM cards; enterprises can use them as a strong authentication solution for Windows login, remote access, single sign-on and secure e-mail transactions, through the ActivID Card Management System.
Other Uses
With the way identity theft is growing, banks are increasingly requiring two-factor authentication of customers' identities. "When they ask you for, say, the name of your high school, that's a secondary authentication," Delcarson said.
The gaming industry is another major user of two-factor authentication, for compliance reasons.
The Smart DisplayCard can also be used for remote access, e-banking and building access.
The PKI chip either uses a proprietary algorithm from any of InCard's security partners, or the algorithm promoted by the Initiative for Open Authentication (OATH), a global consortium of 60 authentication companies.
Keeps on Ticking
The Smart DisplayCard meets both UL (Underwriters Laboratories) and ISO (International Organization for Standardization) specifications, and is rugged. "You can tear it or cut it and you won't get battery acid on your hands," Delcarson said, adding that the card can take quite a beating without losing its functionality.
Losing the card will not be a security problem because "you need the passcode the card generates and you need a password," Delcarson said.