New details and specifications have surfaced concerning the webOS tablet HP is expected to unveil Feb. 9.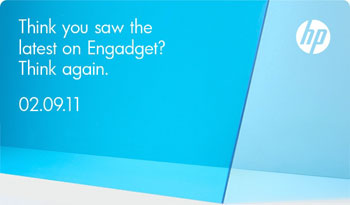 HP's followup invitation to its Feb. 9 event
Citing an unnamed source, Engadget has published photos, tech specs and features of the soon-to-be-revealed device.
HP responded by sending out an updated version of its invitation to the Feb. 9 event alluding to the leaks. It reads: "Think you saw the latest on Engadget? Think again."
However, HP spokesperson Derick Mains declined to offer further comment on the leaks because "HP doesn't comment on rumors and speculation," he told TechNewsWorld.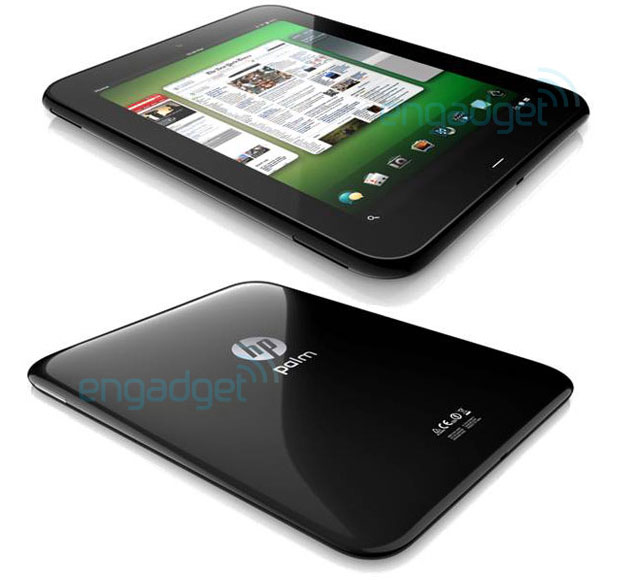 HP's webOS tablet, courtesy of
Engadget
.
About the webOS Tablets
There will be two tablets, Engadget reported. One, nicknamed "Topaz," has a 9-inch screen; the other, nicknamed "Opal," has a 7-inch screen.
Both have a front-facing camera, a micro USB port on the base and three speakers — two on the left and one on the right. They will be available for purchase later this year.
The tablets will reportedly support WiFi only, and both have 1.2 GHz processors.
Opal models supporting AT&T 3G and Verizon LTE networks will arrive in September, according to the report, and an AT&T LTE model will come in July 2012.
The Opal, which will focus on tasks like reading e-books, will measure 180 by 144 by 13 mm and have a 1,024 by 768 pixel TFT LCD display, Engadget stated. The Topaz will measure 241 by 190 by 13 mm.
Charging and Sharing
The webOS tablets to be unveiled Feb. 9 will apparently offer premium audio powered by audio processing technology from Beats, with which HP began collaborating in 2009.
The tablets will also use Palm's Touchstone wireless charging dock, introduced in 2009 with the Palm Pre.
Another feature is Tap-to-Share, which Engadget says will let users transfer content between smartphones and tablets by tapping the devices together if they both run the webOS operating system.
Further, HP will reportedly provide scads of cloud storage for webOS devices.
Another noteworthy feature in the cards is phone-to-tablet communication, Engadget reported. When a call comes in, a user can answer it on either a smartphone or a tablet.
Opening the Doors of Perception
The Tap-to-Share option is quite feasible, Rob Enderle, principal analyst at the Enderle Group, told TechNewsWorld.
Palm originally had a similar concept called "beaming" that used infrared rays to transfer data between Palm Pilots, Enderle pointed out. "The concept behind beaming and Tap-to-Share is similar, so it's certainly within Palm's DNA to do something like this."
It's also quite possible that HP will leverage the cloud heavily as a service for webOS device owners, Enderle suggested.
"HP has one of the leading cloud architectures in the market, and they've got a substantial hosting facility and can put in place a rather impressive hub," Enderle stated.
"This would tie the customer at the hip to HP, and it's one of the areas where HP should do better than Apple because HP's more of a back-end company than Apple," he added. "This is where HP is strongest, and it plays directly into their strengths."
Phone-to-tablet communications is also quite feasible.
"As long as you're using a similar platform, being able to have a call go to multiple numbers at once is commonplace," Enderle remarked. "Virtual PBX vendors do this today."
The one possible stumbling block might be objections from wireless carriers, because enabling a service like this requires voice over IP, Enderle said.
"It's not a technology problem," Enderle elaborated. "Carriers haven't wanted to implement a VoIP-like technology on smartphones because they make so much money on charging by the minute."
It's possible that HP has negotiated a flat-rate fee with the carriers because "under a flat-rate plan it doesn't really matter whether the customer makes or takes VoIP or cell calls because the carrier will still get its money," Enderle opined.
The Bigger Picture, Maybe
It's likely that the Feb. 9 event will introduce far more technology than has been leaked onto the Internet, Jeff Orr, a principal analyst at ABI Research, told TechNewsWorld.
"My take from HP is that there's a lot more, and what Engadget has shown is a portion of what will be announced," Orr said.
For example, HP might unveil tablets running webOS for the corporate market similar to the Slate tablets it offers running Windows 7, Orr speculated. Further, HP offers a printer that's really an integrated multifunction device. This printer includes a tablet that users can remove and use to interact with it remotely.
HP may well replace that tablet with a webOS device, Orr suggested.
"HP's shown it has a good understanding of where its strengths are — whether it's the full computing model and printers, or tablet PCs," Orr said. "With webOS, HP can provide more of the solution itself and not necessarily rely on partners."