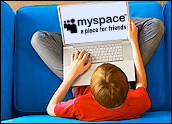 It seems as though everyone wants to be both social and portable these days. Google, Yahoo, Facebook and MySpace all have recently trumpeted their latest efforts at openness.
Are they really the same?
In some cases — Yahoo and Google, primarily — the OpenSocial framework is providing a set of standards to ensure interoperability among the applications themselves. They're also using oAuth authentication to allow the sharing of data between sites without exposing sensitive information that may be contained in a user profile.
Yahoo Open Strategy
First, Yahoo got the ball rolling, introducing Yahoo Open Strategy, or YOS.
Billed at its introduction as a "rewiring" of the entire Yahoo network, YOS is a social "connective tissue" that touches each of its properties and allows developers to build apps around the data its users generate.
For example, a Social application programming interface within YOS will let developers query users' contact and profile data, while a Presence API will do the same with the user's presence on the network. Updates will let users send out activity reports to their friends, presumably in Twitter-like fashion.
The whole thing is built with OpenSocial in mind. Initiated by Google, OpenSocial is a set of standards meant to ensure the portability of applications to other social platforms, such as those offered by fellow OpenSocial members Google and MySpace.
MySpace Data Availability
MySpace is applying a similar model, including using OpenSocial standards to build its APIs. In fact, Yahoo is a partner with MySpace on the initiative, which was announced less than a week after Yahoo's YOS. MySpace says it's a complement to YOS.
Other partners include eBay, Twitter and Photobucket. All will incorporate MySpace profile data into user profiles on their sites.
It would seem to me, although I haven't seen any explicit mention of it yet, that the portability could go both ways. For example, maybe you're monitoring four or five auctions on eBay. It stands to reason that you could view them from your MySpace home page. Maybe your MySpace page could list your favorite eBay sellers or stuff you just bought.
MySpace also has joined the Data Portability Project — which includes Facebook, Google and Plaxo — a group working to create true interoperability of social applications.
Facebook Connect
Last week, Facebook joined the party, announcing Facebook Connect, its own effort at data portability.
Facebook's portability effort involves four pillars: Authentication (through some as-yet-unspecified method); real identity (on Facebook, you are represented by your real name); friends access on third-party sites; and dynamic privacy (any changes to settings are immediately implemented on external sites).
Facebook actually kicked all of this off in 2006, when it decided to open its API to third-party developers. People really began at that time to get their heads around the power of social networking data — from your profile information to your connections and the interactions between what you do and buy and write and watch.
"We believe the next evolution of data portability is about much more than data," writes Facebook's Dave Morin in the blog post announcing Facebook Connect. "It's about giving users the ability to take their identity and friends with them around the Web, while being able to trust that their information is always up to date and always protected by their privacy settings."
Too Much of a Good Thing?
It's definitely about more than just the data. The concern is that linking all of this information together can provide a more complete picture of who, exactly, we are — and that makes some people uncomfortable.
That's why Facebook's Beacon initiative blew up in its face. Facebook was completely blindsided by the idea that people wouldn't necessarily want to share everything about themselves with all of their friends.
The lesson for Facebook — and everyone else — is that opt-in has got to be the default for these types of services. Don't make it automatic — give users the choice. So, if I set my status as "going to the airport for a 3-day trip," I would have no one to blame but myself if a burglar decided to take advantage of my absence.
The slippery slope is that each of these initiatives creates a new way to complete the picture. If you draw enough connections among the disparate fragments of information that exist about each of us in various places on the Web, before long the picture starts to come into focus.
If information is power, information given context by other information can be exponentially more powerful.
This makes it critically important to give people the choice from the start whether to include certain information. Opt-in has got to be the default. Just ask Mark Zuckerberg — he learned the hard way.