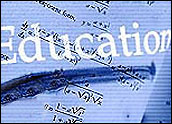 Perhaps one of the most effective and efficient methods for getting into college is no further from students than the palms of their hands. Using PDAs and cell phones, students now can study for the PSAT, the SAT or the ACT wherever they are, whenever they want.
College-bound students studying for the new SAT exam don't have to leave behind hefty volumes of test preparation books and stacks of flash cards. Instead, they can flip open their portable devices, and with the use of software from Handmark, they can study for the college admissions test.
Hardware Compatible
The Handmark Kaplan Mobile SAT/PSAT-ACT 2005 software is based on the Kaplan Test Prep and Admissions materials. Versions of the software are compatible with nearly all smartphone/PDA devices and operating systems.
The test preparation package works with Palm OS-powered devices, Windows Mobile-based Pocket PCs and smartphones, along with Symbian, BREW and Java mobile phones. The software exceeds the offerings of typical flashcard-centered products by providing strategies and practice tools as well as games and other fun prep challenges.
Handmark's goal was to put the educational software on all types of mobile devices rather than use proprietary hardware.
"We specialize in applications that people can use in small bursts instead of wasting time," Handmark Executive Vice President Douglas Edwards told TechNewsWorld.
New Approach
Handmark started to develop the college test prep package more than a year ago. The company's marketing plan targeted the introduction of the new test formats released this year by both the SAT and ACT test developers.
"We don't pretend this is the be all and end all of test preparation," Edwards said. "We just wanted to make studying for the college entrance test as painless as possible."
At US$29.99, Handmark's software is a small investment. Most students already have and use PDAs and mobile phones.
"People are paying a couple of dollars per month for ring tones. They can pay for this and learn at the same time," Edwards said.
The product matches the lifestyle and needs of busy high school students, Edwards noted. With Kaplan Mobile SAT/PSAT-ACT 2005, users can prepare for their college admissions on their own schedule.
"We know from experience that multiple methods of study promote the most effective learning," said Jon Zeitlin, general manager, Kaplan Test Prep and Admissions. "Kaplan Mobile SAT/PSAT-ACT 2005 brings current technology to test preparation to provide students with a convenient, supplementary resource to prepare for these tests."
The software helps students to learn the secrets of successful test taking while reinforcing facts and concepts from other test resources.
What It Does
The learning package includes more than 1,200 test questions. It provides comprehensive practice and detailed explanations for correct answers.
The software includes exciting sounds and customizable backgrounds to make college admissions test preparation enjoyable, stimulating and effective.
The software provides several learning modes, giving students the choice of both traditional and innovative strategies.
One mode presents a series of sample questions so students learn to think how the test is structured. Another mode is based on flashcard methodology. Users can review their knowledge in each of the test areas: critical reading, math and writing.
Students can train for the college entrance test in two ways. One, they can use their portable devices to work at their own pace in analyzing questions before answering. Two, they can complete sample tests under timed conditions.
A game-like environment enables users to improve their scores with a challenging game in which they play solo or in a head-to-head competition with a study partner.
Users can also save questions they answered incorrectly to a personal flashcard deck for additional review.
Positive Reactions
Edwards said his company is pleased so far with the response from consumers. "It is not one of our top five software products for mobile users. Still, it is a steady seller for us," he said.
With some 2 million students per year taking the college entrance test, the best motivated students are finding their way to this product, Edwards said.
Kaplan Mobile SAT/PSAT-ACT 2005 is available through retail outlets and can be downloaded from Handmark's Web site or from Kaplan's online store for $29.99.
The product is available for Java-based Sprint phones for a user fee of $2.99 per month.
Edwards said versions for other mobile phones will be available soon.