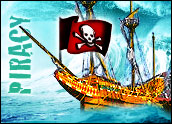 Software piracy is so widespread that it exists in homes, schools, businesses and government offices. According to the Business Software Alliance (BSA), an international association representing the leading software developers, software piracy is practiced by individual PC users as well as computer professionals who deal wholesale in stolen applications.
The problem of software piracy is so extensive, warns Jerry Brady, CTO of managed security services and consulting services company Guardent, that proprietary software is now readily available for download from numerous Web sites and peer-to-peer file-swapping strongholds on the Internet.
"Software piracy used to be done within an elite community of users and was not damaging enough to sales to devalue the product," Brady told TechNewsWorld. "Now it is a vastly different world. Piracy is very easy to do without access to user groups."
At one time, software piracy was mostly a user network of floppy disk traders. Now, Brady said, the average person has the capability to download large programs over high-speed Internet connections.
Types of Piracy
The BSA literature identifies several common types of software piracy. These include misusing license limitations by consumers who overinstall applications — that is, they install a single-license application on more than one machine, which is typically against a software license policy — or they swap programs across a network, permitting unlicensed network users to access the software.
Software piracy also includes downloading unlicensed software from the Internet and outright software counterfeiting — the act of deliberately burning an entire original CD onto multiple copies and selling those copies through popular online auction houses.
Ian Hameroff, security strategist at Computer Associates, told TechNewsWorld that the Internet is a major channel for pirated software. "There are lots of bad choices on the Internet," he said. "It is a consistent problem in that there are far too many outlets for users to get unauthorized copies of software."
Microsoft's applications are perhaps the most copied software worldwide, said Thomas Patterson, former regional partner for the Deloitte & Touche security services group. One of the most-pirated pieces of software is still Windows 98, he said.
"Everybody needs an operating system, and a prevalent attitude is that it should be free," he told TechNewsWorld.
Patterson, whose book — Mapping Security: The Corporate Sourcebook for Global Security & Privacy — addresses piracy issues, was released last April.
Piracy Reach Is Worldwide
The percentage of software piracy varies with geographic location. Hotbeds of piracy shift every few years in response to actions taken by some governments. But the problem is still world-reaching. "It's a very real, huge problem," said Patterson.
He estimated the percentage of piracy for developed countries is in the low teens. But China has a piracy rate estimated to be above 90 percent. "That means that three or four out of every five copies are pirated versions," he said.
A decade ago, noted Patterson, Latin America was a leading den of software piracy. But diplomatic efforts led to successful enforcement by governments there.
According to a study on software piracy conducted last year for BSA by International Planning and Research Corporation, the United States' piracy rate has dropped two points to 23 percent since 2001.
Financial Impact Worsening
According to BSA's Web site, software piracy costs software makers some US$13 billion annually. The lost sales have an accumulative effect worldwide.
Two of the biggest offenders are home users and businesses that violate license agreements by using one legitimate installation disc for multiple computers. This practice is driving the trend toward product activation, a strategy that many companies — including Microsoft and Symantec — are using to limit each user to one installation per purchase.
The BSA study concluded that software piracy cost the U.S. economy $1.9 billion and resulted in more than 105,000 lost jobs.
Another report issued by the International Intellectual Property Alliance (IIPA) estimated losses last year from piracy of entertainment software to be $1.19 billion in China, India, South Korea and Taiwan.
But some analysts do not see a relationship between the retail cost of a software product and reliance on pirated software.
"What's driving the piracy activity is that people feel they can get away with it," said Brady. "As a white-collar crime, it is readily accepted."
Stemming the Piracy Tide
Computer Associates' Hameroff sees a cocktail approach rather than a silver-bullet offense as the only solution that could reduce the effects of software piracy. "Efforts to eradicate piracy should be directed at reducing it to the level of background noise," he said.
In the corporate world, company officials need the ability to inventory what is installed on computers. Hameroff already sees signs of executives doing thorough asset-management strategies to determine the legitimacy of company software. Such efforts let companies identify unlicensed software and remove it before being reported or audited.
Home users will begin to see tighter security controls on software through product activation, he said. "Vendors are working on better ways to safeguard their products," Hameroff told TechNewsWorld.
But Guardent's Brady sees product validation or activation strategies as more of a losing battle than a piracy solution. "Those schemes are broken very quickly," he said. "They do more harm than good."
Responding to Audit Threats
Small business and home users enjoy the knowledge that they won't be discovered using pirated software. But enterprise users can't share that luxury.
Executives used to look the other way, ignoring use of pirated software in the workplace, said security expert Patterson. But software industry watchguards — like the BSA and the Software & Information Industry Association (SIIA) — are hiring firms to audit software use at businesses that have bought licensed software. Such audits often reveal illegal copies and license violations, said Patterson.
And many countries are passing antipiracy laws that make enforcing software audits and license violations easier, Patterson said.
Court Actions Paying Off
In addition to attempting to restrict illegal software use through tighter controls over product activation, the software industry is getting more aggressive in going after product piracy on the legal front.
BSA last year announced settlements of more than $3.1 million with 37 organizations nationwide as part of its third annual campaign.
Legal action, combined with educational campaigns and pressure to enforce international treaties on the protection of intellectual property, could be having a positive impact on the software-piracy problem.
A recent BSA report on global piracy showed a downward trend. Over the last eight years, the worldwide piracy rate for commercial software dropped from 49 percent to 39 percent.
"The solution is more political than business-based," Patterson said.
---
This story was originally published on February 27, 2004, and is brought to you today as part of our Best of ECT News series.
---