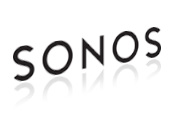 Those who like to cut the cords but still get the best sounding audio with every note and chord will soon have a new mid-priced option, as Sonos has officially unveiled its long rumored soundbar. The Sonos Playbar, which will be available in March for around US$700, is designed to provide all of a listener's audio needs in a single sleek package that can even be wall-mounted beneath a TV.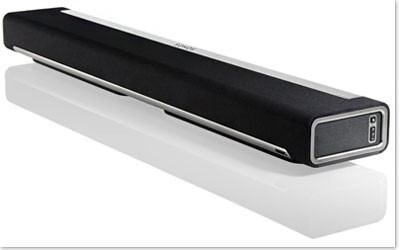 Sonos Playbar
Internal sensors can determine if the bar is lying flat on an entertainment system or against the wall, and the Playbar can adjust its conics accordingly. It features a total of nine drivers and utilizes reflection-based virtual surround to simulate the audio from a multispeaker system.
"This is the soundbar for music lovers, and if you have a TV in your home — which most of us do — then this is the product for you. It streamlines the A/V equipment in a room, and replaces everything from pre-amps to A/V receivers," said Scott Fink, senior product manager at Sonos.
"A lot of gear that used to be associated with a home theater and home entertainment system can now be replaced with a single speaker," Fink told TechNewsWorld.
Streaming Content
While many soundbars, especially on the low end, simply offer inputs that allow users to provide greater volume with improved — at least, in theory — audio clarity over what many flat panel TV sets now offer, the Sonos Playbar is more than just another minimalistic sound system.
It can connect via Ethernet ports to an existing Sonos system, which allows for streaming of numerous audio services including Pandora, Amazon Cloud Player, Spotify and Rhapsody. This networking also allows users to stream music from their own digital music collections, and supports MP3 and WMA from Internet Radio.
Audio formats supported include MP3, iTunes Plus, WMA, AAC/MPEG4, AAC+, Ogg Vorbis, Audible (format 4), Apple Lossless, Flac, and uncompressed WAV and AIFF files.
Album art in JPEG, PNG, BMP and GIF formats can be viewed on a TV or display.
The Playbar supports Windows XP SP3 and higher, Mac OS X v10.6 and higher, and Network Attached Storage (NAS) devices supporting CIFS for stored files.
It can also be paired with other Sonos products — such as the Sonos Sub, to provide more low end — or be paired with satellite speakers, allowing users to get true discrete sound rather than simulated multichannel audio.
This is certainly a product that will interest current Sonos users, but it is less clear if it will be the product to draw in new users.
"It's something of a niche product," said Greg Scoblete, analyst withDigital Tech Consulting.
"It's great for someone already in the Sonos camp — someone who has their wireless speakers and is already taking advantage of multiroom wireless music streaming," he added.
"If you're in the market for a simple soundbar for your HDTV, however, you'd be paying for functionality you don't really need," Scoblete told TechNewsWorld.
Setting the Bar
The Playbar is positioned in what Sonos maintains is a "sweet spot" that could appeal to those who have been left unsatisfied by what many lower-end products can provide."There are speakers on the low end that really just provide louder audio," said Sonos' Fink, "but there are also speakers that we've found to be $2,000 or more. We're in the middle, and see this as a product for that true audio lover."
To that point Sonos is positioning this as an audio component for the music lover first, while many other speaker systems aim to create something designed with the TV in mind. This unit features nine class-D digital amplifiers that drive six midrange and three speakers, while automatic equalization technology self-adjusts to the specific audio content.
"The Sonos PlayBar has a couple of unique advantages over the competition," said Chris Boylan, editor ofBig Picture Big Sound.
"In addition to being a standard sound bar — enhancing the sound of any source connected to your TV — the PlayBar is an independent wireless speaker system that can access your local music or streaming services such as Rhapsody or Pandora directly via the Sonos app," he noted.
"It can be set up to respond to your existing TV or cable box remote, effectively just replacing the terrible-sounding TV speakers with something that sounds much more dynamic and detailed," added Boylan.
Room to Grow
The fact that this system can expand is also noteworthy. While it can be just a speakerbar, the fact that this device can incorporated into a larger sound solution for the home gives it an advantage over other single speaker systems.
"Unlike other sound bars, the Playbar can be enhanced with real wireless surround channels," Boylan told TechNewsWorld.
"The Sonos Play:3 system [supports] discrete 5.1 channel surround sound without wires," he pointed out. "This is something we've seen from very few other products, and it really enhances the enjoyment of movies, sports and games."
So perhaps this could be for the non-Sonos user who is looking to start small and grow the system.
"The products create their own isolated grid network, allowing you to put any sound source into any room or into all rooms at once — party mode — using either a dedicated wireless remote or your Apple or Android phone," said Rob Enderle, principal analyst at the Enderle Group.
"Their products range from nonamplified sound sources you plug into your receiver to full speakers which can, in pairs, provide stereo sound without any receiver present," he explained.
"This sound bar is a modification of this last set, and like other high-end sound bars, has a full array of speakers to fill the room with the music from the TV," Enderle told TechNewsWorld.
"You can also distribute the TV's sound throughout the home like any other sound source," he pointed out, "so if you are, say, cleaning or doing other things, you can at least follow the TV audio from anyplace in the home."
The final factor, of course, is price — and while Sonos may be in the middle ground, the competition is only likely to heat up.
"As TVs get slimmer, the sound gets worse, and people are starting to notice that so they're buying sound bars in droves," said Big Picture Big Sound's Boylan.
"Every speaker manufacturer on the planet — as well as many TV manufacturers — have gotten into the sound bar market," he said, "so there is getting to be a great deal of competition in the space."