Sony Ericsson announced two new Android smartphones Wednesday: the Xperia Ray and the Xperia Active.
Both run Android 2.3, aka "Gingerbread," and use the Mobile Bravia Engine.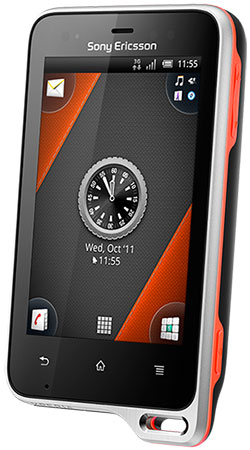 The Xperia Active
They will both be available in select markets worldwide in the third quarter, Sony Ericsson said.
The Ray appears to be focused on entertainment, and it will be offered with LiveSound headphones, while the ruggedized Active will focus on consumers with an active lifestyle.
Sony Ericsson did not respond to requests for comment by press time.
Highlights of the new Xperia Devices
Users will find the usual features in both smartphones — still and HD video cameras, Facebook access, geo tagging and so on.
Both the Ray and Active feature a 1GHz processor and have a Reality Display with the Mobile Bravia Engine.
Sony first introduced the Reality Display/mobile Bravia Engine in January on the Xperia Arc.
The mobile Bravia Engine is claimed to enhance colors and detail, just like its bigger counterpart in Sony Bravia TVs.
The Reality Display is Sony's answer to the iPhone 4's hi-res Retina Display.
Both phones have scratch-resistant touchscreens. The Xperia Ray's touchscreen measures 3.3 inches and the Active's is three inches.
In some markets, the Xperia Ray will be offered with LiveSound headphones and with LiveDock. LiveDock will let owners launch Android Market apps and charge their smartphones simultaneously.
The Xperia Active is dust proof and water resistant. Its screen has wet finger tracking. It will also have an arm case and a sport stereo headset.
The Xperia Active also comes with ANT+ ultra-low power network technology that will offer on-screen heart rate monitoring.
Deconstructing Sony Ericsson's Strategy
Launching the Xperia Ray and Active for different market segments is "a smart marketing move," Ramon Llamas, a senior research analyst at IDC, remarked.
"There's tons of other Android devices out there highlighting the apps and the experience," Llamas told TechNewsWorld.
"Sony Ericsson wants to push these devices as not just smartphones, but as lifestyle and mobile entertainment devices," he stated.
"How many Android smartphones do you see now that are thin and run on Android 2.3?" asked Michael Morgan, a senior analyst at ABI Research.
"These days, that's just table stakes," Morgan told TechNewsWorld. "Now, Sony Ericsson's differentiating itself with devices like the Active."
The new devices seem to indicate that Sony is taking a greater interest in its smartphone wing.

The Xperia Ray
"For a long time it seemed as if Sony Ericsson was a bit of a red-headed stepchild," ABI's Morgan said.
"Neither Sony nor Ericsson seemed to want to commit to it too much. Now, I'm seeing more of the Japanese design influence, especially in the Active, which is a ruggedized smartphone with a very specific segmentation," he added
Smartphones in Japan are "extremely specialized," Morgan said. "They have solar-powered devices, waterproof handsets, other types of handsets," he elaborated.
Market Movers or Just Has-Beens?
However, Sony Ericsson's efforts may be too little, too late.
"Our U.S. Consumer Survey shows Sony Ericsson only have about a 1 percent share of the U.S. market," Dmitriy Molchanov, an analyst at the Yankee Group, told TechNewsWorld.
Still, 86 percent of 20 to 24 year-olds have a positive impression of the Sony Ericsson brand, and both these handsets, particularly the Xperia Active, target this market, Molchanov said.
"Unfortunately, this is too little, too late" because both handsets lag other Android devices on the hardware side, Molchanov pointed out.
"Neither has dual-core processors, and neither will support LTE," Molchanov explained.
Further, the Active Dock offered with the Xperia Ray "lacks the functionality that Motorola's Atrix smartphone offers" and needs more robust software, Molchanov suggested.
"Built-in sports apps and a water-resistant shell for the Active are nice, but they're not market movers," Molchanov opined.