Sony Mobile Communications announced the newest model in its Xperia line, the waterproof and dustproof Xperia Z.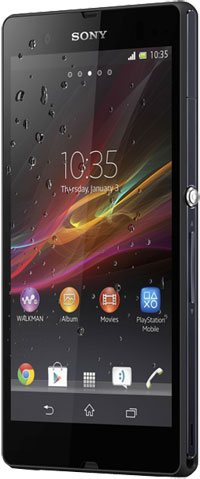 Sony Xperia Z
The 4G LTE device has a 13-MP camera and a five-inch full HD 1080p Reality display powered by Sony's Bravia Engine 2. It is built around a quad-core Qualcomm Snapdragon S4 Pro processor, and runs Android Jelly Bean 4.1.
The Xperia Z, which is Sony Mobile's new flagship device, comes preloaded with the company's Walkman, Album and Movies apps.
Owners can share music, photos and videos between the Xperia Z and NFC-enabled Sony devices, including speakers, headphones and the new Bravia TV.
"No other smartphone manufacturer can provide consumers with access to the complete ecosystem of entertainment, hardware and connectivity between devices which Sony can," Stephen Sneeden, Xperia product marketing manager at Sony Mobile, told TechNewsWorld. "With our media applications, we are bringing people a much richer and consistent entertainment experience across a range of Sony devices."
The Xperia Z Experience
The Xperia Z has a 5-inch capacitive touchscreen display with 1920 x 1080 p resolution that has an on-screen QWERTY keyboard. It has tempered glass and anti-shatter film on the front and back, and is dust- and water-resistant.
A couple of features — the Bravia Engine tie-in to the screen and the Fast Capture feature in the smartphone's 13-MP rear camera — were introduced in the Xperia Ion last year.
The rear camera has the back-illuminated Exmor RS sensor, HDR video and noise reduction. It also has face detection, auto focus, burst mode and offers 16x digital zoom.
There is a front-facing 2.2-MP 1080p camera with geotagging and the ability to record HD video.
The Xperia Z's processor runs at 1.5 GHz, and the device has a Battery Stamina mode that improves standby time at least 400 percent by turning off background data use when the screen is turned off — if it's enabled. The camera also has a whitelist that lets select apps remain active.
The smartphone will run Android 4.1 at launch, and will be upgraded to Android 4.2 shortly after that.
Connectivity includes LTE, HSPA+, WiFi, Bluetooth 4.0 and NFC.
Pre-loaded applications include the Walkman app, which provides access to a user's downloaded music and a library of 18 million songs, and various Google applications, among which are Play, search, voice search and maps.
The Xperia Z has a microSD card slot that can take cards with up to 32-GB capacity.
Marketing Issues
Sony's Xperia line "is good for Sony … but they're having trouble breaking into the U.S. market," Michael Morgan, a senior analyst at ABI Research told TechNewsWorld. "They have spoken to me about gaining a greater presence in the U.S., but when you have Apple and Samsung owning 90 percent of this market, it's tough."
That's because "Sony is always taking the role of a fairly quick follower," Morgan explained. For example, its introduction of large screens and good cameras into its smartphone line is following the trend.
The Xperia Z "isn't noticeably better [than the competition] so Sony will have to make some price concessions," Morgan speculated. He figures the device will be offered at "about US$150 after subsidies."
The Xperia Z will launch globally, but "we have not yet announced what markets are intended to receive the device," Sneeden said.
Making Friends
Sony was "among the top 5 vendors worldwide in Q3 and Q4," said Ramon Llamas, research manager at IDC. "That says to me they've got pretty warm reception overseas and they can put together a pretty strong device that combines innovation and technology."
The company doesn't have ties with enough carriers in the United States, Llamas told TechNewsWorld. "They've only got AT&T, which has plenty of other devices to represent itself. They need deeper relationships and to constantly refresh their portfolio, and it doesn't hurt to sink in a lot of marketing dollars as well."
Sony Mobile "is planning a significant marketing campaign to coincide with the retail launch," Sneeden said.