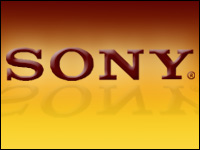 Sony has launched a high-end tablet targeted at businesses, which allows users to annotate and draw on documents on an e-Ink screen.
The company is pitching the Digital Paper device as a solution for increasing productivity and streamlining collaboration in paper-heavy environments. It's targeting the legal and higher education sectors, along with corporate boards and government agencies, as potential clients.
Digital Paper has a 13.3-inch display that offers full-screen views of PDF documents in a letter-sized format. The text is sharp and easy to read, according to Sony, with graphics of comparable quality to printed documents or notepads. The tablet includes a touch panel that lets users navigate the menu or move to other pages by touching the screen.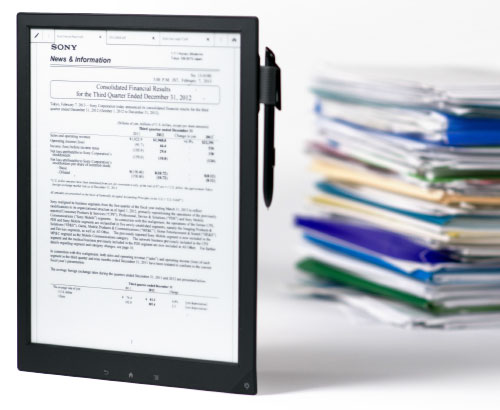 Users can convert Microsoft Word, PowerPoint and Excel files to PDF format to view and annotate on Digital Paper. It includes WiFi and USB connectivity.
Shades of Gray
The device is approximately 9/32 inches thick and weighs 12.6 ounces. The display offers resolution of 1,200×1600 pixels, with a 16-level grayscale screen. The lithium-ion battery affords up to three weeks of use on a single charge, said Sony. Digital Paper has 4 GB of internal storage — enough for around 2,800 PDF files — with a micro SD expansion slot.
There's an included stylus that allows users to write directly on the screen, and to highlight and delete text. Being able to read and share documents on the device will help organizations and companies save time and money on physically printing and sharing sensitive documentation and materials, Sony maintained.
Sony this week is demonstrating Digital Paper to the legal industry at the American Bar Association Tech Show in Chicago. It has partnered with document management company Worldox to help professionals securely share and access annotated documents and handwritten notes.
It's working with other partners to develop Digital Paper for other markets, with more details in the coming months. Sony did not respond to our request for further details.
Price Problem
A potential stumbling block to Digital Paper's success is the price tag. Sony has suggested a list price of US$1,100 when it goes on sale in May. Apple's iPad line starts at $299 and offers more flexibility to users. Samsung's Galaxy Tab 3 retails at $399, and Microsoft's surface starts at $399.
"The only real benefit I see thus far is the ability to read it in daylight, but that is not enough to overcome the performance and flexibility of an iOS or Android tablet," said Jim McGregor, principal at Tirias Research.
"This may be good for people like attorneys that want everything in PDF format, but I still see it as too limited for the vast majority of the market. You really do need to be able to edit the document in their native formats in most cases. And, combined with this price, I do not see a large market for these devices. You can do much more with a tablet, PC, or even a smartphone or phablet," he told TechNewsWorld.
"This is more for people that live on paper and need an alternative," said Rob Enderle, principal at the Enderle Group.
"Against paper and printers, it has a number of advantages, but it won't displace many iPads," he told TechNewsWorld.
"I just doubt, given Sony's history and the lack of industry support for this product, that this particular offering will be successful. The right product could take the market by storm. But, at the very least, the right product would need to support DocuSign — the most common digital signature technology — and Documentum/SharePoint/OpenText, which make up most of the document management market — both critical to most business uses," suggested Enderle.
"Sony will have to have a very cogent, compelling market campaign in place to convince mainstream businesses that its Digital Paper tablet is a must-have device," Laura DiDio, principal at ITIC, told TechNewsWorld.
"There will, of course, be a few niche market businesses who might opt to purchase it for a few key executives or sales people," she said.
"The Sony Digital Paper tablet enables users to load documents in PDF format and then write and draw on them or otherwise mark them up and share them with co-workers and business partners," DiDio continued. "This is a nice feature/function, but this capability has been available for a while. But not many businesses will shell out $1,100 just so you can mark up an electronic document."
Viable Use Cases
Despite the difficulties Digital Paper faces in becoming a widespread success, there are some valid use cases for it, largely thanks to the screen size.
"For lawyers, accountants, teachers and public sector professionals, Sony's Digital Paper device could be extremely attractive," suggested Charles King, principal analyst at Pund-IT.
"That's mainly because those professions work with and rely on full sized — 8.5- x11-inch — documents, which all tend to receive short shrift in general purpose tablets," he pointed out.
"Sony's arriving pretty late in the game, after failing at making a dent in the digital reader market," King added.
"That could hurt its chances, but the Digital Paper is one of the few devices I've seen that is actually designed to make certain jobs easier and users more productive. Sony may not ever become the first vendor that consumers choose for tablets, but many professionals and certain kinds of jobs and industries could benefit from adopting Digital Paper."