Sony announced Tuesday that its SmartWatch 2 and its Xperia Z1 and Z Ultra smartphones, introduced in Europe and Asia earlier this year, are now available in the United States.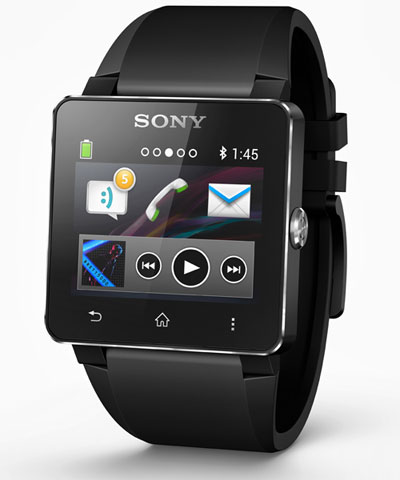 Sony Smartwatch 2
Sony beat rivals Apple and Samsung to market with its SmartWatch, and is now selling an updated model. At a price point of US$200, the Sony SmartWatch 2 offers NFC technology for one-tap pairing with devices running Android 4.0 or later. It has improved battery life and a noticeably larger 1.6-inch touchscreen with a 220×176 pixel resolution. It's also water resistant.
The SmartWatch 2 is compatible with the 200-plus apps that were developed for the original model. It can display SMS messages, calendar events, Gmail, and Facebook and Twitter posts. The SmartWatch 2 remedies some interface and usability issues that hampered the original model when it came out in early 2012.
Sony may have been the first to go the SmartWatch route, but the wearable tech trend is just beginning to pick up steam.
"We'll see most of the big names move into the smartwatch space," Chris Silva, principal analyst at High Rock Strategy, told TechNewsWorld..
"It'll be a while until it's a must-have, and it's still lacking a hero application that will drive a large number of consumers to spend $200 or more to have what amounts to a well-specced Bluetooth peripheral for their mobile phone."
Sony's Smart Strategy?
Although Sony recently announced that it would concentrate its smartphone efforts in the European and Japanese markets, it apparently has changed course, as it has brought the Xperia Z1 and the Xperia Z Ultra to the American market. However, they are being sold unlocked through Sony's Web store rather than through the carriers.
The Xperia Z1, priced at $670, offers a 5-inch Triluminous display with 1080p resolution. It runs on a quad-core Snapdragon 800 processor, and features a 20.7-megapixel rear-facing camera.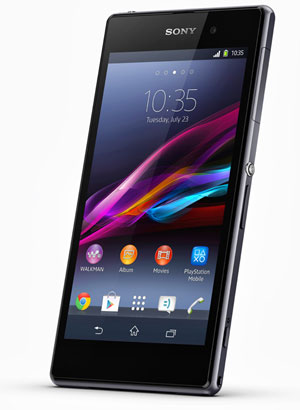 Xperia Z1
The Xperia Z Ultra goes a size up with a 6.4-inch Triluminous 1080p display. It features an 8-megapixel rear-facing camera and is also powered by the Snapdragon 800 processor. It is available for $650 for HSPA+ networks and $680 for LTE. It is also water- and dust-resistant and comes with a stylus. Both devices run the Android 4.2 operating system.
Little Wow Factor
It doesn't appear that Sony's Smartwatch 2 and Xperia smartphones will be generating heat in the U.S. market any time soon.
"I don't see any wow factor in the new Sony mobile products," Stephen Blum, mobile analyst with Tellus Venture Associates, told TechNewsWorld.
"The smartphones look like standard, high-end Android devices, and the smartwatch seems more or less in line with Samsung's Gear, although the fact that it can be used with any late-model Android device — or so they say — is a competitive advantage," he added.
"Nothing too groundbreaking here," remarked Silva. "However, it's interesting to note the lack of LTE support in the X1 device for the U.S.
"Increasingly a table-stakes feature, it's curious why it was left out of a device that does not seem to be marketed as low-cost and therefore [is] shortchanged on features," he said.
Niche Market
Sony may be satisfied with carving out a niche for its mobile but even that could be a tall order given the dominance of Samsung and Apple. Sony could face the same issues that have plagued BlackBerry and Nokia.
"Sony is not nearly as prevalent or viewed in the same way as other CE companies like Samsung. I don't think their lack of bleeding-edge tech has the same impact on their brand as the overall collapse of BlackBerry's somewhat unique market," observed Silva.
"It's also worth noting that Sony maintains a very positive brand image to varying degrees in certain markets, while BlackBerry's numbers are beginning to show nearly universal distaste for the product, based on what's shipping," he noted.
Sony has an advantage, as it can tie in with its entertainment brands — something that Samsung can do to a degree, but that BlackBerry, Nokia and Motorola cannot.
Sony already has a "footprint in the living room, and especially with a connected, highly social device — the PlayStation," stressed Silva. "Microsoft offers good tie-ins from Windows Phone to Xbox, but the overall volume of Windows Phone users is too low. Samsung lacks a true entertainment device, and their integration of all but the latest of their mobile devices with things like SmartTV has been poorly executed at best."
Great Devices That Don't Draw
Sony could be "suffering from the same disease as Nokia and HTC — building great devices that don't sell as well as they should," Roger Entner, principal analyst at Recon Analytics, told TechNewsWorld.
"The key difference between those handset manufacturers and Apple [and] Samsung is that the latter two have taken a very deliberate step to do their own significant marketing campaigns — and we are talking here in the $200 million-plus range per year. If you fall below that, you get lost in the clutter and you are wasting your money."
It is worth noting that Sony could very easily live with or without a presence in the mobile phone space.
"Sony is a diversified consumer electronics and digital content company," Blum pointed out. "Like LG, it has a relatively small market share across a wide range of products, sectors and industries. Its competitive advantage is its brand. Today's product announcements are more than enough to keep Sony in the game for the coming months."