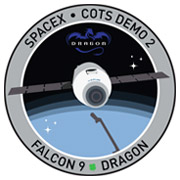 The Dragon was caught by its tail on Friday. The unmanned SpaceX spacecraft, which launched into orbit earlier this week, has successfully docked with the International Space Station, marking a first for a cargo-carrying private spacecraft.
The docking was assisted with the station's 58-foot robotic arm controlled by astronaut Don Pettit. The historic linkup occurred 250 miles above northwest Australia.
"This is a very big deal for space exploration," said futurist Glen Hiernsta of the arrival of the Dragon capsule to the ISS. This is the first private company to embark on such a mission.
"They've succeeded with several launches," Hiernstra told TechNewsWorld, "The next 'big hold your breath moment' isn't just one moment either. It is whether they can do this over and over, and they are proving they can."
Launch and Docking
For space exploration, each mission can be a nail-biter, beginning with the takeoff, when even small problems can have catastrophic results.
"The way the world works in space research is much like commercial flight, where 80 percent of accidents occur during takeoff and landing, with the rest occurring somewhere else," Thomas Zurbuchen, professor of space science at the University of Michigan, told TechNewsWorld.
"You have to understand that launches start with a bucket load of explosives, essentially," said Zurbuchen. "That is always the biggest hurdle. But they passed that mark, and they've docked with the ISS, so that was the next big step."
The docking is a historic point because it simply hasn't been done before outside of government space programs. The accomplishment is an "amazingly huge success," commented Zurbuchen.
"The launch was a big deal, and the docking was the biggest moment so far," he said. "Docking with the robotic arm was the money shot!"
Many Safe Returns
While the Dragon capsule has made it to the station, it still has to return to Earth. SpaceX has successfully returned a Dragon from orbit, but all eyes are now on this mission to see if it is an end-to-end success.
"The main technological challenge that lies ahead following the docking, unloading of cargo, and undocking from the ISS will be de-orbit and re-entry of the Dragon spacecraft into the Earth's atmosphere," said JohnW. Delano, Ph.D., associate director of the New York Center for Astrobiology. "The Dragon spacecraft will be returning some scientific equipment from the ISS, so a successful re-entry and accurate landing will be important."
The technology onboard Dragon, including guidance and control, has a long and successful history.
"The technology and engineering associated with the Dragon mission to the ISS is largely routine nowadays," said Delano. "The newsworthiness of this event is that the mission has been flown by a private company — following substantial NASA funding and major engineering consultation in the design and construction of the Falcon and Dragon."
Private Sector in Space
While this mission is historic in terms of being a unique first from the commercial sector, there are still many issues that need to be resolved to determine if it will change the course of space exploration.
"If private companies become convinced that a profit is to be made through space travel — e.g., space tourism in low-Earth orbit — then the momentum for privately funded space missions could grow," said Delano. "If that major growth occurs, then this current mission will be recorded historically as an important first step along that path of privately funded space missions."
Only time will tell if this mission becomes historically important or just an historic footnote, he stressed.
"When NASA funding is eventually withdrawn from SpaceX and other private companies, then we'll see if there really is a profit to be made in privately funded space missions," explained Delano.
"At the moment, NASA is saving a bit of money by having SpaceX bring this small mass of cargo to the ISS instead of using a space shuttle to do it or a Russian Progress resupply spacecraft," he noted. "By comparison, the space shuttles would normally bring several tons of cargo to the ISS on each mission, versus the less than half ton currently being delivered by the Dragon spacecraft."
Commercial Space Flight the Future?
Beyond the actual mission, there is the fact that it could inspire a new level of innovative thinkers to consider the future of Space exploration.
"This can now become commercially interesting, as the key risks have been addressed, and they've done everything except launch people into space," Zurbuchen noted. "So this isn't just a story of technology, it is about the amazing talent coming through in an amazing company. SpaceX is really an entrepreneurship story. That's what I'm excited about."
This mission could also spur other companies to get involved.
"I believe it is a game changer, in that a small ambitious startup has proven that they can do this," said Hiemstra. "They have had huge support from NASA, but this puts pressure on the larger aerospace companies, such as Boeing and Lockheed, to get involved. This could make space exploration more competitive and cheaper."