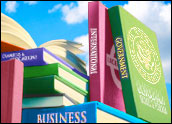 E-books are still plugging along, not quite an afterthought in the publishing industry but not the hailed champion either. Like their newspaper cousins, book publishers are at a crossroads but completely stumped as to which way to turn, so they are largely sitting around just talking about it. At some level, they all know something digital this way comes and they are OK with that — it's the silence of the cash registers they have a problem with.
The book publishing market is undeniably flat at the moment with no relief in sight. Hence, the stumped silence.
In a nutshell, retooling isn't the problem, re-thinking is. That's kind of ironic in a field with liberal leanings and an intellectual bent.
Slow to Adapt
Business as usual is so deeply ingrained in the minds of management and bean-counters in the publishing world that new business models are virtually inconceivable. So they keep trying to do everything the same old way … just in a new form. Most of them, that is. Then along comes Springer with the audacity to make the darned e-book thing work and shake up the status quo.
"Publishing as an industry is very conservative and very proprietary. In contrast, Springer is very liberal and wants to be findable everywhere," Cynthia Cleto, global manager for e-books and e-product management at Springer, told TechNewsWorld.
She's not kidding; for starters, Springer released a staggering 30,000 titles to Google Books, making it one of the largest single contributors.
Voracious Audience
Despite industry piracy fears, the gamble has paid off. "Fifty percent of our traffic is attributable to Google and our journals are now very established in the market," she says.
And how does that performance compare to Springer's competition? There is only the sound of crickets.
Springer is one of the world's top publishers of scientific, medical and technical (SMT) literature. It currently prints more than 5,500 new e-books every year with a backlist of more than 40,000 titles.
Its voracious readers are a learned lot that generally do not confuse reading with pleasure. For them, it's all about research, information, how-to and why-for stuff. Topics that would make many of the rest of us merely yawn are of earth-shattering importance to this group. They want to know and they want to know now! More specifically, they want to be able to look stuff up in a hurry. That is precisely why they are prime pickin's for the e-book industry and, on the flipside, why this reader demographic is sticking to eBooks like white on rice.
Here's the scoop on how Springer is changing the menu to fit the tastes of this huge e-book market segment:
TechNewsWorld: What have you done to make eBooks more attractive to individual readers?
Cleto:
My word for it is "journalization." What I mean by that is that readers of our books don't necessarily want or need to read a book from cover to cover. They want highly specific information that may only be covered in a chapter or two. By "journalizing" each chapter, that is by making and presenting each chapter like a journal article, we make it easier and faster to search and download, and cheaper to buy since you can buy one or more chapters or the whole book. Either way, you get what you want, in a way you can best use it, faster and cheaper.
TNW: Does that mean information can be updated or changed faster as well?
Cleto:
Yes, it can. It also means we can print chapters as they are completed before the entire book is finished so new information flows to the market faster. Compare that to the old way, which may take two years or so before a new book finally hits the market.
TNW: Other than being able to search and buy "journalized" chapters, what else is different about your business model?
Cleto:
My supervisor, Dr. Olaf Ernst, president of e-product management and innovation at Springer, is the person who set up the e-book collection business model here at Springer right before it launched. It is an ownership model rather than an aggregator model that capitalizes on the way libraries work — remember much of our material is research — and resource-oriented so one would most often find our books in private, public and university libraries.
With this library-friendly check-in/check-out model, libraries buy copies of the e-book and it is theirs forever. It is on their e-book shelf, just like a paper book would be on a wooden shelf, and they can check it out to their users as often as they need without any additional charges or fees — it's theirs, they own it.
That means, for example, students at universities can check out books or chapters to do their class work, homework, or research papers and there's no cost to the students. It works exactly as the library model has always worked.
TNW: And what can readers read your stuff on? Just readers?
Cleto:
The new e-pub standards have resulted in reflowable text that can be read on any reader or suitable PDA. You can also read it on a PC or laptop. In the future, you may even be able to read on your cell phone.
TNW: That doesn't sound as relaxing as reading a book at the beach or in the tub though.
Cleto:
(Laughs) That's the difference between pleasure readers and SMT readers — our readers are working at a desk somewhere and they want specific information at their fingertips in a hurry because of whatever they are working on. Relaxation is not the driver in this market.
TNW: Oh, so I guess they don't have to worry about someone stealing their expensive reader off the beach chair then?
Cleto:
No, they don't. They do, however, appreciate the light portability of a reader as opposed to lugging around a lot of heavy research books.
Remote usage also does away with the need to physically travel to a library or bookstore to buy the book.
TNW: But aren't you worried about piracy?
Cleto:
That is a worry in the book industry as it has been in the music industry. But we have been working primarily with institutional libraries and they have been very good about respecting copyright. Generally, professors drill that message home to students anyway.
We have very permissive digital rights management (DRM). As long as people use the content within the educational environment, like on a professor's Web site for reading assignments and the like, we have no problem with widespread use.
TNW: Has the model changed for how you pay authors?
Cleto:
You mean like royalties?
TNW: Yes.
Cleto:
No, that's pretty much the same but it may change in the future. The current model is based on sales, the future royalties model may be based on use instead. We just don't know yet; we don't know how it's going to play out. There are a lot of factors to consider already, there may be even more to think about later.
TNW: Has the author's work changed any, I mean besides the need to "journalize" chapters?
Cleto:
Yes, some. Writers provide chapter abstracts and metadata for searching by chapter. This is important because sometimes a reader needs information that may be contained in only a sentence or two in the whole book and a book-level abstract would not reveal the information is there.
TNW: All together then, how is the market taking these changes?
Cleto:
Exceptionally well. In 2007, there were 25 million e-book downloads, and 75 million e-journal downloads. Twenty-five percent of our traffic on SpringerLink is already being generated by e-books, and we only launched e-books at the end of 2006. The range of usage from institutions is anywhere from 20 percent to 50 percent of their total usage (e-book usage + e-journals usage = total usage).
TNW: You realize you're shaking up the status quo, right?
Cleto:
Well, yeah, and maybe that's a good thing.