Sprint announced Tuesday that it will begin selling the world's first 4G Android phone, the HTC EVO, this summer.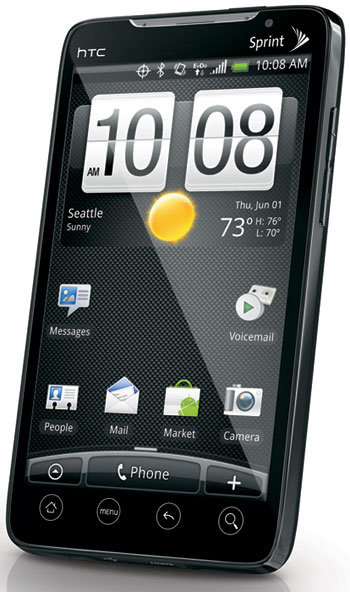 The HTC EVO 4G phone from Sprint
This will run on Sprint's WiMax 4G network, which the carrier is rolling out to more cities nationwide.
WiMax, which stands for Worldwide Interoperability for Microwave Access, will be available to 120 million people in the United States by the end of the year, Sprint said.
The carrier also released a Sprint 4G developer guide on Tuesday.
The EVO's Feature List
The HTC EVO is based on a 1 GHz Qualcomm Snapdragon processor. It has two cameras, built-in mobile hotspot functionality and a custom Web browser. It is compatible with Adobe Flash.
One of the EVO's cameras is an 8.0 MP autofocus camera combined with a HD-capable video camcorder. The other is a 1.3 MP still camera. Users can post videos to YouTube or Facebook or share videos live in real time live over the Internet using the Qik mobile live streaming Web app.
Up to eight WiFi-enabled devices can link up to the EVO when it's used as a wireless hotspot.
The EVO's customized Web browser is optimized for its 4.3-inch pinch-to-zoom display, one of the largest in the wireless industry. It also offers automatic text reflowing and incorporates Adobe Flash.
The EVO includes the HTC Sense user interface which was first introduced on the HTC Hero last year, as well as new Sense features including Friend Stream, a social network aggregator. Other new features include a "leap" thumbnail view that lets users switch between home screen panels, and the ability to download new interactive widgets.
Android 2.1, which is the EVO's operating system, lets users search with pictures instead of words through Google Goggles. Google Goggles searches the Web for background information on some objects of which a camera equipped with the feature takes a photo. It works best with photos of books, DVDs, landmarks, logos, contact information, artwork, businesses, products, bar codes and text.
For example, if an HTC EVO owner takes photographs of restaurants, Goggles will call up restaurant reviews.
The HTC EVO also has built-in voice-to-text technology that lets owners compose messages by speaking after pressing a microphone button on the screen.
A Guide for Devs
Sprint also put up a 4G developer guide on its developer Web site. This guide explains how to develop apps on an Android 2.1 handset and how to leverage both 4G features and the features unique to the HTC EVO.
The Sprint developer guide will include sample apps and source code that highlights these features.
It supplements Google's Android 2.1 software development kit (SDK).
Sprint and WiMax
Sprint currently offers 4G service in 27 markets. These include Atlanta, Ga.; Baltimore, Md..; Chicago, Ill..; Las Vegas; Philadelphia; Portland, Ore.; San Antonio, Texas; and Seattle, Wash.
This year, it will extend the service to other markets, including Kansas City, Mo.; Houston, Texas; Boston, Mass.; New York; San Francisco; and Washington, D.C.
"We plan to have 120 million customers covered in 2010," Sprint Nextel spokesperson Stephanie Vinge-Walsh told TechNewsWorld.
While Sprint does list cities with WiMax service on its Web site, the lists on Sprint's Web site are not comprehensive, Vinge-Walsh pointed out. "There are many more cities that we'll roll out to in 2010, and we'll continue to announce them as we do so," she stated.
The HTC EVO runs on both Sprint's 3G network and its 4G WiMax network. However, future handsets for advanced networks will likely need to be able to support mutliple flavors of 4G, Jim McGregor, chief technology strategist at In-Stat, told TechNewsWorld.
"Handsets for both WiMax and LTE will not only have to support 3G and 4G, but they'll also have to support WiFi and Bluetooth," McGregor explained. LTE, or Long Term Evolution, is a 4G technology supported by Verizon Wireless and AT&T.
4G handsets will support both LTE and WiMax in the future, McGregor predicted. "Once you get to the advanced modems you can support multiple versions of the technology, and LTE and WiMax are both very similar technologies," he said. "You can develop a modem that's software programmable to support both LTE and WiMax simultaneously."