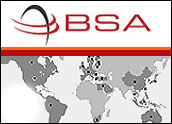 An offer made earlier this month to pay whistle blowers US$1 million for reporting companies using unlicensed software has met little or no public outcry, unlike lawsuits initiated by the music industry against illegal music downloaders.
The Business Software Alliance (BSA), a global organization representing leading software manufacturers, is intensifying efforts to battle software piracy in the workplace by increasing its current rewards incentive from $200,000 to $1 million from July to October.
The announcement launched the organization's new nationwide radio and Internet advertising campaignentitled, "Blow the Whistle." The campaign encourages employees or former employees to report employers who they suspect are running unlicensed software products.
However, some lawyers prominent in intellectual property litigation warn that the promise of big cash payouts will prompt some employees to go on witch hunts within their companies and could pose added security risks to confidential corporate information.
BSA officials, who declined comment beyond its written statement announcing the bounty award, said the increased monetary incentives highlight the software organization's commitment to fighting software piracy in U.S. businesses. The organization cited an independent study conducted by International Data Corps (IDC), an information technology market research and forecasting firm, reporting that the U.S. suffered $7.3 billion in losses in 2006 resulting from software piracy.
The software industry and the BSA's action is shortsighted and reflects the software industry's failure todo its share in reducing the licensing compliance burden for well-meaning but resource-constrainedbusinesses, according to Robert J. Scott, managing partner of the Dallas and New York law firm Scott &Scott.
"We think the software industry, acting through the BSA, has taken a shortsighted approach to the compliance issue. Ultimately, those publishers that assist customers with managing compliance in a cooperative manner will fair the best in the marketplace," Scott told the E-Commerce Times.
BSA's Stand
The BSA launched its rewards program in the U.S. in 2005 to encourage individuals with detailed information about software piracy to come forward and confidentially submit the information. Since then, the BSA claims that it successfully settled with hundreds of companies, bringing in nearly $22 million.
Throughout the year, BSA will target efforts in states including California, Texas, Illinois, New York, Florida, New Jersey, Pennsylvania, Ohio, Georgia and Arizona. The BSA has posted details about the rewards program and how to submit a confidential report at its Web site. Businesses trying to determine whether their organization is using unlicensed software can download the free software audit tools.
"Reporting software piracy is the right thing to do, and BSA is pleased to reward individuals who comeforward with credible information," said Jenny Blank, senior director of legal affairs for BSA.
No Excuses
Businesses often have a million excuses for having unlicensed software on office computers, according to Blank.
Poor software management will result in businesses being exposed to financial, security and liabilityrisks, said the BSA. The organization maintained it will not tolerate excuses from businesses caught using unlicensedsoftware.
Most businesses, BSA officials acknowledged, are ethical in the use of licensed software. However, not all companies understand good corporate governance means having a good system of checks and balances throughout the organization to ensure ethical and legal operations, it said.
Staying Legit
Business must abandon certain recurring situations to avoid violating licensing requirements of the software they use, said the BSA — for example, a current or former employee installs the software without permission and is supposed to take care of compliance later but does not.
Other causes of noncompliance occur when a business grows too quickly and cannot focus on licensing, or when a company installs software copies on office computers that were not in actual use.
Noncompliance also happens when a business is in negotiation for licenses but does notcurrently have them in place, or when its IT department poorly manages the company's software inventory, the BSA said.
Also, an outside IT company might fail to manage licensing.
Hyped Payment
Those who report software piracy to the BSA should not expect a $1 million payment any time soon,cautioned Joy R. Butler of the Washington D.C. law firm of Joy R. Butler Entertainment, Copyright,Trademark & Business Law. The amount of the reward is determined by the damages or settlement paid to BSA by the accused company.
"According to the reward program's online terms and conditions, a $1 million reward payout requires a settlement of $15 million or more. That's a highly improbable settlement amount for the piracy casestargeted by the BSA reward program," Butler told the E-Commerce Times.
A much more likely settlement amount is well under $200,000, yielding a reward of $5,000 or $10,000, she explained. More likely, any copyright damages a court awards are likely to fall between $750 to $30,000, or up to $150,000 in cases of willful infringement.
"While that amount is for each software title pirated, when setting damages within that very wide range, acourt considers just how much money the software developer lost as a result of the infringement," Butlersaid.
Legal Reaction
The BSA reward program is "an Orwellian scare tactic" that urges compliance from small andmedium-sized businesses, said Butler. It makes them think their actions are being watched by Big Brother or by adisgruntled employee or competitor, she commented.
Marc Friedman of the New Jersey-based law firm of Sills Cummis Epstein & Gross is both sympathetic to the need to discourage software piracy and concerned about unanticipated results. Offering such large rewards in a highly-publicized manner will cause some employees to begin snooping around their companies' IT systems hoping to discover some pearl that will garner them the reward, he explained.
"This creates security risks for legitimate companies who used only authorized software, and it can alsocreate mutual distrust between employers and their employees, much like the way the use of informants by the Soviet Union created distrust between neighbors," he told the E-Commerce Times. Friedman is also chair of the firm's Intellectual Property Group.
Settlement Issues
Businesses facing BSA charges of copyright infringement might feel forced to seek a settlement rather than fight the accusations. Often it is advantageous for a targeted business to settle with the BSA to avoidhigher litigation costs that often exceed the amount in dispute, noted Scott.
"I wouldn't characterize it is a trend. Businesses often pay up because they don't understand the processand aren't aware of their rights," said Scott. "We always recommend businesses consult with legal counselbefore responding to any communication received from software industry trade groups like the BSA or the SIIA (Software and Information Industry Association)."
In its press materials, BSA said it received nearly $22 million in settlement fees from hundreds ofcompanies.
"Assuming BSA has settled with 200 companies, that averages out to a settlement amount of $110,000 per company," Butler said.