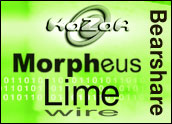 State attorneys general meeting in Washington, D.C., this week may be weighing a move to crack down on makers of Internet file-sharing software.
A document obtained by TechNewsWorld titled "Draft Attorneys General Letter to Peer-to-Peer File Sharing Software Manufacturers and Distributors (California Attorney General Bill Lockyer Edited Version 2/25/2004)" associates P2P services with numerous misdeeds, including circulation of pornography, identity theft and infringement of copyrighted materials.
The document was apparently drafted by the office of California Attorney General Lockyer, who is president of the National Association of Attorneys General, but it was reviewed by Vans Stevenson, senior vice president for state legislative affairs for an archenemy of the P2P industry: the Motion Picture Association of America (MPAA).
Input Sought and Given
"Input was sought from us, and we provided some," Stevenson told TechNewsWorld. "Did we write the letter? No."
Stevenson declined to reveal what input the MPAA supplied Lockyer with. "I'm responding to an inquiry from the attorney general's office, and whether there will or will not be a letter is their prerogative," he said.
Nevertheless, the MPAA's connection to the letter has raised alarms in some quarters.
"This is absolutely despicable," Wayne Rosso, CEO of Madrid, Spain-based Optisoft, maker of a P2P program called Blubster, told TechNewsWorld via e-mail. "There's just no excuse for this. The MPAA, like the [Recording Industry Association of America], seems to be a puppy mill for pit bulls."
Taking Cues from MPAA
"It's an unfortunate fact the motion picture industry has a great deal of political clout, especially in circumstances where a public official may require campaign contributions from the industry at some future date," Fred von Lohmann, a staff attorney with the Electronic Frontier Foundation in San Francisco, told TechNewsWorld.
"I'm disappointed that it looks like Attorney General Lockyer is taking his cues from the industry, but I'm not entirely surprised," he added.
Asked by TechNewsWorld if Lockyer had drafted a letter characterizing P2P software as a dangerous product and asked whether failure by the makers of that software to warn consumers of those dangers would be a deceptive trade practice, a spokesperson for the attorney general, Tom Dresslar, replied: "There is no letter to comment on. If and when there is a letter that we want to comment on, then we will do so at that time."
Dangerous Programs
"The attorney general has several concerns related to P2P file sharing," he added. "Those concerns include exposing kids to pornography; the potential for ID theft; copyright infringement; spreading viruses. These are serious, substantial issues that the attorney general believes need to be addressed, and he's working with his colleagues in other states to figure out how we may want to address those issues."
The document obtained by TechNewsWorld asserts the following:
"The growth in P2P file-sharing has brought with it increased awareness of the risks associated with using these software programs. Whether it is the widespread availability of pornography, including child pornography, the disclosure of sensitive personal information to millions of people, the exposure to pernicious computer worms and viruses, or the threat of legal liability for copyright infringement, P2P file-sharing software has proven costly and dangerous for many consumers.
"Nevertheless," the document went on to say, "your company still does little to warn consumers about the legal and personal risks they face when they use your software to 'share' copyrighted music, movies and computer software. A failure to prominently and adequately warn consumers, particularly when you advertise and sell paid versions of your software, could constitute, at the very least, a deceptive trade practice."
Requiring P2P software makers to incorporate warnings on their products would be "an unprecedented expansion of traditional products liability law," von Lohmann maintained.
Unprecedented Expansion
"I'm aware of no other product that is required to warn people that they might face risk if they use the product to break the law," he told TechNewsWorld. "It's like telling car companies to issue warnings to people that if they exceed the speed limit they might be cited."
P2P United, a trade group in Washington, D.C., agrees with von Lohmann's assessment. In a letter delivered to the attorneys general conference yesterday by executive director Adam Eisgrau, the organization noted:
"[T]he legal predicate for action by your office and those of your fellow AGs articulated in the letter would constitute an extraordinary expansion of product liability law: by applying it to a neutral software 'tool' and by seeming to create for all product producers a duty to warn the public about — or even to redesign — an inherently beneficial product if it is merely susceptible to misuse by parties wholly outside the knowledge or control of the producer."