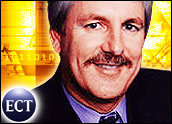 Last week, history was made.Steve Jobs and Bill Gates were physically on stage together — for just the second time ever — in what many have described as something of a love fest, with Bill repeatedly praising the Mac. Kind of makes you wonder what the two of them could have done as close partners.
As if to prove that point, Microsoft launched what is arguably the most Apple-like product it has ever had, Microsoft Surface (code-name "Milan,") and it will probably make it to your living room in a few years — or sooner if you are one of the "rich elite."
Palm launched a counterpoint to all-in-one phones with the Foleo. With Apple rumored to be in a mad dash to get version 2 of the iPhone out, Foleo makes me wonder if the whole idea of the iPhone is wrongheaded.
Finally, we have our product of the week — something "free" this time and still really cool.
What if Steve and Bill Had Collaborated More Closely?
Anyone watching the two men on stage last week couldn't help to see thehonest admiration each had for the other. Clearly, we expected something else.
The two are very different, but that could have made them complementary. Bill is an engineer and looks at the world through the harsh veil of technology, while Steve is more an artist at heart and looks at the world in terms of design elegance and style.
Apple is one of Microsoft's oldest and most difficult partnerships, but it has endured. Microsoft is one of Apple's longest and precious few partnerships. Even though Jobs admitted Apple's partnership problem, it was interesting toward the end to see him suddenly realize — on stage — that Microsoft was arguably the best partner his company had ever had.
He also seemed to realize that despite saying he'd corrected the partnership problem, he actually hadn't — and it remains a serious difficulty for the company today.
On the other hand, Microsoft has historically not come close to the elegance and design excellence that Apple has achieved — nor has it ever seemed to learn that you need to keep selling a product even after it has been sold. That is why there's an increasing focus on the post-launch problems with Microsoft products, while there are constant reminders of the benefits with new Apple offerings.
The Microsoft products aren't all bad — nor are the Apple products perfect. However, Apple's excellent handling of its company and product images helps create a glow that surrounds and protects it.
There have been several times that Apple has considered licensing part of Windows and more fully entering Microsoft's ecosystem — something that Microsoft clearly wanted it to do. With the exception of a limited server line sold to loyalists, Apple lives on the desktop and has to work with the back-end systems established by others — mostly Microsoft. That is one of the main reasons you don't see Apple in business environments — particularly large enterprises — today.
Leopard is supposed to be vastly better in Microsoft shops but, had Apple become a full Microsoft partner, it likely would be closer to Dell's size in the PC business rather than one of the smallest branded PC vendors.
Apple's work on the user interface might have had a stronger influence on an alternative Windows, where the PC vendors competed not only on hardware design but also on UI design — and provided more of us not only with an Apple experience, but also a richer experience from research-rich vendors like HP.
You kind of get a hint of what could have been if you play with the newHP Touchsmart Desktop PC UI which is arguably much closer to Apple class.
In any case, seeing thetwo men on stage, I got the sense that they might actually be able towork together today — something I doubt was possible two decades ago. Still, both companies probably would have been better for it if they had. Something else to think about: We likely would have been better off as well.
Microsoft Channeling Apple
Speaking of what could have been, Microsoft showcased its newSurface computer last week, and I had a chance to play with it. I'm one of those folks who really want things they can't have, and this product clearly falls into that class. What makes it Apple-like, however, is how well-thought-through and complete the offering is.
Generally Microsoft releases about 80 percent to 90 percent of a complete product. Origami is a good example, Plays for Sure another, and Media Center a third. Each had promise, but none was complete, and — at least, from my perspective — all failed to reach their potential as a result.
With Surface, also known by its code-name "Milan," Microsoft thought through the hardware, the software, the user experience, the target customers, the economic ecosystem, the unique back-end support, the secondary services, and even the repair process. This offering does not have the feel of something that was rushed and not completed; this thing feels cooked — and that is more typically what Apple does.
Surface wasn't developed alone either. HP had a hand in it, and while Microsoft's version is slated — at least, initially — for commercial use, there is every likelihood that HP will have some kind of consumer version on the market within a few years.
This is a product you have tosee and play with to understand, because the closest thing to it is the HP Touchsmart PC, and this goes well beyond the Touchsmart.
It does suggest a future for Microsoft that could embody the kind of elegance and style Apple is known for, and if this kind of quality makes it to future Media Center PCs, Game Systems and yes, even Windows versions, we could actually see the kind of advancement that a close Apple-Microsoft collaboration might have created much earlier.
Foleo: Palm Attempting to Obsolete the iPhone Concept
Foleo is part of an emerging class of phone accessory that for lack of a better term, I'll call "extreme." That's because the accessory can cost more than the phone, and it fundamentally changes what the phone is capable of.
The Foleo is for browsing the Web and typing. It's optimized around what it is expected to do well, and it allows you to have a phone that is optimized to be the kind of phone you want. It comes from watching people with both Treo and BlackBerry devices who have a separate handset for phone calls because they hate having to make calls with the larger units.
In its current design, I think the Foleo may be too large and too expensive, but you should make up your own mind because it actually does lookkind of cool. You can buy a new laptop on sale for less, and if you have a data plan, get it to perform a similar service with less trade-off.
Now, a light device like the Foleo is more portable. It is less complex, thus easier to manage, and it is solid state, so it is also more robust. For volume sales, though, I think it needs to be smaller, lighter and less expensive — but I do think Palm has the right idea.
Why this could eventually obsolete products like the iPhone, Treo and BlackBerry is that this approach — one that uses optimized accessories — could actually be better than all-in-one devices that sacrifice to be all-in-one.
For instance, if you were to take the phone parts out of the iPhone and wed it to your favorite cell phone via Bluetooth for data connectivity, you'd likely get a better phone experience. The iPhone's optimization for music and video wouldn't be in the way of having a great, small phone with long battery life.
In addition, the price would not only be lower, but if you wanted to change carriers, or change phones, you wouldn't have to pay to replace the iPhone parts that were perfectly fine. Or, if you wanted a smaller connected music player — something in the nano or shuffle size, say — you could still have that.
While the Foleo may initially fall short, the concept has merit. Palm may have begun a change that could expand beyond the phone into PCs and other devices. This could be the beginning of something really big, and it is worth watching even if you don't think the Foleo, by itself, is.
Remember, it often takes a couple of tries to get a new concept right. The iPod wasn't the first MP3 player and even it needed to improve a bit before it was truly great, but a few of us saw the potential on day one.
Product of the Week
What if Steve Jobs ran Google? While "free" for him would be an issue, I think I've found a product that makes the Google interface look like it was designed by Apple.
There is nothing like free, and in sharp contrast to the Dell H2C computer I spotlighted last week, this week's product very affordable. This is a 3D browser application calledSpaceTime.
It organizes your Google — and other — searches into 3D windows and is visually the most impressive when searching for images. It does the Vista-like 3D thing to the results and then layers them so you can quickly scan though what you have found.
If you have a scroll wheel on your mouse, try it with this application — it is a ball to play with. It does push your hardware, so make sure yours meets minimums before installing.
I can already imagine SpaceTime's tag line: "We don't do searches — we make search results amazing." It's not just eye candy either, because it opens all the searched pages. You can actually find things much faster. Free, cool-looking, and it actually increases your productivity. Is that a great product or what?
---
Rob Enderle
is a TechNewsWorld columnist and the principal analyst for the
Enderle Group
, a consultancy that focuses on personal technology products and trends.
---