An international team of researchers led by the University of York in England has demonstrated fast data recording on hard drives using heat.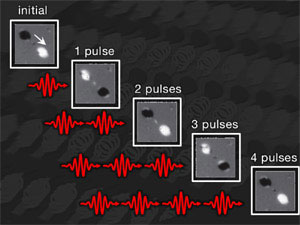 A research team was able to record data to a hard drive using only heat.
They used an ultra-short pulse of heat to reverse the poles in a ferrimagnet in order to write the data.
"It was, until now, generally accepted that a directional stimulus must reverse magnetization," University of York scientist Thomas Ostler told TechNewsWorld. "We have now shown that there is something missing in the conventional picture. Using very short heat pulses of around 50 femtoseconds, we have found a way to reverse magnetization without the need for a directional stimulus."
Cut up one second into 1 billion pieces, and take one millionth of one of those pieces and you have a femtosecond.
What the Researchers Found
The researchers used magnetic disks of down to 500 nm in diameter.
The experiments used a glass substrate with an insulating seed layer. The magnetic signal was read through the rear of the sample while the heat was applied from the top.
Currently, the hard drive industry is looking into using heat assisted magnetic recording (HAMR), which "is a combination of traditional giant magneto-resistive head technology with laser technology," John Monroe, a research vice president at Gartner, told TechNewsWorld.
However, there is "still some way to go before femtosecond lasers could be employed in hard drives," Ostler said. "Our results are a proof of principle and require very expensive femtosecond lasers that can generate very fast pulses."
What Is HAMR?
HAMR magnetically records data on media made from highly stable magnetic compounds such as iron platinum alloy after first heating the material with lasers.
These magnetic compounds can store single bits in a much smaller area than current technology does, provided they're heated first.
HAMR was developed by Fujitsu in 2006.
Proponents of HAMR claim it should be able to achieve a storage density of 10 terabytes of data per square inch, Gartner's Monroe said. However, critics contend that the cost of creating highly coordinated laser and read/write head technology, combined with the danger of data loss from accidentally heating adjacent storage bits, makes it impractical.
The process used by the University of York's team might get around the heat problem because "the laser pulse is so fast that the demagnetization process is very different from that occurring following a slow increase in temperature," Ostler pointed out. However, exactly how this works is still being studied.
The researchers' process could change the face of HAMR. A strong field is required to reverse magnetization using HAMR, but "our technology only requires the use of heat," Ostler said. This might be able to reduce the power consumption required when HAMR technology is employed.
Extending the Limits of Storage
Existing storage technology, which employs perpendicular magnetic recording (PMR), is 700 GB per square inch, Fang Zhang, a research analyst at IHS iSuppli, told TechNewsWorld. The upper limit of this technology is 1 terrabyte per square inch.
The upper limit for HAMR is thought to be 10 terabytes per square inch. However, "right now there are many technical issues that need to be resolved" so that limit has not yet been attained, Zhang pointed out.
It's not yet clear whether the technology used by the team led by the University of York can exceed HAMR's limits.
"The fine details of how this physical phenomena would be engineered in a device are not yet known," Ostler said. "However, we envisage using near-field optics to focus the light from the laser onto very specific areas of the disc as the disc is spinning. Thus one pulse per bit would be required."
Near-field optics looks at configurations that depend on the passage of light between very small elements with one or more dimensions smaller than the wavelength of that light.
Survival of the Fittest
Hard drive makers may eventually need a new technology in order to survive.
"Due to the uptake of solid state drive and flash storage, hard disk vendors are facing a decline," Charles King, principal analyst at Pund-IT, told TechNewsWorld. "A commercially viable, affordable HAMR solution could literally breathe life into the troubled HDD industry."
The hard drive industry has been wrestling for some time with different solutions to the problem.
Seagate opted for HAMR, but some other vendors, including Western Digital, selected nanoimprint lithography (NIL). This is also known as "bit patterned recording."
"Both technologies remain in heavy development throughout the industry," Mark Geenen, chairman of the board of the International Disk Drive Equipment and Materials Association (IDEMA), told TechNewsWorld. "HAMR is ahead slightly."