Verizon Wireless on Tuesday announced that its first 4G smartphone, the HTC Thunderbolt, will hit retail shelves Thursday.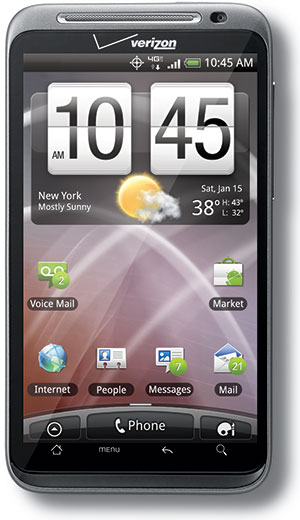 The Verizon HTC Thunderbolt
It will offer the device, which runs Android 2.2, at US$249.99 with a two-year contract if purchased through the carrier's site or in its stores.
However, questions have arisen regarding pricing and availability.
Best Buy, which has claimed a "national retail exclusive" on the phone in the United States, will jack up the device's price by $50 starting Sunday.
Meanwhile, online retailer Wirefly is offering a $50 discount — it's pricing the HTC Thunderbolt at $199.99 — and providing free shipping.
Just what is going on here?
About the HTC Thunderbolt
The Thunderbolt is one of the first smartphones to integrate Skype mobile with video calling, HTC claims.
It's based on the 1GHz Qualcomm Snapdragon processor and runs Android 2.2 overlaid with HTC's Sense user interface.
The HTC Thunderbolt has a 4.3-inch WVGA display, Dolby surround sound, 720p HD video recording, and wireless DLNA capability. It has an 8MP rear-facing still camera and a 1.3MP camera in the front for video chat.
The device can serve as a mobile hotspot for up to eight WiFi devices and has a 32GB microSD card and a built-in kickstand. It also has 8GB of onboard memory.
VZW's Pricing Details
Verizon Wireless will offer the HTC Thunderbolt at $249.99 with a two-year contract for buyers who purchase through the carrier's website or company stores.
Buyers will have to subscribe to one of the carrier's Nationwide Talk Plans, which begin at $39.99 per month. They will also have to get a 4G LTE data plan for $29.99 a month. The data plan is unlimited.
Consumers who purchase the HTC Thunderbolt through May 15 will get the Mobile Hotspot feature thrown in free. Those who buy the device after that date will have to pay $20 a month for 2GB of data on the Mobile Hotspot feature.
Best Buy's Strange Statement
Best Buy is offering the HTC Thunderbolt at $250 both for pre-orders as well as for purchases made after the device is available, said Jeff Haydock, a company spokesperso.
However, Best Buy's price will go up to $300 after March 20.
"It's a world gone mad," Laura DiDio, principal at ITIC, told TechNewsWorld. "I don't know how Best Buy can charge more for that phone," she added.
HTC's suggested retail price for the phone is $299, Haydock countered.
"Best Buy as the national exclusive retailer will offer the phone at $249 for a limited time. Best Buy Mobile is all about choice — we have the most smartphones under one roof from a variety of carriers, with the sole purpose of making it as easy as possible for people to find the phone that is right for them," he told TechNewsWorld via email.
Haydock did not respond to followup messages asking for clarification on Best Buy's claim to Thunderbolt retail exclusivity when Verizon has stated it will offer the phone in its own stores as well.
Never Mind Curtis Mayfield, It's Wirefly
Both Best Buy and Verizon Wireless may find sales impacted by online retailer Wirefly, which is taking preorders for the HTC Thunderbolt at $200 plus free shipping.
How can it afford to do that?
"Places like Wirefly will cut the competition any way they can and hope to make it up on volume like Dell does," ITIC's DiDio suggested. "They just went off the grid and they're thumbing their nose at everyone."
"We can't speak to the pricing strategy of others," Best Buy's Haydock said.
"Wirefly and Best Buy operate separately from us, and we do not control pricing from our retailers," Verizon Wireless spokesperson Albert Aydin told TechNewsWorld.
Price Point Killers
Even Wirefly's pricing may be a tad high unless consumers are set on getting a 4G smartphone that runs on Verizon Wireless' network.
While T-Mobile offers the 4G Samsung Galaxy S at $200, it's available from Cellhub for $75 with a two-year T-Mobile contract.
Or consumers can get an HTC Evo 4G that runs on Sprint's network for $120 with a two-year contract from Gosale.com.
"I suggest people read the fine print and do comparison shopping," ITIC's DiDio remarked.
Android Security
With Android 2.2, aka "Froyo," on board, the Thunderbolt joins a fast-growing list of smartphones running Google's operating system. The Android platform enjoys great consumer momentum, but it's also been rattled by security issues.
Recall that Google had to remove more than 50 malicious apps from the Android Market earlier this month and that those apps targeted Android versions prior to 2.2.2.
Google has removed those apps and is instituting various measures to improve the security of Android.
"We're working with our partners to help fix inline security issues that were exploited in that malware incident," Google spokesperson Randall Sarafa told TechNewsWorld.
However, Sarafa could not say whether HTC has fixed those issues in the Thunderbolt.
"That phone is, ultimately, HTC's device," Sarafa pointed out.