Stratasys is planning to take 3D printing to a new level with the launch of the first color, multimaterial printer.
The Objet500 Connex3 Color Multi-material 3D Printer, which is now available for purchase through Stratasys' partners, offers design and manufacturing efficiencies and faster production of quality products, according to the company.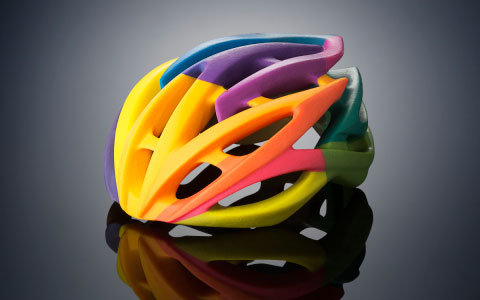 This bike helmet was 3D-printed on the Objet500 Connex3 Color Multi-material 3D Printer in one print job using VeroCyan, VeroMagenta, and VeroYellow.
Triple-Jetting Technology
The printer uses a triple-jetting technology to combine droplets of three base materials. Working in a similar fashion to a 2D inkjet printer, it uses three color materials — VeroCyan, VeroMagenta, and VeroYellow — to produce different colors. Those color materials are combined with Stratasys' PolyJet photopolymer materials to produce parts that replicate both standard and high-temperature engineering plastics.
The rubber and plastic base materials allow the printer to produce parts with combinations of rigid, flexible and transparent color materials, along with color digital materials, in a single print run. Being able to produce an item that mimics the quality of a manufactured piece without having to turn to painting or assembly will act as a time-saver for manufacturers and designers, Stratasys said.
The Objet500 Connex3 Color Multi-material 3D Printer will allow designers to test their products and check designs before agreeing to a manufacturing commitment, for instance.
Handlebar Grips
Bicycle manufacturer Trek Bicycle, which beta-tested the printer, used it to assess and test accessories like handlebar grips and guards for bike chains before production.
The printer also offers six palettes for vibrant rubber-like Tango colors. Ranging from opaque to transparent colors, they target markets like automotive, consumer and sporting goods, and fashion. These Flexible Materials in Color will be commercially available starting in Q2 this year.
The Objet500 Connex3 Color Multi-material 3D Printer reportedly retails at around US$330,000.
Reducing Time-to-Market
The printer could change the game in manufacturing.
"Being able to print using multiple materials and multiple colors widens the utility of the printer, which would mostly be used for prototyping or small-volume parts — like replacement parts on old cars and equipment, or custom-built solutions — significantly," said Rob Enderle, principal analyst at the Enderle Group.
"You would be able to do more of the work with the same printer, cutting down the time to finished product significantly, and in prototyping, improving time to market just as significantly," he told TechNewsWorld. "This breakthrough moves the bar in 3D printing a great deal, and this should be well received by a number of industries."
'Structural Requirements'
"Thus far, 3D printing has been viewed more as a prototyping tool," Jim McGregor, principal analyst at Tirias Research, told TechNewsWorld.
"By being able to modify the chemical composition of the material during the printing process, the new Stratasys printer can not only offer a new level of design and evaluation, but also the ability to actually manufacture solutions that have varying structural requirements. This is significant, especially for specialty parts that will not be produced in large volumes," he explained.
3D printing "may become the preferred manufacturing solution for custom or low-volume products," McGregor noted. "However, I really think this is just the tip of the iceberg, as Stratasys and other 3D-printing firms continue to develop solutions that can use different materials and chemical processes."