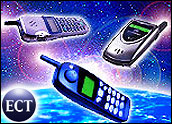 Ease of use and design — not features — are critical components to consumers' satisfaction with their cell phones, according to a study released yesterday.
In fact, as handset makers continue to wedge more and more bells and whistles into their diminutive devices, those aspects of a mobile phone become even more important, according to the study by J.D. Power and Associates.
"As cell phones increasingly offer enhanced features such as Web-based text messaging and e-mail, as well as the ability to take still and video pictures, the operation and physical design of phones has become more important to wireless customers," said Power in its 2005 U.S. Wireless Mobile Phone Evaluation Study.
Design Top Factor
The study, which measures satisfaction among customers who have owned their mobile phones for less than two years, revealed that 24 percent of respondents chose physical design as the most important factor contributing to their satisfaction with a cell phone. That compares to 19 percent in 2003.
Some 22 percent said operation was most important to them, which compares to 15 percent in 2003.
Trailing design and operation were features (20 percent), durability (19 percent) and battery function (15 percent).
Navigation Important
Kirk Parsons, Power's senior director of wireless services, said he was less surprised by the rise in importance of operation and design in consumers' minds than how quickly that importance has risen.
"We were surprised that this happened as soon as it did," he told TechNewsWorld. "We knew it was going to happen, we just didn't think it would happen this soon."
As more features are added to a phone, navigation becomes more of a concern to a consumer, he explained.
"Five years ago, everyone was using the phones for voice and for very little else," he said. "Now, you have all these other features you can use that have changed the dynamic of how people use the phone."
Maturing Buyers
According to Rob Enderle, president and principal analyst of the Enderle Group in San Jose, Calif., the survey reflects a growing maturity in the cell phone market.
"Buyers are becoming more mature in their buying behavior and are acting in ways that reflect that maturity," he told TechNewsWorld.
"They know what to ask for now," he explained. "It's not a case of which phone has the coolest features any more; it's which phone provides the kind of image that I want to have and has a set of features that I can figure out how to use.
"Previously, a buyer could be convinced to buy pretty much anything that was trendy at the moment by a salesperson or a television ad," he maintained.
Sanyo and LG Tie
Topping the survey's rankings in customer satisfaction were LG and Sanyo. LG's scores were especially high in physical design and battery functionality, the study said, and Sanyo had exceptional scores in operation, durability and features.
"Both provide phones that are relatively inexpensive and provide a feature set that encompasses what people want to do and is easy to discover and use," Enderle noted.
According to Mark Elliott, a communications manager for Sprint Nextel, which has an exclusive agreement with Sanyo to distribute its phones in the United States, the handset maker has a history of innovation.
"They were one of the first companies to bring color screens to wireless phones," he told TechNewsWorld. "And they were one of the first companies to provide exterior bodies for phones in different colors."
Speakerphone Used Most
What do people want to do with their phones? According to Power, the most used features are speakerphone (22 percent), text messaging (19 percent), gaming (15 percent) and photos (14 percent).
Other findings in the Power study included:
Average handset price dropped US$10 to $89 from $99 in 2004;
Average replacement cycle for a phone is 18 months; and
Consumers who comparison shop for a phone are more likely to be satisfied with it than those who don't by a margin of 56 percent to 45 percent.