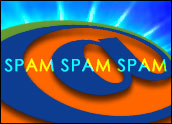 Spam and alternative communication technologies have begun to lower the value of e-mail as a mission-critical application for business, according to a study released Monday by IDC, a technology research firm.
The firm said its study showed that "a resurgence of spam and the increased frequency of being replaced by text messaging and voice over IP (VoIP) calling, especially among younger consumers and workers, will make it more difficult for e-mail to maintain its status as the leading mission-critical electronic communications method."
Nearly 97 billion e-mails will flow through the world's electronic arteries daily this year, IDC predicted, and more than 40 billion of them will be spam. "This is the first year that spam e-mail volumes are expected to exceed person-to-person e-mail volumes sent worldwide," IDC said.
E-mail Growth to Slow
"Spam volumes are growing faster than expected due to the success of image-based spam in bypassing anti-spam filters and of e-mail sender identity spoofing in getting high response rates," IDC Collaborative Computing and Enterprise Workplace Research Program Vice President Mark Levitt said.
"Instant messaging, joined by free and low-cost VoIP calling, will result in slower e-mail growth, especially among teens and young adults," he added.
At times, spam can cripple e-mail systems that do not have adequate protections, contended Paul Henry, vice president for technology evangelism for Secure Computing, an e-mail gateway security company.
"We manage and monitor 10 billion commercial e-mails a month and 100 billion consumer e-mails," he told TechNewsWorld. "Last month we were seeing spikes whereby 95 percent of the e-mail hitting our gateway devices was spam."
He asserted that while the number of e-mail users is increasing, the amount of e-mail that people are using in the normal course of business is declining. "People are looking at other communication vehicles such as chat and SMS (short message service) when they need to get a message across to someone very quickly," he postulated.
Still Mission-Critical
Not everyone agrees, however, that e-mail is losing its vaunted status in the communications hierarchy.
"E-mail is as mission-critical as it's ever been," Andrew Jaquith, a senior analyst with the Yankee Group, told TechNewsWorld. "If anything, it's becoming even more entwined with the way we work."
Spam has increased as an irritant to e-mail users and has impeded their productivity, he argued. "But I don't think it has decreased the attractiveness of e-mail," he said. "We haven't gotten to the point, from what I've seen from my clients, where spam has become so overbearing that they want to switch and use something else."
"Everyone has an e-mail account," he added. "Not everyone has an IM account or can receive SMS messages."
Shorter interactions, he acknowledged, were shifting away from e-mail and to technologies closer to real time like IM and SMS. "But they are more of supplement than a substitute."
Priority on Control
Companies aren't being driven away from e-mail by spammers, declared Dan Druker, executive vice president for marketing for Postini, an e-mail security and hosting company. "We don't see a shifting away from e-mail driven by the bad guys," he told TechNewsWorld.
If anything, he continued, companies remain more determined than ever to fight spammers. He cited a survey of more than 400 CIOs and IT professionals in some large organizations conducted earlier for Postini that showed that 70 percent of the respondents pegged their top priority this year as "gain control over spam, viruses, phishing, fraud and other attacks."
Ninety-eight percent of the survey sample said that e-mail was just as mission-critical to them as the telephone, he added.
"So there wasn't any sense of e-mails getting less mission critical because of attacks," he reasoned. "It was, it is mission-critical so I've got to get control over it."
However, he acknowledged that more than 90 percent of the respondents predicted that other communication channels like IM and VoIP would be as important as e-mail and the telephone in the future.