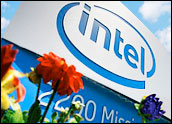 Intel on Tuesday announced the Studybook, a purpose-built tablet for kids.
The tablet runs the Intel Learning Series software suite as well as the chip giant's Teacher PC Criteria for Ultrabook and Notebook systems.
The Studybook is a ruggedized device that will run Windows 7 or Android on an Intel Atom Z650 processor. It has a capacitive multi-touch LCD screen, front and rear cameras, a microphone and a light sensor.
"I think the Studybook is Intel showing that it can't wait for Windows 8 to get on the educational tablet bandwagon," Carl Howe, a vice president at the Yankee Group, told TechNewsWorld. "Schools are adopting tablets in K-12 education, and if Intel waits for Microsoft, it will miss an entire school procurement cycle [because] schools buy their devices in spring and summer."
"This is tied to [Intel's] older Classmate initiative to make sure it's never forced out of education," suggested Rob Enderle, principal analyst at the Enderle Group. "Education is a seed corn market — things that come out of it often move into business."
Studybook Specs
The Studybook has a 0.3 MP front camera and a 2 MP rear camera, Intel spokesperson Nisha Deo told TechNewsWorld. It runs LabCam applications. These include Time-Lapse Cam, a time-lapse photography application; Kinematics, which lets users track objects and graph their motion in real time; a Microscope module; and a Motion Cam module, which homes in on movement in a setting. This lets users capture creatures in motion over a period of time, for example.
The tablet also comes with classroom management software. This lets teachers track the progress of students and manage their productivity, Deo said.
The core software stack for the Studybook supports reading, writing and scientific inquiry, Deo remarked. Applications covering various subjects will be offered Intel's partners in the Learning Series ecosystem.
An e-reader from Kno, which offers 150,000 e-textbooks and was working on a tablet for schools previously, is incorporated into the Studybook. Intel and two other companies invested US$30 million in Kno in 2011, and the e-textbook publisher said at the time that it was working with the chip giant to accelerate the design of education tablet computers for students. However, the Studybook "is entirely Intel's own reference design," Deo emphasized.
The Studybook has WiFi, and customers can add Bluetooth. The device runs Windows 7 now and a version that will run Android will be available by mid-year, Deo said.
The Studybook has a plastic unibody with rounded corners, and the screen's protected with shock absorbers to cushion it against a fall.
Coming-Out Details
Intel's working with customers such as Portuguese computer company JP Sa Couto and Chinese electronic and computer appliances group Haier to bring the Studybook to market, Deo said.
Final prices "are set by our customers, and they vary depending on the system configuration," but will be between $200 and $300, Deo stated.
Kids Are the Future
Education is big business for high-tech vendors. It's been one of Apple's core markets since its early days, and Intel's been targeting classrooms with its Classmate PC program since 2007.
The One Laptop per Child project has been working with Marvell to offer kids an inexpensive computer for education.
Of late, however, tablets appear to be catching on in education.
Marvell announced in March that it's planning to release a $100 all-in-one Moby tablet, featuring live, real time content capability; support for 1080p high definition and 3D media as well as Adobe Flash on the Internet
Meanwhile, Turkey will begin distributing 12,000 tablet PCs to 52 schools. These devices have been made jointly by Samsung and General Mobile.
In Thailand, the government has awarded Shenzhen Scope Scientific Development a contract to supply 900,000 tablet computers to first graders in public schools.
Offering a tablet for the education field is important for Intel because "given that Apple and all other tablet makers generally went for non-Intel chips, this is Intel's attempt to ensure it won't get locked out of education if and when education moves to tablets," Enderle told TechNewsWorld.