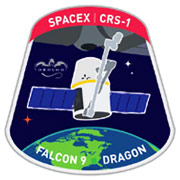 The first resupply mission to the International Space Station conducted by a private firm is set to launch Sunday evening. A Falcon 9 rocket carrying a Dragon capsule made by SpaceX are scheduled to take off from Space Launch Complex 40 at Cape Canaveral in Florida at 8:35 p.m. Eastern time.
Ahead of the launch, NASA set up a Google+ Hangout session on Friday with NASA administrator Charles Bolden and SpaceX CEO Elon Musk.
Members of the public asked a number of questions online about the launch and future space flights.
Cargo Payload
The SpaceX flight on Sunday will bring along a 1,000-pound payload that will include equipment for the astronauts on the International Space Station and 23 students' experiments. After three weeks connected to the International Space Station, the Dragon capsule will head back to Earth, with more than one ton of scientific samples and used equipment.
This will be the first of 12 contracted flights for SpaceX to resupply the International Space Station. Two backup launch opportunities are available on Oct. 8 and 9 if Sunday's launch has to be aborted.
Quizzed by the Public
Viewers attending the Hangout online fired a battery of questions at Bolden and Musk.
Asked why we should go to Mars, Musk said we need to have a path toward establishing a self-sustaining civilization on Mars. The greater goal is to make life multiplanetary and more investment is required, to move perhaps millions of people to Mars.
We won't bring resources from other planets back to Earth because it'll cost too much, Musk said when asked. It's more important to find the type of resources needed to enhance the survival of humanity on Mars or other planets than to bring resources back to Earth, Bolden remarked.
SpaceX aims to have an orbital manned flight within three years and perhaps a manned flight to the space station in about four years, Musk said in response to another question.
Adventures in Interplanetary Travel
Asked if the Dragon vehicle be used for space tourism in the future, musk said yes, pointing out that there are "a lot of people" who buy space on the Russian Soyuz spacecraft, and "it would be great to bring some of that revenue back to the U.S."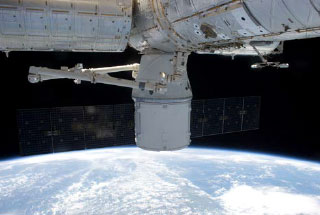 Dragon capsule docked to the ISS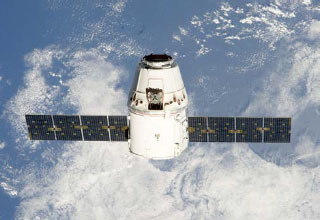 Dragon capsule
NASA's role is "not to develop the space industry but to facilitate the success of a viable commercial space industry," Bolden said. "From our point of view it's critical to have transportation systems, it's equally critical to have the commercial sector develop destinations to where those systems can go."
New technologies will have to be developed to make commercial space travel a reality, Bolden said. Ion drives might be a possibility, Musk speculated.
However, that might not be really commercially viable, Rob Enderle, principal analyst. The Enderle Group, said.
"The number of folks who will pay a ton of money for a short flight into space and experience the wonders of airsickness are likely not that big, making these flights increasingly infrequent after the first hundred or so people making the trip," he told TechNewsWorld.