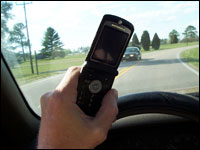 Nearly half of the commuters surveyed in a poll released Thursday admitted to texting or emailing while driving.
Forty-nine percent of commuters reported engaging in unsafe distracted driving activities in a survey funded by AT&T and conducted by ResearchNow.
"These studies do raise awareness, so no one forgets this is an issue," Roger Lanctot, an associate director at Strategy Analytics, told TechNewsWorld. "If this is going to get to a point around legislation, I'd say don't touch the phone while driving, regardless of the reason."
Findings of the Study
Ninety-eight percent of commuters acknowledged they texted while driving even though they knew that sending a text or email while at the wheel wasn't safe, according to the AT&T survey.
The problem appears to have gotten worse over time. Although there have been many campaigns against distracted driving, six in 10 of the commuters surveyed said they didn't text while driving three years ago.
Forty-three percent of the commuters surveyed described their texting and driving as a "habit."
AT&T suggested the survey indicated adults were texting while driving even more than teenagers.
Forty-three percent of teenage drivers said they texted while driving in an April 2012 survey commissioned by AT&T and conducted by Beck Research.
However, AT&T didn't make clear whether the commuters surveyed in its latest study included any teenage drivers.
Fighting the Texting Power
More than 3,000 people were killed in crashes caused by distracted driving in 2010, according to the U.S. Department of Transportation. The DoT has been conducting campaigns and summits to educate consumers, and has encouraged states to crack down on distracted drivers.
Most U.S. states have laws against texting or talking while driving, and there should be a federal law against distracted driving that would apply nationwide, Lanctot said.
The Next Problem: Automobile Infotainment
The continuing development of the automobile as an infotainment center could bring more distracted-driving temptations. Phone calls are routinely placed and received through car speakers, and a variety of apps are now available in automobiles. GM and AT&T plan to embed 4G LTE mobile broadband in cars and trucks by 2015.
"All these app platforms in cars are distracting to some degree or other, whether they're embedded in the car or based in a connected smartphone," Lanctot said. "Usually, the distraction's around the pairing or logging in or selection of the app or functionality. On the other hand, many people have told me that drinking coffee in the car is the biggest distraction of all."
There's an App for Distracted Driving
Several companies offer apps aimed at helping with the problem of distracted driving.
Global Mobile Alert has the "Pull Over to Text" and "Global Mobile Alert" apps, both of which run on Android.
The first displays a warning message and fires off a preloaded response if a driver gets a text message, and stores the incoming text for later action. The second provides audible alerts when a moving vehicle approaches an intersection at a speed predetermined to be dangerous.
The Global Mobile Alert apps cost US$1.99 and $2.99, respectively. The apps work on Android smartphones, and versions for Windows Mobile and BlackBerry will be available within 60 days.
Textecution is an Android app that disables texting while a mobile phone owner is driving at speeds faster than 10 mph. The app notifies parents by text if it's removed from a teen's smartphone. Textecution costs $29.99.
TxtBlocker, an app that costs $6.99 monthly, lets parents or administrators block talking or texting when a child with a smartphone is driving. It runs on BlackBerry and Windows Mobile devices.
None of these solutions, however, can stop anyone determined to talk or text while driving.
"It's a moral issue," David Van Driel, executive vice president at Global Mobile Alert, told TechNewsWorld — "and that's the challenge that we're having today."