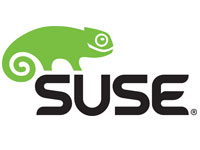 Suse on Monday launched Suse Linux Enterprise 15, its latest flagship operating platform. SLE 15 bridges traditional infrastructure technologies with next-generation software-defined infrastructure, the company said. It will be fully available to existing customers for download or upgrade on July 16.
The company also released enhancements to Suse Manager 3.2, an open source IT infrastructure management solution for Linux, with improvements focused on lowering costs, improving DevOps efficiency, and easily managing large, complex deployments across IoT, cloud and container infrastructures.
Suse Manager helps users meet management challenges created by technology advancements such as software-defined infrastructure, cloud computing and containers, according to the company.
The SLE 15 product family includes seven individual offerings that integrate or supplement a variety of features and functionality. SLE 15 desktop is a standalone product that users can enhance according to their needs as they occur.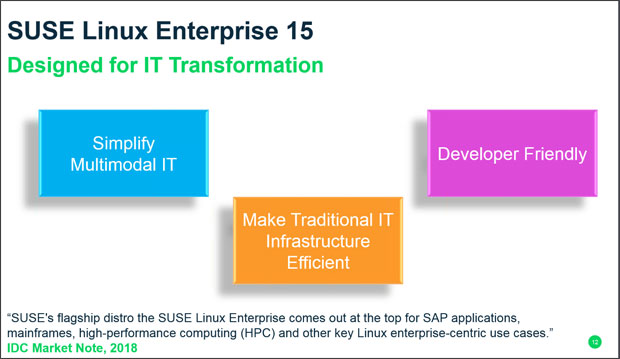 "The two common elements in SLE 15 are the common code base and modular structure. They can touch every other product," said Raj Meel, global product and solution marketing manager at Suse.
Evolving Needs
Enterprise users typically have to contend with a mix of IT infrastructures. Architecturally, they have a quagmire to navigate, Meel told LinuxInsider. They may have started out with a monolithic IT structure and then moved into tiered architecture, only to currently find themselves in microservices.
That is where Suse's multimodal IT concept comes into play. SLE 15 provides a series of bridges for enterprise users to use to bring mixed IT structures into the public cloud without changing what they have.
The SLE 15 operating system addresses the increasing adoption of hybrid, software-defined computing environments spanning physical servers/storage, virtualization, cloud services, containerized workloads, edge computing (IoT) and high-performance computing, noted Charles King, principal analyst at Pund-IT.
"Practically speaking, operating systems like Suse's flagship Linux are merely one part of increasingly complicated, ever larger enterprise IT infrastructures," he told LinuxInsider. "As a result, with these new solutions Suse is letting customers know it has their backs wherever their IT resources and workloads reside."
The new OS includes new function and support features focused on lowering costs, improving management of increasingly complex IT environments, and enhancing DevOps engagements and efficiency — all top-of-mind concerns for Suse customers, especially mid-sized and larger enterprises, King pointed out.
What Suse Released
Suse Linux Enterprise 15 is a modern, modular operating system that helps simplify multimodal IT. SLE 15 makes traditional IT infrastructure more efficient and provides an engaging platform for developers. As a result, customers can easily deploy and transition business-critical workloads across on-premises and public cloud environments, according to Suse.
"Organizations today face increasing pressure to become more agile and economically efficient in order to grow, compete and survive," said Suse CTO Thomas Di Giacomo. "They must leverage digital assets, information, and an explosion of new infrastructure software innovation to fuel and enable their digital transformation."
Emerging infrastructure technologies built on open source and Linux create new levels of freedom and flexibility, and Suse Linux Enterprise 15 provides the foundation for this freedom and flexibility, said Di Giacomo. It enables each customer to operate effectively, regardless of their particular IT requirements.
The SLE 15 platform includes the following:
SLE for Intel/AMD x86-64, POWER, ARM, z Systems and LinuxONE
SLE Server for SAP Applications
SLE High Performance Computing
SLE High Availability Extension (includes Geo Clustering)
SLE Live Patching
SLE Desktop
SLE Workstation Extension
Suse 15 Primer
The latest OS is designed to help organizations transform their enterprise systems to embrace modern and agile technologies. Multiple infrastructures for different workloads and applications are needed, which often means integrating cloud-based platforms into enterprise systems, merging containerized development with traditional development, or combining legacy applications with microservices, according to Suse.
The platform uses a common code base to ensure application mobility across multimodal IT environments. Whether customers build microservices using Suse's Containers as a Service (CaaS) Platform, deploy the latest SAP applications on Suse Linux Enterprise Server, or use Suse OpenStack Cloud to manage system resources, the common code base ensures consistency and helps them move application workloads transparently across traditional and software-defined infrastructure.
In addition, through Suse Linux Enterprise bring-your-own-subscription programs, customers easily can transition to or leverage a public cloud, such as Amazon Web Services, Google Cloud Platform or Microsoft Azure.
Operating systems remain a foundational building block for modern infrastructure. Linux has become a preferred platform for the cloud and for modern cloud-native application development, according to IDC. Linux also has gained stature as a preferred development platform for most independent software vendors (ISVs).
Linux is used widely for hosting traditional and next-generation applications across bare-metal, virtual and container-based delivery systems. Suse Linux Enterprise comes out at the top for SAP applications, mainframes, high-performance computing, and other key Linux enterprise-centric use cases, according to IDC.
SLE 15's Modular Plus architecture addresses new challenges customers face when introducing innovations to make existing traditional IT infrastructures more efficient. Everything in SLE 15 is a module, so Suse can issue updates and patches more frequently. The modular approach lets customers install only the features they need, which simplifies planning and reduces risk.
How Multimodality Works
Traditional infrastructure, software-defined infrastructure, and application-oriented architectures coexist in a multimodal IT environment. Bridges are needed to move workloads from on-premises to the cloud, and to leverage data centers for container applications, said Suse's Meel. SLE 15 facilitates a mixed IT Infrastructure where servers reside within a traditional infrastructure and applications run on a software-defined infrastructure.
For example, with a traditional infrastructure, enterprises run applications like SAP, SQL and Oracle. With a software-defined infrastructure, users run containers and applications. SLE 15 allows the creation of bridges across mixed IT systems through a process called "application mobility."
SLE 15 sits in the middle, with container apps to bridge traditional platforms such as virtual machines, and physical servers to integrate with the software-defined infrastructure of the public cloud.
Multimodal IT provides a mix of deployment scenarios spanning traditional and software-defined infrastructures. Storage devices, virtual machines and physical servers navigate to the OpenStack cloud and then use SLE 15 as a bridge to the public cloud.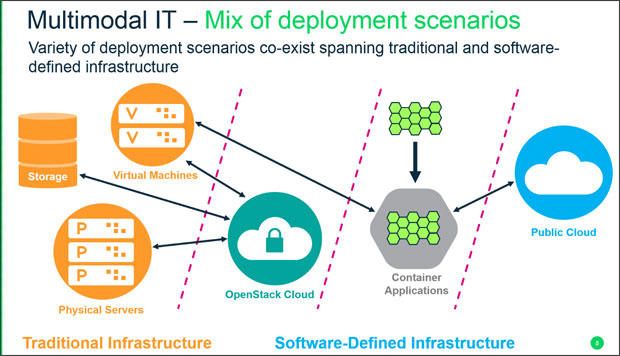 Application delivery is available via container management (Suse Container as a Service Platform) and Platform as a Service (Suse Cloud Application Platform).
Software-defined infrastructure can be driven by private cloud / IaaS, Suse OpenStack Cloud, compute (container and virtual machine), storage (Suse Enterprise Storage) and networking (SDN and NFV), operating system (Suse Linux Enterprise Server) and physical infrastructure (Server, Switches and Storage).
Bridging the Gap
From the customer perspective, what customers really want is keep their existing structure and maximize it the best that they can, said Meel. Bridging is the key to providing this type of solution.
"The alternative for enterprises is to modernize their IT completely. They may want to connect containers to your data center. Or they move their applications from on-premises to cloud. That is one of the largest use cases we are seeing," he said.
Those are the bridges that customers are looking for. How can they get there easily? Depending on what they have and where they want to go, they may need one or two or three bridges. Suse even has a bring-your-own-cloud subscription bridge, added Meel.
"We call it a 'multimodel OS,' because the OS is not for one specific purpose. Instead, it is solving different use cases for different people. You can start with a minimally viable system and then add what you need. You can build your own platform. You can add modules as you want," he said.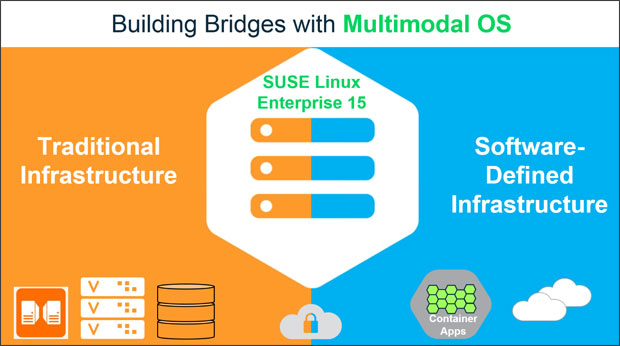 Most of Suse's customers already are at that point. They have a huge IT structure that they manage.
"They do not want to change it too much. That is where the modular architecture really can help them," said Meel.
Derived Benefits
The latest SLE 15 releases offer a trilogy of benefits to those making the upgrade: Suse's platform is developer-friendly; it provides the latest in high-performance computing; and it provides key integration with SAP applications.
SLE 15 accelerates an enterprise's transition from a free developer subscription or community Linux (openSUSE Leap) setup to a production deployment of fully supported enterprise Linux. It is designed for integration into commonly used modern development methodologies like DevOps and CI/CD. It also provides users with a faster time-to-market cycle by leveraging open source technology, methods and expertise.
Businesses have been recognizing that a high-performance computing infrastructure is vital to supporting the advanced analytics and simulated modeling applications of tomorrow.
Suse Linux Enterprise HPC 15 addresses this growing market with a comprehensive set of supported tools specifically designed for the parallel computing environment, including workload and cluster management. HPC 15 supports x86-64 and Arm-based HPC clusters on the full range of hardware used today for HPC — from low-cost to high-end supercomputers.
Suse Linux Enterprise Server 15 for SAP Applications reduces downtime, optimizes performance, and makes deploying and managing SAP systems easier. New capabilities include non-volatile dual in-line memory module (NVDIMM) support for diskless databases, and enhanced high-availability features for IBM Power Systems.
Workload Memory Protection is a new feature that provides an open source-based, more-scalable solution to sustain high performance levels for SAP applications.
"Suse keeps on churning out great open source software that customers want to buy," said Stefano Maffulli, community director at Scality
"They may not catch the same spotlight as the other Linux distributions, but they are still there, plowing through release after release with the same German solidity of the early days," he told LinuxInsider.
Suse is one of the main contributors to lots of open source projects, Maffulli added. "Just look at their history of contributions to OpenStack, for example — and they package it professionally."
More Infrastructure Management
Suse Manager 3.2 lowers costs and simplifies deployment while easily scaling larger environments for public cloud and Kubernetes infrastructures. It also helps customers improve DevOps efficiency and meet compliance requirements with a single tool that manages and maintains everything from edge devices to Kubernetes environments.
In addition, Suse Manager makes it easy to manage large, complex deployments with new extended forms-based user interface capabilities.
Additional enhancements in SLE 15 include support for nonstop IT with the integration of geo clustering within high availability extension. This lets users easily connect data centers across the world while providing a resilient and highly available infrastructure.